2014 Was the Year of Ronda Rousey
Bantamweight champion Ronda Rousey spent only 82 seconds in combat in 2014, but she continued to assert her dominance not just inside, but outside of the cage as well, making an even bigger name for herself and, arguably, taking MMA right along with her on her continuing quest for world domination.
As we begin to look back on the year that was in MMA, let's take a moment to focus on The Year in Rousey and its greater implications for the sport.
February 22 - Rousey defeats fellow Olympian Sara McMann in 66 seconds at UFC 170
What it meant for Rousey: She retained her title and her undefeated record in her shortest bout since her Strikeforce days.
What it meant for MMA: The actual fight was a bit anti-climactic given the big Olympian vs. Olympian theme that the UFC was playing up. Mostly it unleashed a whole lot of thinkpieces and handwringing about the state of women's MMA and whether or not Rousey's dominance was a testament to her own skill or to the lack of depth in her division. This fight will probably look better when we look back on it in a few years against the context of Rousey's entire career. Until then, it inspires ambivalence at best.
April 4 - In an appearance to promote her new film, Gina Carano tells Craig Ferguson she's considering a return to MMA
What it meant for Rousey: This was the first sign of hope that one of Rousey's dream matches against an MMA hero of hers might actually be possible.
What it meant for MMA: For purists, it probably didn't mean much. Carano hasn't fought in five years and didn't exactly depart the sport at the top of her game. But the fact that a semi-retired fighter had both the platform and the desire to discuss a return to the cage on a network talk show is a small victory for MMA's greater visibility.
April 17 - Marlon Wayans declares that he wants Rousey to dominate him on a Conan appearance
What it meant for Rousey: Maybe it was flattering? Most likely it was nothing.
What it meant for MMA: Officially nothing. But the Wayans clan has a history with discussing/mocking famous fighters in their comedy so maybe, in some twisted and ultimately meaningless way, this means that Rousey is the new Mike Tyson.
April 21 - Jon Jones appears on Fox Sports and says that he believes that Rousey could take Floyd Mayweather
What it meant for Rousey: It certainly contributed the greater Rousey mythology.
What it meant for MMA: 2014 was definitely the Year of "Rousey Can Totally Kick Mayweather's Ass," with Jones, Dana White and Rousey herself all hitting that talking point hard at one moment or another. On one hand, it might have come across as a bit try-hard. On the other, their hypothetical match-up was an effective way to reintroduce the differences between boxing and MMA (and the excitement of the ground game) into the greater fight conversation.
April 26 - Bethe Correia defeats Horsewoman Jessamyn Duke at UFC 172 and officially begins her campaign against Rousey
What it meant for Rousey: On a personal level, she was probably at least a little amused by the pro wrestling theatrics of Bethe's call out.
What it meant for MMA: The spark of a promising feud is always good for business.
July 5 - Rousey KOs Alexis Davis in 16 seconds at UFC 175
What it meant for Rousey: Again, she retained her belt and undefeated record. In less time than ever before.
What it meant for MMA: Well, it certainly did nothing to diffuse the fears about the depth of women's MMA and whether or not it's really ready for the spotlight. But it was exciting while it lasted.
July 10 - UFC signs boxer and kickboxer-turned-bantamweight MMA fighter Holly Holm
What it meant for Rousey: Another promising and credible opponent for the future.
What it meant for MMA: What's good for Rousey here is good for the sport as a whole.
July 15 - Reporters ask Mayweather about Rousey, Mayweather says he "didn't know who he is"
What it meant for Rousey: It probably stung a little. Given the amount of time she's dedicated to talking about her ability to kick his ass, he could at least be aware of her existence. But then again, Mayweather isn't known for his fondness for women who can fight back.
What it meant for MMA: Even though Rousey and, by extension, her entire sport got dissed by the boxer, it could have been worse. Mayweather's Rousey-ignorance wasn't looked upon all that kindly in the press. And it did result in another wave of Ronda-related publicity.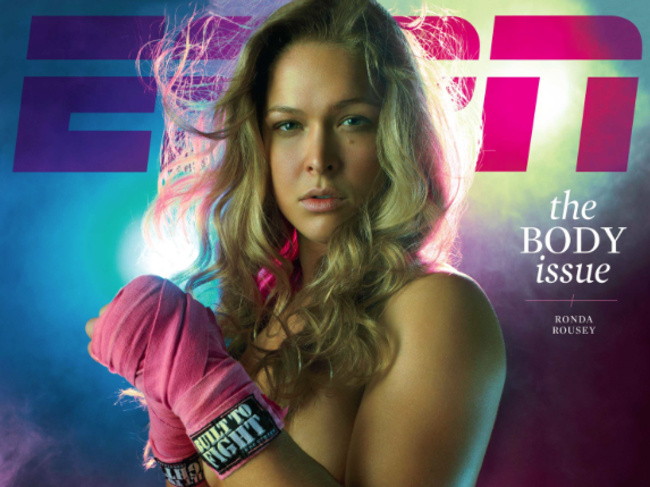 July 16 - Rousey wins Best Female Athlete at the 2014 ESPY Awards
What it meant for Rousey: It was definitely a nice trophy to add to her list of accomplishments. And to her marketability.
What it meant for MMA: Many of the sport's biggest names have been nominated for ESPYs over the years, but Rousey is the first mixed martial artist to actually snag one. It's definitely a step forward in MMA's march toward mainstream acceptance.
July 17 - Mayweather apologizes to Rousey, now knows who she is
What it meant for Rousey: ¯\_(ツ)_/¯
What it meant for MMA: His praise was, at best, half-hearted. In an interview with Fight Hub, he simply said "I wish her congratulations. I didn't know who she was the other day. I apologize because I didn't know. I'm used to watching football and basketball. I'm not really into boxing like that." But it was good for another day's worth of publicity. And maybe a few more converts to the "I'd like to see Rousey kick Mayweather's ass" camp.
July 18 - Dana White announces that a deal with Gina Carano is imminent, and that she could fight Rousey as soon as December
What it meant for Rousey: Another interesting, if not entirely viable, opponent in a dream match.
What it meant for MMA: Rousey vs. Carano had the potential to be the WMMA equivalent of a torch-passing fight like Matt Hughes vs. Royce Gracie, which is great for the legacy of the sport. And having two photogenic fighters with film careers face each other wouldn't exactly hurt MMA in terms of mainstream appeal.
July 27 - Dana White calls talks with Carano "complicated"
What it meant for Rousey: It must have been disappointing, given her publicly stated admiration of Carano and her desire to fight her.
What it meant for MMA: It was a tradeoff: Losing Carano meant losing a certain amount of casual interest in MMA, but it also meant regaining the respect of MMA fans who were offended by the amount of spectacle that would have been involved in giving Carano a title shot at this point in her career.
July 28 - The New Yorker publishes a profile on Rousey
What it meant for Rousey: Semi-flattering, in-depth attention from one of the most respected magazines in the world.
What it meant for MMA: Semi-flattering, in-depth attention from one of the most respected magazines in the world.
August 15 - The Expendables 3 opens
What it meant for Rousey: The first step in what is shaping up to be a promising film career. A relatively easy payday.
What it meant for MMA: A chance to capitalize on the goodwill that many Expendables fans already have for MMA thanks to Randy Couture.
August 30 - Bethe Correia defeats Horsewoman Shayna Baszler
What it meant for Rousey: "I just hope she doesn't lose before I get a chance to beat her myself," Rousey was quoted as saying after the fight.
What it meant for MMA: A continuation of one of the more amusing slow burn feuds in MMA.
September 22 - Cris "Cyborg" Justino announces that she will drop to bantamweight and fight at Invicta 10
What it meant for Rousey: Rousey's distaste for Cris Cyborg and her use of PEDs in the past (and, Rousey would argue, the present) is no secret. More than anything, Rousey would like Cyborg to just disappear and if she has to face her to make that happen, well, so be it.
What it meant for MMA: The way that Ronda and her big name supporters have handled the ongoing Cyborg "threat" could be better. Team Rousey often pepper their arguments about Cyborg's steroid use with transphobic insults that are as pointless as they are offensive. The response makes everyone involved look exactly like the kind of boorish stereotypes that the sport is trying to leave behind and takes the focus away from where it should be: the prospect of a fight and whether Cyborg can consistently make weight and play by the rules.
October 22 - Dana White Confirms Rousey vs. Cat Zingano for UFC 182 in January 2015
What it meant for Rousey: She's officially one step closer to what could be her most challenging fight yet.
What it meant for MMA: A long-anticipated match finally coming to fruition and a well-respected opponent for one of the game's top fighters.
October 29 - Rousey vs. Zingano is moved to UFC 184 in late February 2015
What it meant for Rousey: Rousey wasn't happy with the move, but also says she just shows up when the UFC tells her too.
What it meant for MMA: We'll all have to wait just a little longer for this one.
October 30 - Rousey is named the first female face of Buffalo David Bitton's Buffalo Pro line
What it meant for Rousey: Money, a higher profile, and probably some decent clothing from Buffalo's active line. There might also have been some personal validation thrown into the mix, given how Rousey has talked about being bullied for her looks as a child. Becoming an actual model is maybe not the ultimate revenge, but it's in the top 15.
What it meant for MMA: More mainstream attention.
November 1 - An ankle injury forces Cyborg to postpone her bantamweight debut
What it meant for Rousey: ¯\_(ツ)_/¯
What it meant for MMA: I believe this is the moment when any doubt that Cyborg has gone full boy-who-cried-wolf was finally put to rest.
November 24 - Eminem disses (?) Rousey in a verse on new song "Shady XV"
What it meant for Rousey: As she told Kimmel, she was flattered, even though she didn't think it was particularly complimentary.
What it meant for MMA: Having a fighter big enough to show up in one of Eminem's pop culture-laden song means that you've got some amount of cultural cachet.
November 27 - Rousey appears on Jimmy Kimmel Live, discusses fighting and Eminem
What it meant for Rousey: A good promotional opportunity. The chance to introduce the concept of an Ass Pepsi Challenge to the world.
What it meant for MMA: Another successful and charming chat show appearance by a charismatic star.
December 15 - Cyborg gives up on her efforts to cut to bantamweight
What it meant for Rousey: Another chance to call out Cyborg and voice her suspicions that the timing of this announcement has something to do with drug testing.
What it meant for MMA: We'll never get to see the big and oft-imagined Cyborg vs Rousey fight, but I think we're all coming to terms with the fact that we don't really need it and it would never have lived up to the hype, anyway.
December 15 - Online publication Matter publishes an in-depth look at WMMA, the UFC and Rousey
What it meant for Rousey: If the bizarre and borderline Mean Girls characterization of Rousey in this story is to be believed, it probably made her cry because apparently everything makes her cry.
What it meant for MMA: At least some MMA writers are hailing this story as a brilliant outside look at the sport, but it's really just another smug profile written by a tourist with the same preconceived notions as every other mainstream writer has had so far. MMA and the UFC are not above criticism and should be handled with critical thought in professional writing, but I'm pretty sure comparing Rousey to an ape and writing an entire paragraph about energy drinks adds to the conversation.
December 16 - Rousey signs a sponsorship deal with Reebok
What it meant for Rousey: Money, attention, the opportunity to work with the athletic apparel brand to develop their new UFC line. (And, we're assuming, less creative freedom than she currently has in the medium of t-shirt reconstruction.)
What it meant for MMA: Undetermined. It'll be interesting to see how the polarizing Reebok deal plays out in the next year, and what Rousey's role in it will be.
Check out these related stories:
Jon Jones and Ronda Rousey Officially Become Reebok Athletes
Ronda Rousey Wants Holly Holm Next
Pause: Holly Holm Signed to the UFC