A Female Thai Fighter's Guide to Life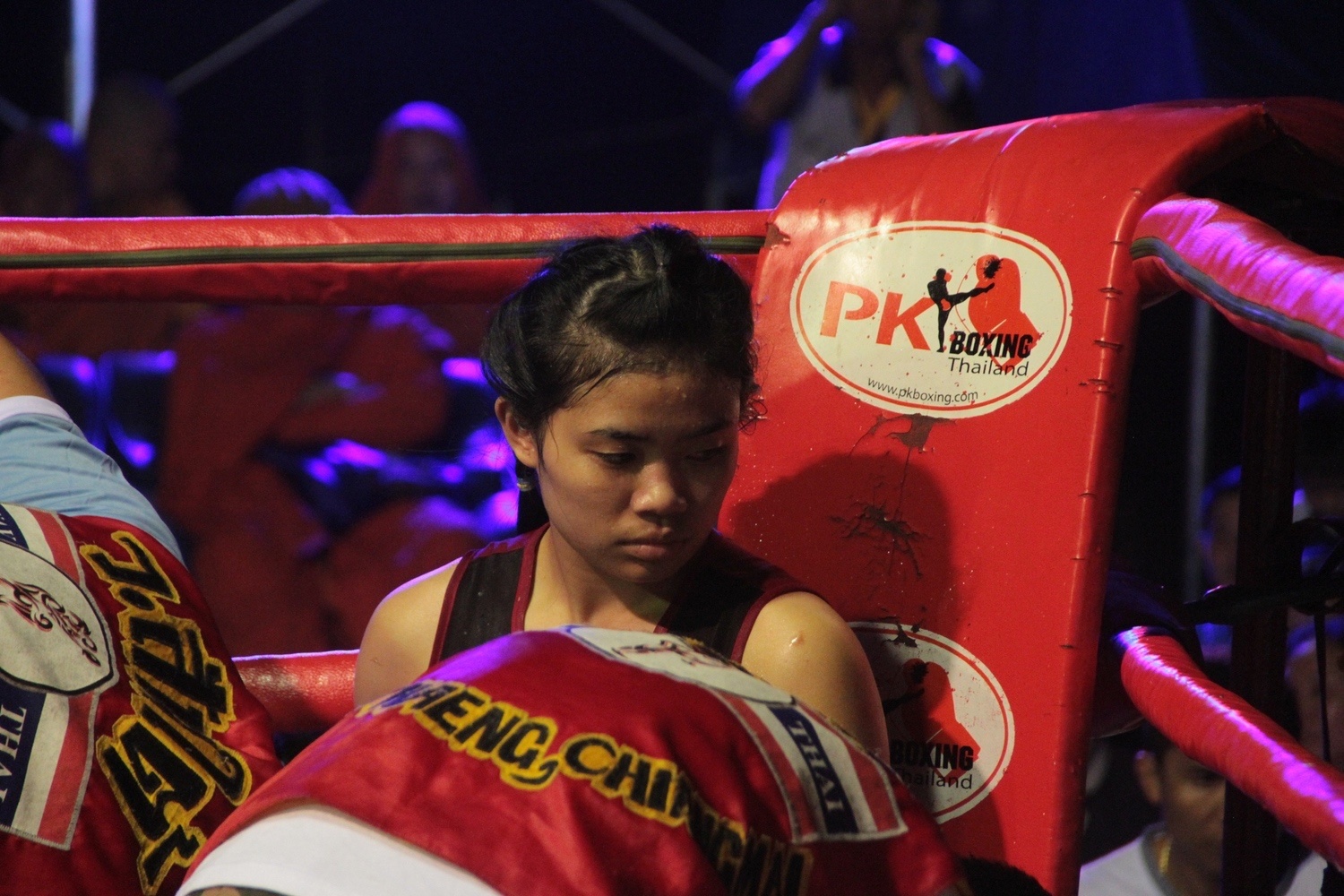 The last time Nong Am remembers crying was in April. While her fellow university classmates tend to cry over homesickness, disappointing grades, and ill-fated college loves, Nong Am, whose real name is Siriluk Kaewcha, sheds her tears over Muay Thai.
It was a championship match, with a World Muaythai Council belt on the line.
Nong Am (alternatively spelled Nong Em) remembers the match as being nail-bitingly close. That is, until the fourth round. It was during the fourth that Nong Am kicked her opponent so hard it appeared to fracture her arm. Despite the flurry of competition and adrenaline, Nong Am hesitated. "I didn't want to strike her anymore because we knew each other; we'd gone to Japan together for a fight," Nong Am says. "I was afraid she wouldn't be able to box anymore if I broke her arm."
Instead of inflicting further damage on her already injured opponent, Nong Am held back, keeping her distance all the way through the end of Round Four and into Round Five. When the fight was over, Nong Am confidently stepped to the middle of the ring and stood next to her opponent, who looked to be in pain. The referee collected the judges' scorecards and promptly raised not Nong Am's gloved hand, but her opponent's. Nong Am was shocked.
Many in the audience, as well as those in Nong Am's corner, responded heatedly to the decision. Some thought it was a faulty call on the judges' part. Others blamed Nong Am herself. "After the fight, people around me complained, asking me why I didn't fight. Didn't I want to win?" Nong Am wasn't sure what to make of it. In trying to be merciful to her injured opponent, a woman she knew personally, she had missed out on the coveted WMC 112-pound championship. Later that night, after coming down from the adrenaline of the fight, Nong Am cried in disappointment, not just over the loss of a belt but also over the feeling of having failed herself. "I cried out of regret that I was about to win the match and become the WMC champion, which I know I could have done," she says. "I didn't do what I could have done."
The bitter disappointment Nong Am felt after the WMC championship fight was not a foreign emotion to her, a young woman who had been boxing since she was 11. Nong Am, who is 19, has gone through natural swings of athletic achievement and emotional resilience in her eight-year fighting career. Muay Thai has brought her to tears of sadness, but is also responsible for some of the highest points of her life as well. The happiest moment of her life so far, she says, is when she won the gold medal at the Thailand National Games.
Then only 14, Nong Am had been the youngest competitor in the Games, a multi-sport event held every two years. The young teen was matched against a grown woman, a 33-year-old Thai boxer who had also trained at times with Nong Am's coach. When Nong Am tells the story now, she is modest about her victory, focusing instead on the attitude behind it. "I didn't care about winning or losing," she says. "I just wanted to do my best." The result, of course, was a solid win, a gold medal, national recognition, and the memory of what Nong Am calls her proudest fight.
Five years later and on the cusp of true adulthood, Nong Am credits her participation in the Games with giving her the encouragement and confidence to pursue a life of Muay Thai.
Now 19, Nong Am is fully devoted to the sport, not just as a fighter but also as a future teacher. She trains and fights regularly, and is also a student at the Institute of Physical Education Chiang Mai. "I'm going to be a certified teacher," she says. "Now I'm a boxer, but in the future I can be a trainer, working at a gym and teaching the next generation of boxers."
Balancing her studies with her fight career has proved challenging. Nong Am has never been more stressed, and says there are moments she is so discouraged that she considers giving up Muay Thai altogether. "I have to study at the college and also train," she says. "I don't have much free time like my friends do. I once asked my close friends what they do after school. They say they finish their class assignments and then just hang out." Nong Am is vocal about wishing she could just hang out too, but reluctantly turns down nearly every invitation from her friends to go out.
It happens on a regular basis, and her friends don't often ask to see her outside of school anymore. They know that for the most part, Nong Am is either studying, training, or fighting. She can feel the distance growing between them. But what can be done? Muay Thai and school must come first.
Nong Am usually forgoes morning training in order to get enough rest, but aside from that, her schedule is packed. After her daily classes, she trains for at least two hours, usually 5pm to 7pm, sometimes later. After training, she commutes home on her motorbike, showers, eats dinner, and cracks open the textbooks around 9pm.
It's getting overwhelming, but Nong Am doesn't see another option. "I often feel like I want to quit, but I can't. I don't know what else to do or what I would be if I quit."
She speaks as if there were no other path. But for someone like Nong Am, who grew up steeped in this national fight culture, Muay Thai is likely the only path she sees, the only present and future she has ever explored. Since the age of 11, Muay Thai has been Nong Am's life.
Her entry into boxing was natural; the daughter of a Muay Thai promoter in Nakhon Phanom in Thailand's northeastern Isaan region, Nong Am often accompanied her father to matches. Exposure begot interest, and the young Nong Am told her father she wanted to try fighting.
At one particular fight event, a local coach spotted Nong Am hanging around backstage. She looked to be about the size of one of the coach's young, female contenders. He approached Nong Am, then only 11, and asked if she would like to fight his student in the next match. She said yes, and began boxing from that day forward.
Her father became her coach, watching boxing matches and doing his best to teach her the technique he observed. She was put on a schedule of running in the morning, and training with her father in the evening. It wasn't consistent, though. For the most part, she ran and trained only for the three weeks leading up to a fight. Sometimes, though, that meant she was always on a training program. As a child, she often fought once or twice a month.
Not a boxer in his own right, her father could teach her only so much before determining she needed higher level coaching. He eventually found her a spot at his friend's gym, Chandaeng Upatham.
Nong Am's father might have given the control of her training over to a proper gym, but he has continuously been there to support his daughter in the inevitable downs of the athlete's life. When Nong Am got cheated out of a win she was convinced she deserved ("As a fighter, I know when I am winning a fight," she says), it was her father who consoled her as she cried tears of frustration. He told her not to worry about it, reminded her that they were far from home in Suphanburi, and the judges likely awarded the win to the other girl because she was from Suphanburi. His words comforted her, and Nong Am got her first taste of what she perceived to be rigged judging and cheating in Muay Thai.
One of her most memorable fights was the first time she ever fought a foreigner. "A big match in Nakhon Phanom," she calls it, "against a huge, scary woman." She had just turned 17. The foreign boxer was unpredictable, fighting in ways she'd never encountered when facing other Thai fighters.
Over the next couple years, Nong Am learned that unpredictability goes hand-in-hand with fighters from outside Thailand. "Foreign fighters use their techniques randomly," she explains. "They immediately do what they think is right at that particular moment, whereas for Thai fighters, we have boxing tactics. When we fight, we know what and when a certain technique will be used, so it's easier to fight other Thais."
When asked what kind of opponent scares her the most, she describes an opponent who "keeps walking. They seem like they don't have any technique. They just walk." It is a reference to the "muay dern" style, characterized by aggressively, relentlessly pressing forward. Nong Am has had experiences with this kind of fighter in the past. In her memory, they've always been foreigners.
On the flip side are the muay fimeu, the technicians of the Muay Thai world. That is the sort of fighter Nong Am likes facing, and that kind of graceful, technical fight is the kind she most enjoys.
Regardless of the opponent, Nong Am describes her pre-fight mental state always as one of excitement. "Before the fight, I'm usually thinking about the boxing of each opponent, sometimes worrying that I won't be able to fight well," she says. "But when the match starts, I think only of ways to defeat the opponent."
For Nong Am, Muay Thai might be her lifestyle and career, but she also acknowledges that it's a sport, a game. There is no peacocking in her persona, no calling herself a warrior or saying that she's fighting battles in the ring, no using such flamboyant language to glamorize that which is her everyday life. Her attitude reflects that of many other Thai fighters, a stark departure from the pugnacious, trash-talking fight culture of their Western counterparts, who often come to combat sports at a later age and for different reasons.
Nong Am's level-headed view of Muay Thai is likely due to her experiences fighting since she was a small child in the Muay Thai culture of Thailand, in which it is common for boxers to fight people they know personally, even their own friends. After seeing so many of her acquaintances and friends across from her in the ring, she has a hard time looking at opponents as if they were enemies. "It is just a game," she says. "People hire us to fight, so we fight. We don't want to hurt each other. We fight only to win the game."
This is especially true when fighting friends. "I have fought friends before, and I was always afraid I would hurt them. Normally, among fighters, we know who is the more skilled, competent fighter in any given match. We don't want to hurt one another. In the cases where I have been better than my friends, they told me not to hit them hard, and so I didn't, because I didn't want to hurt them." What Nong Am lacks in blood-thirsty, win-at-all-costs attitude, she makes up for with empathy and pragmatism. In an internationally practiced sport often overshadowed by shows of hyper-aggression and sneering dominance, it is refreshing.
It has cost her at least one fight, however. She still thinks of that fight a few months ago, lost after she held back in the fifth round, afraid of further injuring her opponent's arm. While she regrets not doing more to have won, she never disparages her opponent or says she wishes she had just gone in and broken her arm. She is graceful in defeat.
Viewing Muay Thai as a game may also be a coping mechanism for dealing with the fluctuation of victories and defeats, to which virtually all Thai fighters much grow accustomed. Nong Am loves boxing, thinks it's fun, "because I get to compete with others. It's challenging. Like, if I fight that boxer, will I be able to win? Who is really better? Me, or that other boxer?"
It's a game she takes seriously, though. She declares perseverance to be the most important quality of a good fighter. Perseverance not just in the fight itself but in the daily grind of training, especially. Discipline is also important.
When asked what scares her the most, she lists serious injury as her number one fear. "I'm afraid of accidents, like breaking my legs or arms in a car accident. If that happened, I wouldn't be able to fight again." Such is the value of Muay Thai in her life that her biggest fear is the inability to box. But what, then, would she do if she had to stop fighting suddenly?
When posed with this question, she sits quietly for a moment. "If I couldn't box, I would..." she trails off, thinks about it more. "I would keep studying education, and then apply what I have learned to teach kids to be boxers. They could be my representatives."
Though only 19 and with her own promising fight career still ahead of her, Nong Am is already thinking about the next generation. Muay Thai has given her a good life so far, and she'd be proud to pass it on. "I've gotten a lot from boxing," she says. "I was just a kid who had nothing, but then people started to know me after I became a boxer." Another nice benefit of Muay Thai, she adds, is the opportunity to travel abroad. She has fought in both Japan and Australia, and looks forward to traveling to other countries for work or play.
At her young age, she has already fought abroad and has won a gold medal at the Thailand National Games, but Nong Am feels she has farther to go in Thai boxing to accomplish her dreams. She quantifies her combat sports dreams as 80 percent fulfilled. So what's left? For Nong Am, it's a championship title, like the WMC title that slipped through her gloved hands just a few months ago.
Still training, fighting, and attending classes full-time, Nong Am can barely imagine a life without Muay Thai. If not for Muay Thai, Nong Am believes she would still be a student, but just a student, nothing more. "But when I was a kid, I dreamed of being a policewoman."
But what about her other dreams, unrelated to Muay Thai? Nong Am is taking it one step at a time. "I just want to graduate and that's all."
When asked what she would say if she could go back in time and speak with her 11-year-old self, the little girl who first stepped into the ring, Nong Am ponders it for a moment, then answers, "I would thank myself for being so daring and having the guts to fight the other girl that day."
Check out these related stories:
The Female Fighters of Northern Thailand
The World Muay Thai Angels: Marketing the Women Fighters of Thailand