A Lengthy Spell of Inactivity Was Not Aisling Daly's Choice
The first MMA world champion that ever hailed from the Emerald Isle, Ais 'The Bash' Daly, has rallied her fans to get behind her push to get matched for UFC Hamburg in early September.
Coming off an outing in which she received one of the most memorable receptions ever in front of a hometown crowd, it appeared as though Daly had received the homecoming she had always wanted as a UFC fighter. Given the atmosphere in the arena, as she beat Ericka Almeida over three rounds, it was thought that Daly's stock would be higher than ever. Yet, 'The Bash' has still gained no confirmation that she will get an opponent for the Hamburg show.
"I've contacted Sean Shelby about being on the card and all I've heard back since then was 'it's a possibility'. That's all I have to go off," explained the former NAAFS champion. "In my mind, I'm training as if I have the fight. I think everything will eventually be put in place. I hope so, anyway."
Daly had a few knocks coming out of her showdown with Almeida in Dublin. After a few weeks on the sidelines, she contacted UFC to make them aware of her availability for UFC London. It wasn't the first time since her October showing that she was told she would not be getting a fight.
"I had a couple of injuries that I wanted to heal. It was nothing major, just a few things I wanted to settle down before I made myself available to fight.
"I asked to be on the February card in London, but I was told that I wouldn't be on that. Then in February, I asked to get on the Zagreb card. It was a good but away, but I still got told that I wouldn't be on that either.
"At that stage, I just decided that I was going to take a break for a couple of months. Then, five weeks from the Zagreb card, I got a call asking if I would be on it. I just knew I wasn't going to be ready in five weeks.
"In April, I got in contact with UFC and told them that I wouldn't be ready to fight until August or September. I was having trouble with my collar bone and my knee, and I just felt it was best to let them fully heal."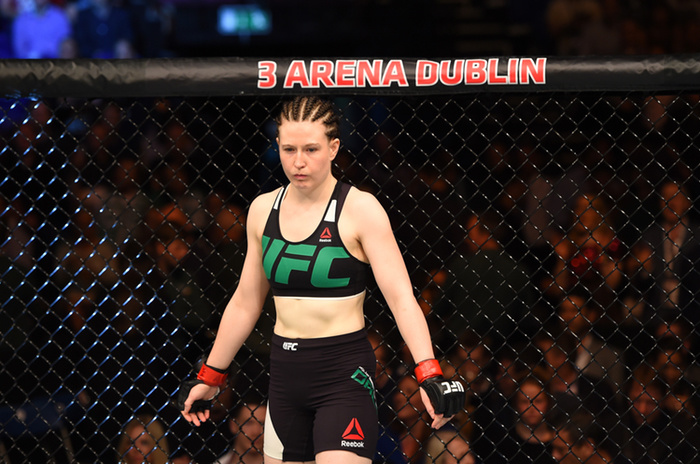 Although she finally conceded that she would not get a fight and instead focused on getting herself back to full fitness, the Irish MMA pioneer admits that the waiting game has been "frustrating".
"It was a little bit frustrating. Especially with the London card, that would have been so handy. It's just a short hop across the pond and there would have been a ton of fans coming over to support me. I just really didn't understand their response. They just told me that there was no going to be any females on the card.
"That was frustrating. Then, asking for the Zagreb card when we were so far out from it, them saying no and then coming back and offering me a fight on short notice, that was a little bit annoying."
As the smallest weight category on the UFC's books, strawweights have to struggle a lot more than their heavier peers to get rid of the last few pounds given their size. As far as Daly is concerned, she needs the full eight weeks to gear her camp toward getting down to 115 lbs. For that reason, she thinks that short notice bouts in the category should be contested at flyweight rather than forcing the fighters to rush through a weight cut.
"The thing about me competing as a strawweight is, I'm not small for the weight class. I need time to get that weight down. On five weeks notice, I might have been out for someone's birthday the weekend before I get the call. I'd be a little heavier than usual.
"I'm not going to kill myself for five weeks and either not make the weight again, it's happened once already, or put in a terrible performance. I can't do that. If it was a short notice fight at 125 lbs, I know they're having a catch weight fight at that weight this weekend, I could probably do that on short notice.
"That extra ten pounds, when there's nothing else on you to lose, it can be really hard going. That's one thing that people don't seem to realize, 115 lbs is my weight class, but it isn't my weight class.
"Before I signed for UFC I had one fight at strawweight for Cage Warriors and that was just to prove that I could get down there so I could get into the TUF house. Otherwise, I would probably still be at 125 lbs."
Check out these related stories:
Aisling Daly: Bout With "Protected" Paige VanZant Is "Too Risky" for UFC
UFC Dublin Date A "Dream Come True" for Aisling Daly