A Muay Thai Champion's Crossover to Western Boxing

Photo via Flickr user A.Shazly
To reach the pinnacle of a single combat sport is an achievement that all fighters strive for but few ever achieve. Becoming a champion in two completely different disciplines is a much more difficult undertaking, but one man is on the verge of following in the footsteps of Thai legend Samart Payakaroon by winning top tier titles in both boxing and Muay Thai.
Tamanoon Niyomtrong fights under two completely different names. In Muay Thai the 24 year old is known as Newlukrak Pagonponsurin whereas he boxes under the moniker of Knockout CP Freshmart but he is rapidly proving himself as a world class fighter in both sports.
In Thailand there are three main Muay Thai championships which are respected above all others and they are the belts at Rajadmnern and Lumpini and the national title. Niyomtrong has won all three to establish himself as one of the most successful mini flyweights of his generation.
Not content to settle for supremacy over his division in Muay Thai, two years ago he began boxing under the name of Knockout CP Freshmart. With a reputation preceding him from his success in 'the science of the eight limbs' he was given an opportunity to fight for the WBC Youth title on his pro debut and won via technical decision.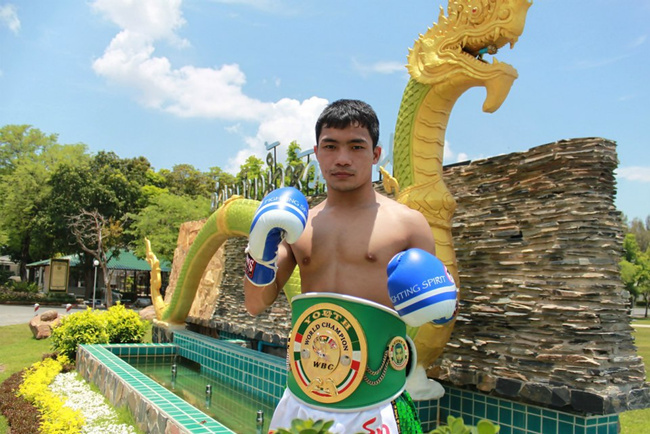 Niyomtrong is now 8-0 overall with five KO wins and on October 1st he will have the opportunity to become a world champion in boxing when he faces Nicaraguan Carlos Buitrago in a bout which will have the WBA interim 105 lbs title on the line.
Thai boxers tend to fight exclusively in Thailand to begin with and many of them will benefit from some favorable matchmaking with promoters bringing in patently sub par opponents to help pad their records to get them to the point where they are ready for a world title shot.
Although Niyomtrong has taken a couple of title defenses against opponents who patently had no business fighting for a belt he's also beaten some tough Filipino fighters with respectable records to work his way up to number six in the WBA rankings.
His reward is a title bout against Buitrago who is ranked number five by the WBA and holds a professional record of 27-0-1-1. The Nicaraguan's last contest was for the WBO 105 lbs world title but he could only manage a split draw against reigning champion Merlito Sabillo in Manila.
Given the gulf in experience between the two boxers Buitrago will be a strong favorite but the fight will be taking place at an outdoor venue in Buriram ,which is a stone's throw from Niyomtrong hometown of Surin meaning he should get good support but more importantly will be comfortable in the climate.
In Thailand boxing matches are normally held outdoors in the sweltering heat of the afternoon sun which can be an uncomfortable experience for visiting fighters, who often don't get the luxury of an indoor changing room in which to prepare.
It's one factor which plays in the favor of the Thai fighters and makes them very difficult to beat on home soil, although with a WBA title on the line neither the judges nor referee for this contest come from the same country as either of the fighters.
It's the sort of boxing match that will only be on the radar of the most hardcore of fight fans but Niyomtrong has finished 63% of his fights inside the distance while 60% of Buitrago's victories have been courtesy of a stoppage so this world title match will have plenty of potential for violence.
There is also the opportunity for Niyomtrong to make a small piece of history by becoming one of only a handful of fighters to ever hold top tier titles in both Muay Thai and boxing and, although it isn't the most popular division, regular observers of 105 lbs bouts will tell you that while the fighters may not be big the fights themselves are seldom boring.
The general consensus is that Niyomtrong is taking a big step up against the undefeated Nicaraguan but his management obviously believe this is a fight the 24 year old can win and having made a clean sweep of his division's titles in Muay Thai he will hope to win his first major boxing belt in Buriram this Wednesday afternoon.
Check out these related stories:
Khmer MMA: An Emotional Homecoming
Meet the Youngest Promoter in the History of Boxing