A Reckoning for the Character That Conor McGregor Created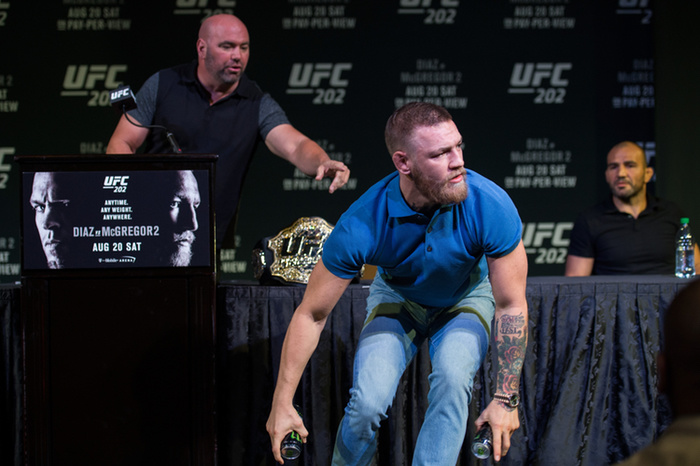 Even if you missed the gif of Jake Shields throwing a venti Starbucks cup, chances are you heard about the beverages hurled through the air at Wednesday's press conference for UFC 202. A quick recap: UFC featherweight champion Conor McGregor rolled in a half-hour late, his opponent Nate Diaz then strutted off the dais, he and his entourage thrust their middle fingers at McGregor, the fuck yous started flying, and so did the water bottles and energy drink cans. According to UFC President Dana White, someone was injured in the melee, everyone from both fighters' teams—except licensed cornermen—was barred from the rest of the fight week activities, and both Diaz and McGregor are likely facing further punishment from the Nevada State Athletic Commission.
Whether or not it was contrived, an eruption between McGregor and Diaz was expected. When it finally happened, it verged on slapstick. And there, reaching for 16-ounce cans of Monster and throwing them skyward without a semblance of good humor about the whole thing, was Conor McGregor, looking as vulnerable as he ever has under the spotlight.
UFC 202 is an event with no title at stake in the Diaz-McGregor headliner. It has none of the imposed significance of UFC 200, where the fight was originally scheduled to take place. As a rematch, it lacks the novelty of Diaz and McGregor's first 170-pound meeting back in March. But for McGregor, this fight is his most important to date: it's a reckoning with who he's become.
Given the household name status—for an MMA fighter anyway—that he enjoys today, it's easy to forget that it's only been three years since McGregor arrived in the UFC. He came at a crucial juncture: Along with former women's bantamweight champion Ronda Rousey, McGregor's run to the featherweight crown helped erase the memory of the UFC's injury-plagued 2014 and its mini-exodus of former stars. "I feel I carried 2015 on my back. I feel like the reason there's a $4.2 billion price tag on the company is because of me," McGregor said at a press conference last month, referencing the valuation of the UFC before its recent sale. And McGregor's 2015 was incredible, especially in hindsight: he walked a tightrope made of braggadocio and left hands on his way from being a smart-mouthed striker protected from 145-pound wrestlers to knocking out a champion who hadn't been beaten in a decade. He kept winning, he kept talking, his name rang out, and by the end of the year he had a gold belt to show for it.
The irony is that McGregor put a torch to the value of gold belts when he fought Diaz the first time. UFC 196, a card whose headliner was thrown together less than two weeks beforehand between an overstuffed McGregor and a Diaz brother fresh from a tequila-soaked vacation, drew an estimated 1.5 million pay-per-view buys and became the promotion's second-best-selling event to date. It was supposed to be a substitute, a just-for-fun fill-in after an injury to Rafael dos Anjos dashed McGregor's lightweight title ambitions. It ended up being McGregor's first loss and a lesson in things we already knew but seldom admitted aloud: gold belts and number-one contenders don't really matter. Personal acrimony, name recognition, an appeal that's hard to describe but easy to understand—that's where the money is, and maybe the meaning, too.
And so McGregor—who, win or lose, will remain champion at 145 pounds—goes up to 170 pounds once again to defend something he can't wrap around his waist: the persona that he's cultivated along the way. McGregor is the big swinging dick of MMA, a onetime plumber who talks about turning on the money faucet every time he gets in the cage. But as of Wednesday, according to ESPN, there were 2,700 unsold tickets for the fight at the T-Mobile Arena in Las Vegas. McGregor used to boast about a relationship with the UFC brass that had him practically waiting for a corner office to free up. Then the promotion pulled him from UFC 200 for flaking on media obligations, and if White's admonishment of McGregor and his tardiness at Wednesday's press conference wasn't a public sign of personal strain, it was an indication that things aren't quite so chummy. And McGregor's conspicuous taste for the finer things remains a part of his profile: in a recent episode of UFC Embedded, he's the subject of a high-fashion photo shoot for a luxury watch magazine, then he works impromptu combos with his striking coach in a rented house with a shiny chandelier dangling behind them.
This is an image that a loser—in the literal win-loss sense—cannot sustain for long. The slick-talking, cash-stacking knockout artist who's always dressed like he's about to shove off to his summer place on Nantucket doesn't work without a win streak propping it all up. And with such an inflated public self, losses chip away at the McGregor mythology far more swiftly than they do for an anonymous slugger on the prelims. A win over Diaz won't wipe the slate clean, which is why McGregor conjured the idea of a trilogy with the Stocktonian as soon as he showed up at Wednesday's press conference. Odds are, if McGregor does win at UFC 202, it won't be a thing of beauty: having already thrown his hardest shots without finishing Diaz the first time around, he'll crib the game plan Carlos Condit used on Nate's older brother and fight with a five-round decision in mind.
But while the way a fight is won makes a difference, the win itself matters most of all—more than belts, more than shiny cufflinks and chandeliers, more than chucking energy drinks, more than punctuality at press conferences. You can keep everyone waiting if you win when you show up. If you're the last man standing, they might forget you were ever late at all.
Check out these related stories:
Nate Diaz Storms Off and Endears Himself to Las Vegas
This Time Around, Nate Diaz Has to Deal With Expectation