Ais "The Bash" Daly Finally Gets Her Chance at the Big Show

Photo by Josh Hedges
UFC Fight Night: McGregor vs Brandao was a ground-breaking night for Irish MMA but even with all of the celebrations on the back of wins from McGregor, Nelson, Parke, Seery, Pendred and Holohan, the night was still missing one of the most successful fighters the country has produced.
Paddy Holohan reminded the crowd, some who may not have known, about the absence in question after his first round, debut win on the night:
"I want to say one thing," he bellowed from the Octagon, "to one of my best training partners—Ais—that's out there in the big house doing her time. Stay strong. We're all here, in six weeks time we'll all be sitting down talking about this."
Aisling Daly was one of the most easily recognizable Irish athletes involved in the sport in its early years. Pink hair, a bubbly personality, an ear to ear smile plastered to her face at all times, she was the only actively competitive female that the country had to offer.
Being the sole representative of the women's MMA movement on the Emerald Isle, 'The Bash' would have to travel to get opponents at times or else promoters would be forced to draft in overseas talent to fight the Irish prospect.
Before McGregor's star pushed MMA into the mainstream of Irish consciousness, it seemed like Daly would be the chosen one to bring in a flock of new fans from the outside.
Becoming the country's first international champion with the NAAFS promotion after taking a victory against the odds over Jessica Eye in June 2011, the Irish MMA community believed they had found their first breakthrough athlete.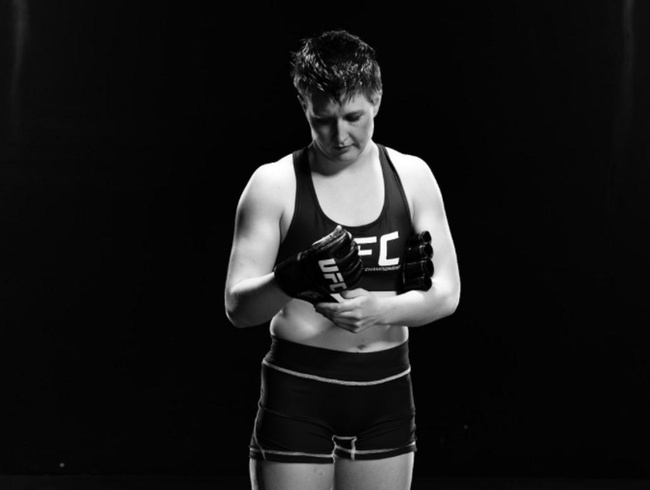 "MMA wasn't really established in Ireland, it had a lot of fans but it hadn't really broken through into the mainstream at that stage," Daly contemplated her title win. "Maybe the fact I'm a girl made it a little bit less appealing, but you couldn't say that was the main reason because the Irish have a lot of female sporting heroes.
"I've never had any negative experiences because I am a girl to be honest. Look at how well the ladies have done in rugby, look at the ladies' GAA teams and obviously there's Katie Taylor with boxing too.
"It wasn't that the public had negative feelings towards me either, I just think I'm not as loud or as out-going as someone like Conor. I'm not as inflammatory as him. Conor says whatever he's thinking and whatever he feels, he's just like that all the time.
"He says it himself, you'll either pay to see him knocking someone out or you'll pay to see him getting knocked out. I'm not like that at all, everyone that meets me generally thinks I'm nice. I don't think I have that big personality that makes people, who are otherwise uninterested, take note of the sport.
"The sport definitely needed Conor. He's been such a breath of fresh air not only in Ireland, but in the MMA world in general. Some people love him, some people are jealous of him but they're probably more like me—they're nice—and that just doesn't sell on that level."
In February, Daly showcased immense bravery in a sport where confidence is a key aspect, by announcing she had been battling depression through her blog. Knowing that her life could be put under a microscope due to her possible involvement in The Ultimate Fighter: A Champion Will Be Crowned, the first lady of Irish MMA felt she was better off getting her struggle out in the open.
"Writing that blog took a big weight off my shoulders. One of the reasons I wrote it was because I knew I could potentially be in the house and it wasn't something that I wanted some of my family and some of my friends to see on TV, I wanted it to come from me.
"I got to write it exactly the way I wanted to and I was happy that I could get it out there and share it with everyone. I wanted to let other people know that they're not alone and that I dealt with it.
"It's always there in the background, you never stop going into depressive moods but you deal with it as best as you can each time. It will always catch you when you least expect it, but I have dealt with it and I probably will be dealing with it again in the future. You just never know.
"You'd be surprised how many people are suffering with similar things but they're just too embarrassed to talk about it. We've got to get rid of that stigma.
"Irish people ignore mental health issues. You think of the words they use to describe it, 'she suffers with her nerves', and these kinds of things. It makes no sense, there's no reference to what the person is actually experiencing.
"I still don't know what 'she suffers with her nerves' means—does she have anxiety, is she depressed or does she just have some kind of spasms in her hands? It's just so general and it doesn't confront the issue at all, the more the Irish talk about it the better they'll understand it."
With the tragic loss of SBG jiu jitsu coach and competitor, Kamil Rutkowski, earlier this year, mental health has been pushed to the forefront of the John Kavanagh gym who offer a "safe and open" place for their students according to Daly.
She said: "At SBG we had a really awful tragedy earlier on in the year with one of our coaches and friends. He committed suicide, he had been suffering with depression and he never told anyone about it.
"The first time we knew anything about his mental health issues was when we spoke to his family after he had died. Obviously that was too late but the gym is now heavily involved with charities like Pieta House. We're very open, everybody has someone to talk to.
"It's a safe and open place for people who have those issues. There are guys that are there everyday on the mats and they'd be happy to tell you how they've turned things around or how they're working towards something to help their mental health.
"Being one of the faces of the gym, and being so upfront about it has allowed people to see that we are a gym that can help people out and after the tragedy that we suffered we want to help as many people as we possibly can."
Having travelled a long, hard road to reach the pinnacle of the sport, Daly is still not content in claiming that she has "made it". Despite making the final cut for The Ultimate Fighter: A Champion Will Be Crowned, only when she fights on her first official UFC card will the Dubliner finally consider herself at the big show.
"It was a really nice feeling to take part in TUF, but for me I haven't made it yet. I have to actually fight on a UFC card, I have to put those gloves on when there's a crowd out there waiting for me. I want my team in my corner and that to me will be when I've made it to UFC.
"As far as I know everyone on the show will make up the division, but all of that in there was surreal to me. They're not even real fights in a way without seeing Paddy Holohan and John Kavanagh in my corner. I want to be able to prepare my way, I want to fight my fight, I want to walk out to my own music and that to me will be when I've made it."
Follow the author on twitter.
Check out these related stories:
Meet the TUF Strawweights: Part 1