An Academic Analysis of Joanna Jedrzejczyk's Trash Talk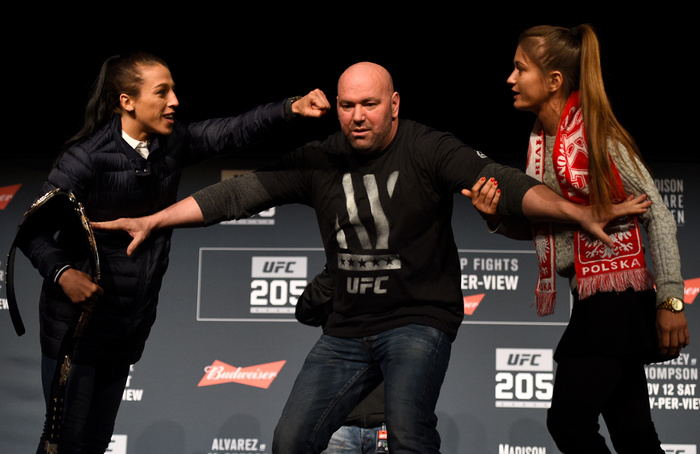 Reigning UFC Women's Strawweight Champion Joanna "Champion" Jedrzejczyk recently told us that she doesn't like trash talk and doesn't engage in it. And perhaps that's fair. There's nothing particularly trashy or even blustery about what she does in interviews, press conferences, weigh-ins and on social media. It might not even be fair to call it "talk" when her wry and occasionally borderline whimsical assaults on her opponents' psyches are more akin to multimedia presentations.
Whatever it is that Jedrzejczyk does, though, there is something undeniably intriguing about it. In an effort to figure out what makes her unique presence in MMA so fascinating and entertaining, we reached out to experts from the writing world—whose only knowledge of MMA comes from participating in this Academic Analysis series—and asked them what they could make of the mystery wrapped in an enigma wrapped in Violence wrapped in a Champion.
The Panel:
Rhiannon Don is an academic writing instructor and a person who knows virtually nothing about MMA.
Erik Missio is the editor of two national architectural/engineering magazines and regularly writes about the conversion of technology and parenting for CBC. He has a master's degree in journalism. While wholly unfamiliar with MMA, he was raised on a steady diet of comic-book super-villain soliloquies and pro-wrestling heel promos.
Their Insight:
1. March 2015
While she was promoting her fight at UFC 185, where she faced then-champion Carla Esparza for the UFC Women's Strawweight title, a number of members asked her how to pronounce Jedrzejczyk. Although she was patient with them, her lessons were far from successful.
"After next Saturday, you can call me Joanna Champion," she told them.
RD: This is quite pithy.
EM: Jedrzejczyk is a nice, normal Polish surname, but she's probably a little annoyed at how many times she's had to correct Americans who butcher it. (And you just know the Starbucks barista is screwing up her first name when Joanna goes for a salted caramel mocha or whatever.)
But Jedrzejczyk knows she's going to be big in UFC, and she knows people are going to be talking about her. So, giving us the soundbite "Joanna Champion" is a nice way to circumvent the impending mispronunciations and spellcheck errors. It's catchy, it's the right kind of arrogant confidence, and it's prophetic. Besides, there's no familial shame in giving yourself a stage sobriquet—ask Robert Allen Zimmerman or Michael Hickenbottom.
Also, I get that MMA takes itself very seriously and is supposed to be a 'pure' sport not wrapped up in crass marketing like, say, pro wrestling, but "Joanna Champion" is such great thing it should be on a million T-shirts. It'd be easier to mass-market than Jedrzejczyk 3:16, in any case.
2. March 2015
At the weigh-ins for UFC 185, Jedrzejczyk gave Carla "The Cookie Monster" Esparza a cookie. She assured everyone that there was nothing bad in it.
Esparza later took to Facebook to reveal that the cookie was past its best before date.
Invoking the legendary (at least in MMA terms) words of Nick Diaz, Jedrzejczyk commented on the post with a "Don't be scared, homie."
RD: I really admire the creativity here. The invocation of Diaz is a great way of posturing, though I do wonder if the expired cookie is deliberate.
EM: OK, the etymological origins of "Joanna Champion" are pretty easy to parse—what's the deal with Esparza calling herself "Cookie Monster?"
Regardless, giving her a cookie at a weigh-in is pretty good trolling because it not only shows Joanna's level of concern as pretty low, but also because it throws Esparza off her game—it's hard to be intimidating when you're holding a cookie in shrinkwrap. And having it be a stale cookie? That's hilarious, A+ trolling.
3. June, 2015
As Jedrzejczyk prepared to defend her title against Jessica Penne at UFC Fight Night 69, she posted the above image of herself on her Twitter account.
At the weigh-ins, Jedrzejczyk tried to present Penne with a gift.
Following the failed gift attempt(s), Joanna took to social media again:
After the fight, she posted this:
RD: This is so funny to me. It reminds me of the ongoing prank war between two of my university roommates—one of them removed the labels from all of the other's canned goods, and then added a can of cat food to the collection of label-less cans. Compared to how aggressive the trash talk gets between some of the male MMA, this seems very playful.
EM: I wish I had known noodle-necklace diplomacy was a thing in UFC. I'm not sure what the best part of all this is—when Joanna brushes off Penne's lame attempt to steal her prop thunder, or when she unflinchingly pulls out a SECOND pasta-based trinket when the first is cast aside. The only way this whole thing could've been better is if she went for a third piece of al-dente jewelry. (Bonus points for taking the time to accent the piece with silver paint et al.)
4. November, 2015
At the UFC 193 weigh-ins, Jedrzejczyk and challenger Valerie Letourneau exchanged words during a heated staredown. When Joe Rogan asked Jedrzejczyk what she'd said to her opponent, she replied with, "That her lucky day was yesterday. Today and tomorrow are going to be my lucky day, because I'm the best. That's all."
RD: I admire the brevity and directness here, but I do wish that she supported it with a prop of some kind.
EM: Look, her actual "lucky day" speech was not exactly "From hell's heart, I stab at thee!" or even "Don't be scared, homie," but that's not the point. Look at her on that stage—her natural charisma, her relaxed-but-focused demeanor. This is someone so sure of herself, so calm and collected and copacetic that it has to be unnerving to her opponent. THAT passive part is the psychological warfare—not the right-in-her-face threatening aspect.
5. April 2016
Claudia Gadelha and Joanna Jedrzejczyk were not on great terms before they began filming the 23rd season of the reality show The Ultimate Fighter together as opposing coaches. And things did not improve during filming. At one point, they ended up fighting when the cameras were off.
At a press conference to promote the show's finale, where the two would face off for the belt in the main event, Jedrzejczyk insisted that everything was fine between the two of them... sort of. "We've been together six weeks, shooting The Ultimate Fighter, season 23. An amazing time for me. We became just... good friends," she smirked.
Which sounds much nicer on paper than it was in action:
RD: I would sleep with one eye open if I were Gadelha.
EM: Again, Joanna Champion is so good at coming off confident, unnerved, and relaxed. She's cracking jokes, playing to the camera, being buddy-buddy with Dana, making snide remarks... but never showing anger or frustration. Any attempts by Gadelha to come off as cool are completely dismissed. It's clear who the star is—Jon Jones is totally watching this with a shit-eating grin because he's just as captivated.
Check out these related stories:
An Academic Analysis of Nate Diaz's Trash Talk
An Academic Analysis of Jon Jones and Daniel Cormier's Trash Talk
Why Male Fighters Call Each Other Bitches