An American in Thailand: The Full Moon Party
I've been hearing about this Full Moon Party thing for ages, some kind of beach rave that draws an estimated monthly attendance of at least 8,000 hedonistic wrecks. And that's 8,000 in the low season. It's mid-August now, high season here on Koh Phangan in the Gulf of Thailand, which means we might be looking at 30,000 party-goers tonight, all decked out in glow-paint to match their neon shirts, drinking their buckets of alcohol and gleefully allowing the club music to damage their hearing. The "bathrooms" will be overflowing by midnight and the sand will be soaked with vomit patches, scattered like land mines, before dawn.
How the hell do so many people actually want to go to this?
The Full Moon Party has been rising in popularity among the foreign backpacker circuit for over 30 years now. I've never been involved in backpacker culture, but tonight I find myself on the road to the party with a couple Muay Thai fighters from Isaan, whom I met at the nearby Kosin Gym earlier this week. The idea of attending this sordid event with local Thai friends makes the whole experience slightly more palatable.
We take a large communal taxi up and down the winding hills to Haad Rin beach at the southern tip of Phangan Island. Much to my surprise, there's a ticket area set up to intercept party-goers. Giang and Baobiao, my two local nak muay friends, ages 23 and 29, walk right through with no problem, but I'm stopped and asked for the 100 baht entrance fee (about US $3). I contest that my friends got in free, so why do I have to pay?
"You're a foreigner," the ticket-taker answers in Thai. "All foreigners have to pay."
A banner behind him helpfully explains that the ticket booth proceeds are used for worthwhile things like extra security personnel and post-party beach clean-up. In light of this, I quit my protests and dutifully hand over my share.
We snake our way single-file through the sweaty masses, past all the bars, 7-11s, and body-paint stands, until we reach the sand. It's 10pm and the entire stretch of beach is already saturated with drunk tourists frolicking in the dark surf, flirting with young Thais selling buckets of alcohol, and crowding around the sexily mesmerizing fire-dancers.
As I stand on the precarious edge between paved town and sandy beach, I start to regret the whole thing. I am way too sober to be dealing with this many people. Baobiao and Giang, however, drag me around the beach, seemingly on a mission to take as many selfies as their phones can hold.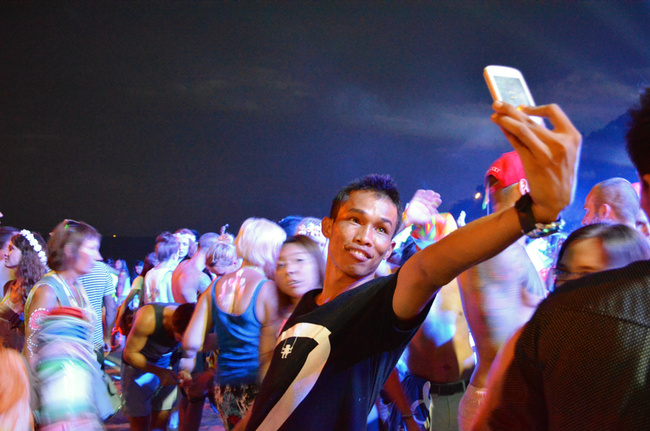 Drink booths line the shore, with vendors hocking plastic buckets of soda and hard liquor for around 400 baht (US $13). Surprisingly, Baobiao, whose creepily flirtatious attitude over the past few days just screams "big irresponsible drinker," says he'll be abstaining tonight.
"I'm fighting tomorrow, so I can't drink," he informs me.
"Wait," I start, "didn't you fight two nights ago at Kosin Gym? And again last night, twice? First at Haad Rin Arena and then at Jungle Experience?"
"Yeah."
"And you're fighting again tomorrow?"
"Yeah."
"Four fights in three days?"
"Yup," he smiles proudly. "I fight a lot!"
This can't be healthy. I saw Baobiao fight on both Friday and Saturday. Real fights, not exhibitions. His second fight on Saturday, in fact, resulted in him losing by KO, head kick. They had to drag him out of the ring, and he didn't regain full consciousness for about 15 minutes afterwards.
Outside a club, a Thai kid right in front of me waves and makes eye contact as if he thinks I actually know him. I figure he's waving at someone behind me until I realize that I do know him. It's Jae Jae, one of Giang's and Baobiao's fellow fighters from Kosin Gym. I watched him fight the last two nights on the same cards as Baobiao. Earlier today, I saw him working at Makro Supermarket, collecting shopping carts in the parking lot.
Jae Jae, looking starkly different without his Makro cap or his Muay Thai shorts, takes a sip of his bucket and offers me some.
"Aren't you fighting tomorrow night?" I ask.
"Yeah!" he laughs.
"But you're still partying tonight?"
"Oh hell yeah!"
"And you worked all day today at Makro, right? You working there tomorrow too? And then fighting afterwards?"
"Sure am!"
"Aren't you tired?"
"Shit no! I can go out, I can party at Full Moon, I can work full-time, and I can train and fight full-time! I can do it all! No problem!"
"How old are you again?"
"Seventeen."
"Figures," I say, and take a sip of the bucket he's offered.
Jae Jae vanishes into the crowd at the club as quickly as he'd appeared, and for a moment I feel a certain nostalgia for my own teenage years, when partying seemed like a great idea instead of an inconvenience.
Baobiao, sitting on a random motorbike parked outside the beachfront club, looks up from his phone and declares it's nearly midnight, about time for him to head home. I follow along as Giang escorts him across the beach town to the taxi area. We get sidetracked when they run into friends outside the Haad Rin Arena, a local gym and fight venue.
Directly adjacent to the arena is another entrance station. As if on cue, a young European man starts arguing with a Thai ticket-taker as we walk past.
"You look! Look in my wallet!" the European tourist demands in accented English. "I don't have any money! I have 140 baht! Not enough to get home if I give you this money for the entrance ticket!"
The ticket man doesn't budge. "It's the rule," he explains. "Everyone pays. It helps the beach and keeps you safer."
Baobiao and Giang push by and make themselves comfortable in front of the vacant arena, while I'm approached by white woman in a long skirt and studded belt. "Hey," she calls, "are you Lindsey Newhall?"
"Um, yeah…"
"I knew it was you! I read your blog!"
She introduces herself as Melia, also from southern California, and shows me around the mostly empty arena.
"I've been training nearby at Diamond Muay Thai for the past eight months. I was supposed to have my first fight here recently but it got canceled at the last minute. You know how it goes in Thailand…" she laments. "Anyway, is this your first Full Moon Party? How are you liking it?"
"I wish I'd experienced it when I was 10 years younger."
"Yeah," she laughs, "it's basically 20,000 intoxicated douchebags in neon body paint colliding into one another on the beach. But it can be fun--sometimes groups of us go from Diamond and I tell the teenage Thai fighters I'm going to help them find foreign girlfriends. It's pretty funny to see these tough fighters get all giggly when I mention girls."
During our conversation, the occasional party-goer wanders into the open arena and plays with the weights and other exercise gear in back. A few women start hula hooping while others don gloves and awkwardly hit punching bags. An attractive young couple is having a lover's quarrel over on a weight bench in a corner, while a charming young Indian woman kicks a long bag with surprisingly decent form, then later joins our conversation and waxes lyrical about how much she misses her recent month training up north at Charn Chai.
Suddenly a Thai man stumbles up and grabs Melia in a sloppy bear hug. She embraces him back and gives him a peck on the cheek.
"This is my boyfriend, Phu," she says, turning him around to face me. "He's working the ticket booth tonight."
"Hi…" he slurs, gives me a hug too, and then steadies himself on the side of the ring next to us. He doesn't stay to chat, but rather kisses Melia goodbye and drunkenly staggers off.
"I met Phu while training at Diamond," she continues. "He's from Isaan. He used to be a pretty respected fighter in Bangkok when he was younger. Now he's a trainer at Diamond, and he does the announcing here during fight nights. And of course, he also works with the local business association on Full Moon, selling entrance wristbands to the tourists."
I could not imagine sitting around all night, arguing with combative foreign tourists in my non-native language, though in my own native country, over a $3 admission into a goofy beach party. Is that why he's stumbling around now? Are these verbal frays with obstinate tourists driving him to drink?
"… Do you think he likes this job?" I ask hesitantly.
She surprises me when she says he doesn't hate it. "But it's probably because he gets to sit with his friend and drink free buckets all day," she adds. "It seems pretty boring otherwise, though, and some of the foreigners can be incredibly obnoxious about paying 100 baht to get in. You look at these people, in silly neon pink short-shorts with glow-paint dicks on their foreheads, getting drunkenly indignant over 100 baht, and you just shake your head.
"I'll be sitting with Phu sometimes while he's working and they'll come up with all kinds of excuses, like, 'But the guide book doesn't mention this! But I'm only here to eat something! But I left my money at the hotel! But that's stupid!'… It would be funnier if it didn't happen over and over, all night long. In light of all that, though, I don't blame Phu for downing all those buckets. I had one or two myself."
"Seems like an odd job for a former fighter and now trainer to be doing," I comment.
Melia casually looks down, with a tinge of concern. "Yeah… Phu seems happy enough with his life; his joy when he trains Muay Thai is obvious. But he's 37 now, and sometimes I wonder if he feels a little lost. Sometimes he reminisces about his fighting days in Bangkok, and I wonder if it's some kind of post-career depression.
"He said he never used to drink when he was a young fighter, but that's changed too. I don't know if it's some kind of aging athlete syndrome, or what. Maybe it's just island life. He's been here 10 years now. Living here will make you crazy, I'm sure."
We sit around and talk about Muay Thai life for a while longer until a visibly exhausted Phu comes back to check on Melia.
"I better go," I say. "The ferry's leaving soon."
The taxi-truck I jump into is full of relatively sober blonde women, beautiful in their youth. I learn that they're American, studying up north in Chiang Mai this semester, here to experience "this Full Moon Party thing that everyone says we have to go to." That's the dominant crowd at these events: 18- to 30-year-olds, perhaps backpacking on gap years, or taking a summer vacation from uni, or on holiday from call center jobs, all here to party, maybe to hook up, to find themselves or lose themselves. They come in droves, lining up at the ticket booths that the guide books failed to mention, arguing over $3 ticket fees with has-been Bangkok stadium fighters who now sip on buckets and try to endure.
From the Thong Sala Pier, I take the 5am ferry to the mainland and climb onto a bus overwhelmingly full of Chinese tourists, headed for the Surat Thani airport. The plane takes off and I leave as anonymously as I arrived, just another Full Moon Party tourist disappearing into the ether.
Check out these related stories:
The Traditional Fashion of Muay Thai
An American in Thailand: The Rural Muay Thai Doctor
An American in Thailand: Sundays at Singpatong