An American in Thailand: The Queen's Cup
August 12, 2014
It's a Tuesday night in mid-August, and Bangkok's Royal Fields are packed with Muay Thai fans for the Queen's Cup, arguably the biggest day of the year for female Muay Thai. The fights are split between two rings: Muay Ying Association features an all-Thai, all-female card, while OneSongchai at the opposite end of the royal compound has coupled with a Chinese promotion for international match-ups.
Illuminated by large spotlights and backed by a huge broadcast screen, the first ring I come across looks pretty high-budget. Two Thai announcers, a dapper man and a sophisticated woman in rich people's clothes, take the stage and introduce the first set of fighters. The "Muay Ying Association" logo on the big screen dissolves into enormous portrait shots of each fighter as she enters for her walkout, all soundtracked by a bass-heavy mix on loop that could stand to be turned down.
Just before the first fight stars, I'm joined by my friend Sandy, a fellow Californian who has recently taken up Muay Thai. "I'm doing it for fitness," she told me shortly after she stared training, "but I've been pretty unhappy with life lately so I kind of want to fight, mainly so I can try to beat someone up legally."
The Muay Ying Association fights commence, and I am loving every minute of it. This gathering of female Thai fighters is fantastic, and something I so rarely get to enjoy. Each fighter is given a proper walkout while the announcer reads her biography and stats in Thai. In addition, the audience has the opportunity to learn a bit about each victor during the post-fight interviews, in which the emcees tell the girls how pretty they are and invariably ask if they have boyfriends.
I wonder if the male fighters over in the OneSongchai ring are being asked after their fights if they have special ladies.
All the Muay Ying Association fights are entertaining, but it's during the fourth fight that I see something truly special. At first glance she's just another teenage contender, but from the moment she smiles on stage and begins to parade down the catwalk, I can't take my eyes off her. There's nothing inherently unique about her except for the constant, mischievous grin she wears all through the walkout and wai kru.
She keeps up her Cheshire Cat smile for virtually the entire fight. Representing the Red Corner, she dashes around the ring terrorizing her opponent, her grin rarely wavering.
Blue Corner, a willowy young woman with short hair, tries to smile in return, but it looks pained, forced. By the middle of the first round, her attempt at a pleasant countenance begins to crumble. She's overpowered, and eventually gives up pretending this is all fun and games.
Cheshire Red nearly laughs aloud while she teeps Blue in the stomach, then shrugs a little and keeps her grin on, mouthing something to Blue that I can't make out. Nor can I completely see what's behind her smile. I can't tell if it's an indicator of friendliness or an intimidation tactic, as she looks like she's having fun, but her opponent decidedly does not. She moves too confidently for this to be a nervous smile. Maybe she's messed up in the head, or socially awkward. Or she might be an adorable sadist who finds so much joy in the simple effort of trying to cut up Blue with the elbows she's throwing by Round Two.
Smiley is predictably declared the winner, amid raucous cheers from the adoring crowd. She continues beaming as the pair of announcers enters the ring to tell her in Thai how beautiful both her technique and her smile are.
One of them asks her the requisite question of the evening: "Do you have a boyfriend?"
She giggles and says she doesn't have time for a boyfriend.
"Do you fight with boys a lot?" the other asks.
"Oh, no!" she laughs, then thinks about it and corrects herself. "Actually, yes, I fight with my brothers all the time!"
They continue chatting for another moment and the crowd loves it. She's a pretty fighter with long, braided black hair who puts on a good show and seems like she's having fun. Also, she looks and acts like a straight, gender-normative young woman. If I were a marketer of female Muay Thai looking for a local poster girl, I'd see dollar signs all over her.
A few fights later, Sandy and I leave the fabulous all-Thai-women card to check out the Thai-Chinese fights put on by OneSongchai and its partnering Chinese promotion at the other ring. Gaudy decorations are flung around the stage, but unlike the Muay Ying Association's slick setup, there's no oversized TV and little in the way of organized seating around the ring. Sandy and I slowly slink our way through the mostly Thai crowd to the side of the ring, just in time to see the last two rounds of what appears to be a Thai-Chinese match typical of tonight's promotion.
Blue's corner is screaming commands to him in Mandarin while the crowd naturally cheers on the dominant Thai. The Chinese fighter appears undaunted despite the beating he's receiving, but heart isn't enough to win it for him. Raw emotion paints both their faces; this is a nationalistic battle, and the Thai isn't taking any shit. The crowd cheers wildly each time the Thai lands a strike, and no one is surprised when the ref raises the Thai's hand at the sound of the bell.
The Chinese and Thai announcers enter the ring and take turns congratulating the victor in their respective native languages on winning what was an S1 title fight. They present him with the belt while the China contingent leaves the ring quietly. Come on, I think to myself, ask him if he has a boyfriend!
Disappointingly, questions regarding significant others are reserved solely for the Muay Ying Association promotion. My ears perk up, however, when the Chinese announcer reiterates that this fight was between China and Taiwan, not Thailand as I'd originally assumed. For a moment I think I must have misunderstood what was said in Chinese, but the Thai announcer repeats "Taiwan" as well.
"Sandy," I point to the supposed Thai, "did they just say that guy was Taiwanese?"
"I don't know. I thought he was Thai."
"I thought so too. But if he's Taiwanese, then no wonder it was such an intense fight."
Standing next to me is a nonthreatening older woman. I tap her on the shoulder and ask in Thai if she knows where the winner is from.
"Um, Japan-- No, wait, no!" she corrects herself. "I mean China! Wait, no! I mean Taiwan! He's from Taiwan!"
"Then why were all the Thais cheering for him so much? Why were they all cheering for Taiwan and not China?" I ask.
"Because no one likes China tonight!" she laughs.
Huh? No one likes China tonight? I'm not sure what she meant by that, but the next match serves to add a bit of clarity.
Two new fighters are up, a Chinese woman and a Thai. The Thai fighter enters the ring first, her long, lithe body moving gracefully under the lowest rope.
Then comes the Chinese fighter, slightly shorter and bulkier, and either ignorant or just plain dismissive of the Thai custom of women going under the ropes. No one is there to hold up the lowest rope for her, and she steps between the middle ropes into the ring. I raise my eyebrows at Sandy in a "did you just see that?" look.
"So, who you gonna call for this match?" I ask Sandy.
"Well, normally I'd say the Thai, but maybe the Chinese chick because she looks like she doesn't give a shit about rules or anything like that."
"You think she knew she was supposed to go under the ropes?"
"I would think someone must've told her. If you come all the way to Thailand to fight, isn't that something you'd be aware of?"
The fight, which lasts three long, action-packed rounds like the rest of the Thai-Chinese matches, is characterized by the Chinese woman dominating her Thai opponent with what look like Judo throws. She's tossing the Thai fighter around like a human ragdoll, throwing her over her hip, getting low and flipping her nearly over her head. Discouraged and overpowered, the Thai continues to rely on her Muay Thai technique, but it's of little help against the stouter, stronger opponent and her Judo skills.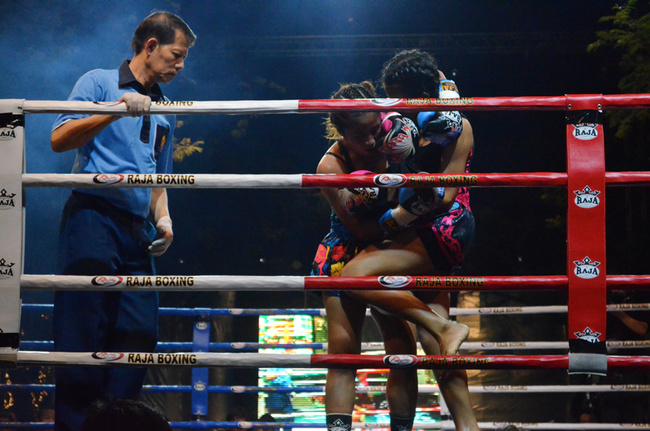 Sandy and I debate about the legality of these throws, and wonder why the ref isn't stopping it. The Chinese fighter emerges as the winner, prompting us to conclude that this match was not judged under strict Muay Thai rules.
"International promotions…" Sandy murmurs. "Arbitrary rules… I got no idea."
The defeated Thai leaves the ring under the lowest rope, and a cornerman sticks around to help the Chinese fighter avoid repeating the embarrassing gaffe of going through the middle ropes. She ignores the cornerman, steps slightly to the side, and exits through the middle ropes again.
It's nearing midnight and the competition in both rings shows no sign of slowing down. The Muay Ying Association is doing its best to glamorize the women on its card, while the OneSongchai promotion is banking on money from Chinese interest in Muay Thai. Happy birthday to Her Majesty the Queen, whose national sport is becoming an international success.
Check out these related stories:
Confessions of a Muay Thai Gambler
An American in Thailand: The Full Moon Party
An American in Thailand: Muay Thai Road Trip