An Israeli Champion Emerges in the First Muaythai International World Cup
STAR FIGHTER EMERGES FROM THE FIRST UNIVERSITY WORLD CUP
On the final electrifying night of the First Muaythai University World Cup, Israel's top Muay Thai champion Itay Gershon returned to his corner after the first round with his last contender, Patryk Borowski-Beszta of Poland. I stand ringside at the National Stadium in Bangkok, camera pressed against my face. Nearly every seat in the outdoor boxing arena is taken on this humid March evening.
The Polish fighter is the only opponent out of four to survive past the first round with the Israeli. Expectations run high for the audience who witnessed the star fighter KO all three of his previous opponents in the competition. They brace themselves for another knockout, but Itay has other plans.
"My opponent is Polish. I know about his weakness," Itay described his strategy before the closing night fight. "He's tall. I'll kick him in the body. I'll defend all his strikes. And I'll be better at the clinch. And that's how I'll win."
Often referred to as the "Art of Eight Limbs," Muay Thai originated in Thailand in 1520. The combat sport makes use of elbows and knees in addition to hands and feet, therefore using "eight points of contacts." This means tougher, more match-ready fighters. Joe Cummings, author of the 2003 book A Golden Souvenir of Muay Thai, calls Muay Thai the only well-known Asian martial art that features full-contact sparring. It has more in common with international boxing than any other martial art.
Once Itay sits down in his corner, his coach Beny Cogan takes a gulp of bottled water and sprays it all over the fighter's face. The coach's spit water mixed with the fighter's sweat ricochets across my camera, forcing myself and another photographer to dodge the shower.
As I inch back under the ropes to reposition my shot, beads of bloody water lay peppered on the canvas floor of the boxing ring.
Israel's top Muay Thai and K1 champion traveled along with 38 national teams to represent their nations and fight in Thailand, the birthplace of the martial art.
The 21-year-old Israeli took other student athletes by storm, winning two matches by KO, one by TKO and the last one on points. Among his defeated: two Thai fighters whom he knocked unconscious within minutes of the first round on home soil. Both were pulled out of the ring on stretchers.
Itay's visually stunning knockouts and boyish antics afterward takes us deep into the First Muaythai University World Cup. It's a milestone competition organized by the International Federation for Muay Thai Amateur (IFMA) and patronized by International University Sports Federation (FISU), the body that recognizes and includes sports in the Universiade.
RAISING A CHAMPION IN EUROPE AND RUSSIA IFMA
Itay's story began as an aggressive boy from Katamon, once a rough predominantly Sephardic neighborhood in Jerusalem. Both sets of his grandparents were Kurdish Jews. He was born the second child out of seven children. Now he lives with his older brother to make room for his five younger sisters in his parents' home.
As a boy, Itay never backed down from a fight. But that fearless quality found an outlet when the 13-year-old teenager followed his older brother to the gym where he trained Muay Thai with Beny, his future coach.
Beny trained Itay with an eye to fight at Muay Thai tournaments in Europe and especially Russia IFMA competitions, where fighters are technically better than Israel. At the age of 15, he became a junior fighter in the IFMA circuit, the very same organization behind this first Muaythai University World Cup.
Itay says he fought over 90 matches in Muay Thai and K1 kickboxing with a record of 30 KO's, and only 2 losses. He's a national champion whose training and rise in international amateur Muay Thai parallels IFMA's aspirations for Olympic status.
"I want to be the best in the world. Right now I'm top champion in Israel in kickboxing and Muay Thai. But it's a small country, not many boxers," he says.
For these amateur fighters, making Muay Thai an Olympic sport means their governments would sponsor them to travel to international competitions, schools and universities would invest in classes, and more gyms would open.
"What you see right now is a lot of junior Muay Thai fighters moving to boxing or taekwondo because they are Olympic sports," says Erdogan Aydin, a University Cup referee from Turkey. "There they can get funding. Especially women fighters who get pressure from their families to find a paying career. They are making this choice to leave Muay Thai for a paying sport."
BOUT 1: ISRAEL VS. THAILAND
Itay's first match against Thai opponent Jakapet made an example out of the unsuspecting fighter for the rest of the World Cup. In the first round, Itay jumped into an ominous spinning back kick into Jakapet's head. The Thai fighter went down like a rock, never regaining consciousness in the ring.
"First one I won by KO. I KO'd with a round spinning kick," describes the Israeli champion. "In Thailand you call it crocodile kick. 'Muay boran.' They call it like that."
"When you approach a fight against a Thai, as a trainer I brought other techniques in from ancient Muay Thai," says Beny. "Our strategy was to fake him and throw a blow he was not used to in Thailand. It's an ancient kick in Thai, called the crocodile kick. We kicked his left leg many times. Then we attacked his right side with a spinning back kick."
When that crocodile kick dropped Jakapet like a sack, Itay sprang a cartwheel in the boxing ring and did a little jiggy dance.
"I was just worried about his attitude when he was so happy to KO the first Thai," a referee shared in confidence. " He forgot to show some respect to the loser especially if he is injured. But he was so happy and forgot."
"Itay was really jumping around doing a somersault," Coach Beny defends his fighter. "But you have to know Itay. It was no disrespect. It was pressure."
Two days later Beny, also owner of Cogan's Gym in Jerusalem, said that ancient Thai kick created ripples beyond the tournament. "All of Thailand is talking about Itay's KO against the Thai fighter. There are thousands of hits on the Youtube video already."
BOUT 2: ISRAEL VS. SWITZERLAND
The second fight with Swiss fighter Roth Killian was also short-lived. In the first round, Itay put a knee in Roth's face and followed up with a round kick to his head.
"Second fight was like kickboxing. I put my left knee to his face. And I think he broke his teeth," says Itay. "Sorry for him, but this is tough sport. I think I give up too if my teeth broke. Maybe not, I'm crazy."
With a bloody mouth, the Swiss fighter chose to retire in the first round.
BOUT 3: ISRAEL VS. THAILAND
By the time the third fight arrived with Thai fighter Worawit Khamding, everyone was talking about Itay's lethal strikes. The Best Technique Award he received during semi-finals the previous night only raised the stakes. Thai pride was on the line.
"I kicked with my jumping knee to his face, and he goes down. I heard him breathe and make a sound like 'huh'," says Itay. "Knee in the neck. Sorry for him."
Itay KO'd Worawit in just over one minute in the first round with a knee to the chin, sending the 156 pound/71 kilograms division fighter sprawling to the floor. The Thai stirred for a moment on his stomach trying to raise his head, but then became still.
As paramedics crowded around Worawit's limp body in the ring and a stretcher was hoisted, Itay snapped out of his joy and crouched down next to the fallen Thai fighter in concern.
Later at the changing rooms flanking the boxing ring, some locals came to congratulate Itay on his third victory. "He's a superstar," said a stocky Thai man with clear admiration and disbelief.
At the end of the tournament, the Israeli champion ends up bringing home the Gold in his light middleweight division of 156 pounds/71 kilograms, Best Boxer award, and Best Technical Performance award during semi-finals.
It's a special distinction for a junior fighter who entered the IFMA circuit at 15-years-old and grew up with the organization pushing for Olympic status.
OLYMPIC ASPIRATIONS
In the world of sports, patronage of FISU is widely viewed as a stepping stone to becoming an Olympic sport. Closely aligned to the International Olympics Committee (IOC), FISU selects sports for inclusion to the Summer and Winter Universiade. That's the goal of IFMA organizers, acceptance to the (IOC). It's political and involves cleaning up the image of Muay Thai from bloodsport to fair play worthy of international Olympic standards.
"IFMA exists solely to make amateur Muay Thai an Olympic sport," explains Stephan Fox, General Secretary of the IFMA.
In only 20 years, IFMA has achieved same ring rules for male and female amateur fighters, mentored junior fighters through international competitions, and created an international culture built on the five pillars of Muay Thai: respect, honor, fair play, excellence and tradition.
"Then we have the Royal Muay Thai Council, which is pro Muay Thai. We work together. It's a marriage that's never gonna break," continues Stephan. "After athletes finish high school, we're there to protect them and monitor them."
In amateur Muay Thai, there are 130 member countries worldwide with five continental federations. Amateur teams get sent to competitions by their government. They get flags, doctors, and training camps. Olympic recognition for Muay Thai would mean national teams would be able to tap into government funding.
It's been a long road to the Olympics and organizers are optimistic the end is in sight. In 1999 the Olympic Committee of Asia recognized IFMA. In 2006 IFMA got world recognition with the inclusion to Sport Accord. In 2013, the International World Games Association included IFMA. The next step for amateur Muay Thai is inclusion into the Universiad supervised by FISU.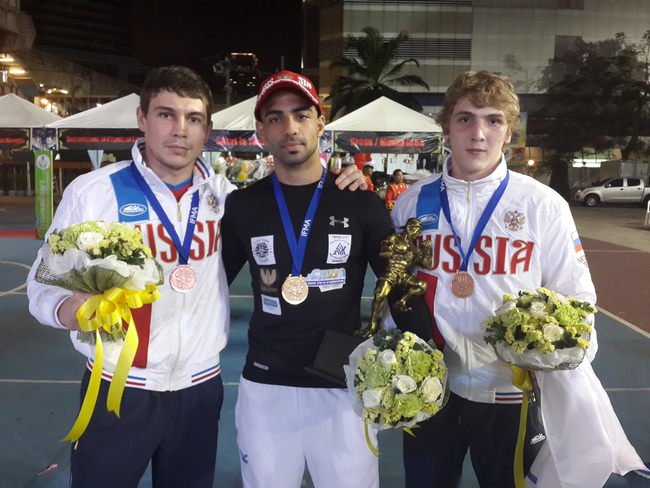 In this historical first University World Cup, Thailand proves it still produces the best fighters in its national combat sport. In the women's five weight divisions, Thailand won four out of five gold medals. But in twelve men's divisions, Thailand took home three gold medals with the remaining medals spread between Australia, Uzbekistan, two for Ukraine, Israel, Morocco, Belarus, Lebanon and Russia.
Author Joe Cummings says Muay Thai fighters in Thailand start training much younger than their counterparts elsewhere, so generally have more experience and better conditioning.
But in the last two decades the growth of amateur Muay Thai among international fighters has elevated the sport to global standards. Thais know their homegrown fighters are losing their edge as the international competitions have evolved to include heavier weight divisions, more boxing, and westerners who have learned to master the "clinch," neck wrestling.
Although Thais still dominate lower weight divisions, when it comes to the big boys, Central Asia and Russia have taken the lead. And IFMA predicts within a few years, amateur Muay Thai will be an elite sport.
"In the end the highest games of all are Olympic games. Olympic recognition is what we're after," says Stephan. "By end of 2015 our goal is to be recognized by IOC. We've been working on it many years."
Check out these related stories:
Just Three Hours a Day: Isaan Girls and the Importance of Muay Thai
New York City Nak Muay: The Preparation of Elijah Clarke
Life After Fighting: Muay Thai Legend Pornsanae Sitmonchai Retires