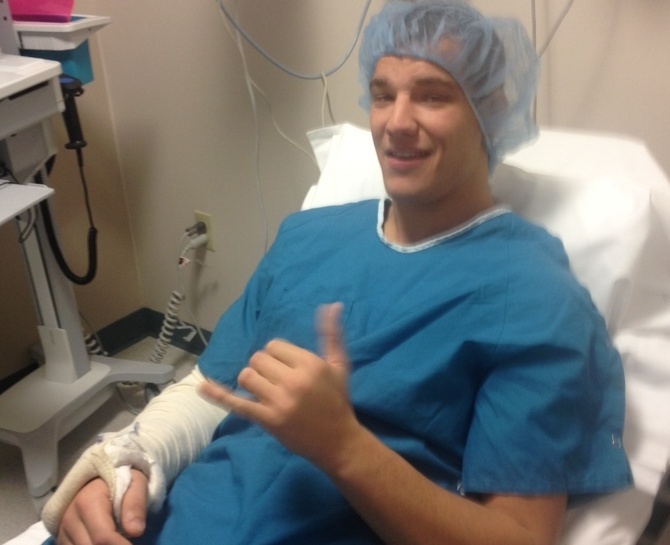 Last Tuesday was the first episode of the 17th season of The Ultimate Fighter, with coaches Jon Jones and Chael Sonnen. When it was over, the Internet was buzzing with talk of the fight between Andy Enz and Uriah Hall. Alaska native Enz won't be advancing into the TUF house, but his gutsy performance, despite a broken arm, put him on the radar of fight fans everywhere. The next episode of The Ultimate Fighter airs tonight at 9pm eastern on FX.
I knew 3 months ago that Andy Enz had gotten his arm broken on The Ultimate Fighter. I also knew that for contractual reasons, he wouldn't be allowed to talk about it, so I didn't ask what happened. I just assumed that in one of his fights on the show, he'd gotten caught in an armbar and refused to tap out because, well, that's Andy. Everyone in Anchorage and half of Wasilla knows that.
Andy was born in Anchorage and has been there all his life, which is fairly rare. It's also been my home for the last 17 years. Alaska isn't an easy place to live, by any sane person's standards. Every year there are seven months of sub-Arctic winter, three of which pass in almost total darkness. The place isn't known for typical American sports because we're driven inside most of the year. But one thing that lends itself well to spending a lot of time indoors, and also to people who are a little crazy, is fighting.
Andy's dad started him in wrestling when he was 4 years old. When school rolled around, Rus would make him run for 30 minutes and do all of his exercises before he started his homework. Then when Andy was 9, Rus began taking him to train with him at Alaska Star Boxing, where he'd practice with the adults, including Anchorage's longtime Alaska Fighting Championship Heavyweight Bryan Ryan. "Dad was trying to breed a gladiator, that's for sure," Andy tells me. "I hated him for it sometimes, but I could never let him down. He always knew how to get in my head and motivate me to keep pushing. When I got tired, or got hurt or cried, or wanted to stop, he'd just shrug at me and say, 'Sure, I guess you can quit. If you want to be average.'"
Rusty Enz was born addicted to heroin. His mother was a junkie and a prostitute who left him at a children's home in Oakland, California, when he was still a baby. It wasn't until he was nearly 30 that Rus picked up boxing, but he took to it quickly and has been coaching around Anchorage for many years now. "My dad dropped out of school before the 6th grade," Andy says. "He could have ended up a drug addict or a criminal, but he didn't. He owns a business and coaches in his spare time. He never had anyone to teach him to be a man, or a father, and yet he's done everything for me. We have never been a wealthy family by any means, but somehow my dad has always made sure that I had the best gear, the best training partners, private lessons, you name it. He's a hustler, for sure. I don't know how he does it."
Andy started fighting professionally 3 years ago, when he was 18, and would have started sooner had the rules allowed it. He is the youngest person to ever win a championship belt in the AFC. On TUF, UFC President Dana White announced his record as 6-1, but that includes a tournament that isn't supposed to count toward Andy's pro record. Andy has actually never lost a pro fight.
Andy had always planned to go into the Marines. But last fall, a week before he could enlist, Andy got curious about TUF tryouts. When he looked online he found that they were three days away. He went immediately to Rus. "I said, 'Dad, I have to do this. I have to,'" he says. "And somehow or another he got me those tickets. He found a way, like he always has. That was when I started to feel like this was all happening for a reason."
When they got to Las Vegas for tryouts, Andy walked into a room full of people that made him feel like a little kid. "There were 240 people there, and they all looked older than me, bigger than me, lots of scars and tats," he says. "Maybe if I hadn't shaved for a week, I could have grown in something that would look like a 5 o'clock shadow and I would have fit in a little better." Had he not been used to being the kid in gyms all his life, this could have been intimidating. They handed him a pile of paperwork to fill out and then gave him a nametag with a number on it.
They then broke everyone into three groups for grappling trials. Andy was in the last group, so he waited a long time before it was his turn. "It was so nerve-wracking," Andy says. "There was a wrestling mat, a bunch of people standing around with clipboards and pens looking all official, Dana White and Lorenzo (Fertitta, UFC co-owner) were watching, and there was an FX camera pointed in my face." He beat his opponent and was getting ready for striking trials when the fighters were then told that there wouldn't be time because they had to get to the interview process.
This was the worst part for Andy, far worse than getting punched or choked. He knew he could never be himself and have a shot in hell at getting on the show. Everyone there was walking around acting like tough guys, so he took his cue from them. "It isn't about being the humble warrior that I want to be. It's about being entertaining," he says. "So I had to be … totally not me. I said all kinds of shit I would never say and didn't mean."
The day before the opening fights between the 32 contestants left standing after the interviews, TUF announced who would be fighting each other on camera. "Everyone clapped when each person's name was called up, you know, as a sign of respect," Andy says. "But when they called Uriah Hall's name, the room was silent. I had no idea what that meant." It would have been easy for Andy to find footage of everyone he could have potentially been fighting once the 32 were narrowed down, but, he says, "Well … I mean, fuck that. I just figured I'd train as hard as I could and do my best." In the end, this might have served him well because he was the only person who didn't know who Uriah Hall was, and therefore didn't know to be scared. Which he understandably could have been had he known that Hall is 7-2 and has only ever been beaten by Constantinos Philippou, who just pulled out a surprising win over Tim Boetsch at UFC 155, and Chris Weidman, who is probably next in line to fight UFC middleweight champion Anderson Silva. Three different people walked up to Andy in the hour leading up to his fight to offer their condolences: "Wow man, Uriah, huh? Well … what are you going to do?" and "Hey man, tough break. Best of luck."
At the last minute, Andy found out that his mom and dad would get to be there for his fight. Which seemed to him like one more sign that things had to go his way. Rus has been at every one of Andy's fights, and while he isn't known for handing out compliments, he makes up for it when Andy fights. I heard Rus' voice over everyone else's during Andy's fight on the show. Maybe because it's so distinct or maybe because it's weird for us normal people to hear a voice we recognize on TV. I asked Andy if he could hear his dad while he was fighting and if he thought it made a difference in his performance. "Oh yeah, I could hear him. I can always hear my dad over everyone," he laughs. "At one point I heard him tell me to move back against the cage and get up, and I remember thinking, 'Yeah, that's actually a pretty far distance from here, Dad,' but because he said it, I had to find a way to get up. And I did."
The fight was rough. Andy ate some nasty kicks and punches. At one point he slipped out of what looked like an unbreakable triangle choke to take Hall's back. In the end he lost a unanimous decision to maybe the toughest guy in the house this year. I was so proud of him that it wasn't until the show was over that I realized there had been no armbar that could have put Andy in the cast I'd seen him in. Soon after the episode aired, word started traveling around the Internet that Andy had gone straight to the hospital after the fight to get an x-ray done on his right arm. Early in the first round, right after he had broken free of Hall and stood up, Andy blocked a head kick with his right arm that resulted in a fractured Ulna, the bone on the outside of your arm, between your elbow and your pinky. The bone was shattered in four places; Andy got a plate and six screws put in his arm. Within hours of airing, the fight had become famous on the Internet, many saying it was the best in TUF history and Andy one of the toughest contestants the show had seen. White and TUF coaches Jon Jones and Chael Sonnen could be heard singing his praises. Sonnen even invited him out to his camp in Oregon to train.
Knowing that Andy had broken his arm so early in the fight sheds a different light on the fight for me. Uriah Hall might still have won the fight, but what does it say about Andy that he fought 80% of that fight with a broken right arm? I asked him how he had pulled that off, and he said, "I just knew I couldn't use it anymore, so I had to find a different game plan. That's what I love about MMA; there's always another way to go if your primary plan fails. It never entered my head to stop." That didn't address what I really wanted to know. What I meant was more like, "You do realize that normal humans don't do things like that. How did you not only not keel right over in agony but rather continue using that arm throughout the fight?" He didn't seem to get that I was reverently calling him something of a freak. I mean, my goodness.
It broke my heart to see Andy lose that fight. He told me that when they tried to interview him afterward, he could hardly speak: "When they asked me questions, I could barely understand what they were saying. I was so confused. All the pieces had fallen into place for me to be there. It wasn't supposed to happen that way."
Three months later, and suddenly a name in the MMA community, Andy's perspective is a little different. "Of course, I am kind of bummed I didn't make it," he says. "It would have been the straightest path to my goal. But it was a great test, a great eye opener, and a huge learning experience. Now I know exactly what I have to work on, but I obviously don't feel too bad about my performance. I fought arguably the best guy in the cast, for two full rounds, with a broken arm. If he goes on to knock everyone out, that looks great for me. Frankly, I hope he dominates."
Check out this Ultimate Fighter-related story:
Being Forgettable Is the Deadliest Sin