Anthony Joshua & Terence Crawford Retain Titles While a New Heavyweight King Is Born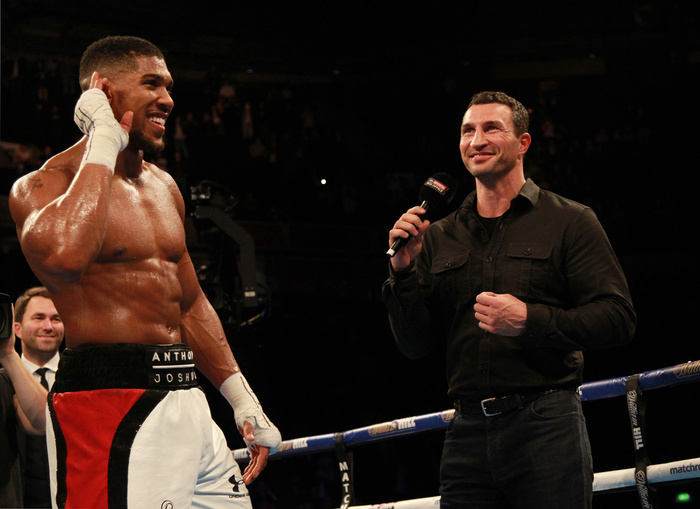 What a weekend. The UFC had two fight cards—its first event in Albany, New York, and UFC 206, which brought the Air Canada Centre's roof down in Toronto—while there was a Submission Underground card to sink your teeth into, along with three top-tier boxing showcases all vying for your valuable time. Oh and Rico Verhoeven fought Badr Hari for the Glory kickboxing belt. No wonder why you weren't particularly productive this weekend.
In case you missed the weekend's boxing, we've got you covered with the sport's three key storylines.
Anthony Joshua handily dispatches Eric Molina to retain IBF world heavyweight title
As expected, Anthony "AJ" Joshua made light work of an overmatched Eric Molina on Saturday night, successfully defending his IBF heavyweight crown.
The result was predictable, but the manner and speed of Joshua's win was surprising. It took WBC heavyweight champion Deontay Wilder nine rounds to knock the durable Molina out, while Wilder was also troubled by Molina's power early in the fight. But, the Mexican-American, now 25-4, appeared frightfully scared of Joshua's power on Saturday night—seemingly refusing to engage in order to avoid getting hurt early.
Hoping to land the singular big shot without over-committing, Molina, who beat both Rodricka Raya and Tomasz Adamek after his losing effort to Wilder, eventually left his chin exposed. In the third round, a bruising Joshua right hand cut through Molina's defence and left him crumpled on the canvas by his corner.
Molina made the count and got back to his feet in time. But, this was to no avail as Joshua swarmed him as the contest restarted—quickly forcing referee Steve Gray to call a halt to proceedings following a number of solid uppercuts landing on the dome of the defenceless Molina.
Joshua has now moved to 18-0 with all wins coming by knockout. Unlike for most, 2016 has been a fantastic year for the prodigious British heavyweight—beating Charles Martin for the IBF belt, before defending it twice against Dominic Breazeale and now Molina. 2017 could prove even better for the Watford native, with a bout against Wladimir Klitschko confirmed for April at Wembley Stadium.
The sky is truly the limit for Joshua.
Another touted heavyweight boxing prospect is crowned world champion
Joseph Parker became the first ever Kiwi world heavyweight champion after earning the nod from the judges against Andy Ruiz Jr. in a majority decision to take home the WBO title—one of many vacated by Tyson Fury following his suspension from the sport as he battles drug and mental illness issues—in Auckland, New Zealand.
Unlike his counterpart Joshua, the two both continually compared with each other as rising heavyweight prospects, Parker had a tougher time of it in the ring, eking out the decision with judges scoring the fight 114-114, 115-113, 115-113.
Someone's "0" had to go as both Parker and Ruiz came into this bout unbeaten. Ruiz's record took a hit, moving to 29-1, and he will be perturbed at the loss given how he was having the better of Parker in the early stages of the bout. Momentum was definitely in Ruiz's favor following the opening four rounds, but his pace seemed to slow for the next few rounds and was largely inactive—allowing Parker to establish his own imprint on the fight.
Ruiz started to find his groove again in the last four rounds. But, by then, Parker had also grown comfortable in some tightly-contested rounds. Unfortunately for Ruiz, his efforts weren't enough in a close fight.
"I think I got the win or at least a draw," said Ruiz. "I think I set the pace with my jab."
It wasn't a hometown decision for Parker by any means. Lord knows why Ruiz took his foot off the gas so blatantly in a world championship bout.
Tyson's cousin, the unbeaten Hughie Fury, is Parker's mandatory challenger and that fight is slated to happen within 120 days of Parker's world title win.
Terence Crawford eases beyond John Molina in front of hometown crowd
Terence Crawford improved his record to a flawless 30-0 as he comprehensively dismantled John Molina Jr.—no relation to Eric—before finishing the contest in the eighth round.
"Bud" Crawford was set to originally defend his WBO and WBC light welterweight titles. But, Molina's attempts in becoming the division's lineal champion came to a halt well before the fight as he failed to make the 140lbs championship weight limit by some margin.
The fight still went ahead and it was all one-way traffic heading towards the challenger's way.
Crawford's movement visibly confused Molina, tricking him into big shot after big shot with consummate ease. Bud's silky smooth performances against Ukraine's Viktor Postol and Hank Lundy were replicated on Saturday as he cruised through the fight—landing powerful punches interwoven in his movements and easily avoiding damage.
The contest came to a dramatic crescendo in the eighth round as Crawford essentially decided enough was enough. With Molina pinned in the corner, Crawford unleashed a barrage of punches to damage his foe—a big bodyshot being the deciding punch to fold Molina like an accordion down on the canvas. Due to the uncompetitive nature of this bout throughout its duration, the referee called off the fight with unerring immediacy.
To demonstrate how uneven this match-up turned out to be, Molina landed just 41 of his 287 punches—a success rate of 14%.
Crawford is another man to have a spectacular 2016. He wants Manny Pacquiao next year and you'd be hard-pressed to find any boxing fans who wouldn't want to watch that.
Check out these related stories:
Evander Holyfield Voted Into International Boxing Hall of Fame
Bernard Hopkins Takes His Final Fight (We Swear!)
Katie Taylor and the Future of Women's Boxing