The Transformation of Tiger Muay Thai's Aurore Lauzeral
Aurore Lauzeral is set to make her professional MMA debut next month but before the 29 year old from France steps inside the cage for the first time she might take a moment to reflect on her extraordinary transformation from waiflike victim of a chronic eating disorder to international fitness icon.
With 300,000 plus followers on Instagram it is obvious that people are inspired by Lauzeral's physical transformation and the 29-year-old, who is a trainer at Tiger Muay Thai in Phuket, has come a long way since the days when she could not even keep a meal down,
"Between 2005 and 2008 I was very sick with anorexia and bulimia and every time I ate I would vomit afterwards. I lost my hair and I was really skinny, it was like a slow suicide," she said.
These days Lauzeral is a poster girl for female fitness who must feel at least a tinge of satisfaction every time she glimpses her muscular frame in the mirror but she hasn't always felt so secure about her appearance,
"My whole life I had been told that I wasn't good enough at what I was doing and that I could do better and that created frustration and a huge insecurity. I hated everything about myself and whenever I was looking at myself in the mirror I would see a repulsive and fat human being. That's why this disease is dangerous, you might be skin and bones but you will just see a fatty in the reflection."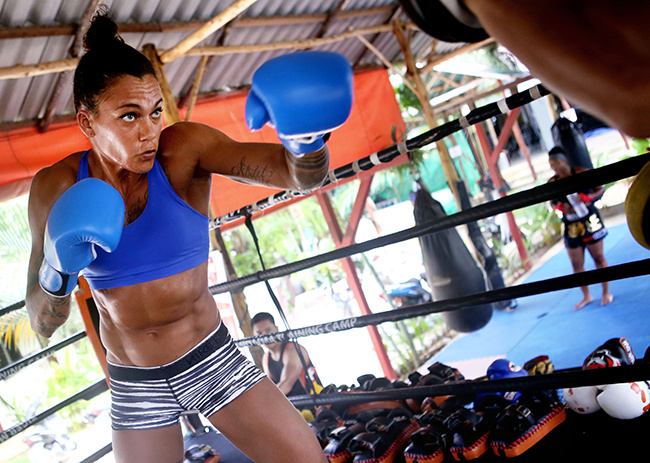 Lauzeral cites the influence of an unnamed individual as well as a new found love for an obscure strain of music as inspiring her to turn her life around,
"I met a person that made me believe in myself and it changed my life and I got into punk and hardcore music and I started to do things for myself and not worry about what anyone would think. And that's when I started to be happy and to enjoy life"
She was working as a school teacher in England at the time and gradually began to develop what would turn into a lifelong obsession with fitness,
"I became interested in fitness in 2008 when I was teaching in England. I had a lot of free time so I figured I would start working out because I was bored and hadn't been doing any physical activity in a while."
After taking up kickboxing she decided to take a trip to Thailand and discovered Tiger Muay Thai during an nternet search. She currently works full time as a body fit and cross training coach and the obsessive tendencies which once wrecked Lauzeral's health are now being deployed in a much more positive manner,
"I will never be satisfied, I always want to improve my level whether its strength, speed ability, I'm always learning. We are supposed to do a whole lot of stuff with our body, society tells us to sit behind our computer all day but we should be able to climb and push our own body or pull our own body and I want to remind people of that."
As well as working to help others realize their fitness goals Lauzeral also has access to the training program at Tiger Muay Thai and has enjoyed success in the Muay Thai ring although one drawback of her new found physique is that it makes finding suitably sized opponents a struggle,
"It's hard to find opponents at my weight with similar experience to me in Muay Thai so I told them; if they can't find me a beginner give me someone who is experienced. My first fight was against an Australian who had 12 fights and I smashed her in the first round."
The next step for Lauzeral is to test herself inside the cage and she is set to make her pro MMA debut at Full Metal Dojo 4 in Bangkok next month against SFL veteran Tracey Lockwood. The French fitness fanatic says being a female mixed martial artist is a challenge in itself but one which she clearly relishes,
"Martial arts is a man's world and I think it's tougher for us girls because we have to always prove that we're serious, that we're good, that we want to train and we want to get better and it's tiring when you are training with guys all the time because even though I'm strong they are still stronger than me."
Despite clearly being in excellent physical condition Lauzeral is conscious of this genetic disadvantage but believes being tested every day against the men in the MMA program at Tiger Muay Thai will ultimately make her a better fighter,
"Mentally it's hard to keep up because you always have to prove yourself and guys sometimes don't want to train with you, maybe they don't want to risk getting submitted by a girl but I think that's what makes us women stronger."
Accomplishing goals is something Lauzeral looks to do every single day, be they her own or other people's and she says competing in professional MMA is just one more thing to tick off that list,
"It's been a dream for me since 2010, I really want to fight at least once. I love the whole MMA game, using your stand up and the takedowns and the ground game. I think it's a very noble sport, a lot of people think it's savage because of the gloves and the ground and pound but it's been here since the Romans when they were doing wrestling, that was MMA pretty much."
In the age of the Internet meme we are accustomed to incessant platitudes, particularly when it comes to reaching personal fitness goals but Lauzeral admits to occasionally feeling "lonely" and warns anyone who wants to follow in her footsteps by physically transforming themselves that it won't be easy,
"You need to be strong in this world because it's a hard cold world but whatever your dream is if you really believe in it just keep going and never give up."
For more information about Lauzeral's upcoming MMA fight visit: www.fullmetaldojo.com.
Check out these related stories:
An American in Thailand: Tiger Muay Thai
A British Teenager Is Testing Himself at Bangkok's Biggest Stadiums
Meet Full Metal Dojo's Promoter, Fighter, and In House Singer
The Dark Side of Muay Thai in Thailand