Banchamek Surin: Inside Buakaw's Gym in Rural Isaan
Grandpa Chai sits on two broken plastic chairs stacked atop one another and wraps his hands while a group of kids bounces on tires, beginning another afternoon training session on a warm, breezy day in December. The sign above the ring reads Banchamek Gym. A matching flag flutters in the breeze rolling over the fields.
"Five more minutes on the tires!" Grandpa Chai calls. "Then shirts off, gloves on!"
The handful of girls laughs. One shouts, "Girls don't take off their shirts!"
Grandpa Chai smiles. "Right! Girls, leave your shirts on."
He slips ankle guards over his feet, dons a pristine pair of Top King Thai pads, and summons the first child into the ring. From inside the ring, he calls time to the rest of the children practicing punching drills, two kids per heavy bag.
It's just another training session at a small village gym in Surin Province, Isaan region of Thailand.
Except… This is Buakaw's gym.
Buakaw is a household name, recognizable domestically and abroad, easily the most famous Thai fighter living today. And with the exception of the name on the sign, and the curious carload of Asian tourists who posed for photos for 10 minutes in front of the ring before driving off, there is little to no indication this gym at the end of a small country road in Surin has anything to do with world famous Buakaw Banchamek. No rugged, home-grown adult fighters. No burly trainers still competing in their own matches. No high-paying foreigners attracted by Buakaw's fame.
Today, it's just two older trainers, 10 neighborhood kids, local villagers stopping by to chat. Herds of buffalo move by, from pavement to dirt road on way to the fields. Hogs squeal in their pens around back. Chickens roam in and out of cattle pens. Dogs laze around the gym's dirt driveway.
Grandpa Chai supervises training daily, but he can't do it alone. He can't hold pads the way he used to. He has heart problems now. Thirty years ago, he was known by his fighter name, Muangchai Muangsurin. Now that he's in his early 50s, though, the community has taken to calling him Grandpa.
He's relieved when another trainer arrives. Grandpa Chai introduces him to us as Kru Dee, Buakaw's original trainer, having worked with the champion from when he was between the ages of 8 and 15. Kru Dee's face is aged but sturdy. He's quiet around us newcomers, stays out of the spotlight. His unassuming modesty is surprising when you consider his position as Buakaw's first trainer. He has a significant claim to fame, an easy platform on which to capitalize. Here in this one-ring gym, surrounded by farmland, his potential fame is something he disregards.
Kru Dee doesn't even get paid. Both Dee and Chai come to train the local kids out of a desire to develop the community, not as a job. Built in 2009, Banchamek Surin has always been open to the local populace. And it stays functioning due to the same populace.
Buakaw and his team provide the gym with essential equipment and space, but it's the community that enthusiastically keeps the gym running. Everyone in the village has a friend or relative who fights. Everyone is invested. Everyone helps. Neighbors split the cost for the child fighters to travel to matches. Those with cars offer rides to those without. Grandmas pack lunches for the young fighters.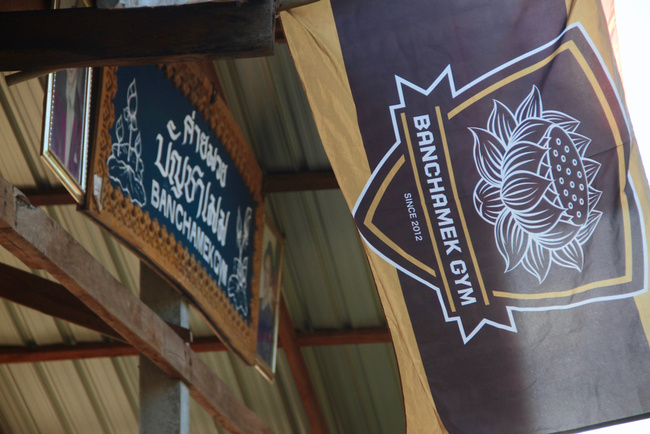 This level of community involvement in Muay Thai isn't always the case, not even in Thailand's stereotypically Muay Thai-saturated region of Isaan. Perhaps the enthusiasm and the faith the community has in Muay Thai stems primarily from the tangible success they see it bestowing upon one of their own.
Buakaw visits about once a month, whenever his work schedule allows it. The children love seeing him, love hearing his stories about life in Bangkok and his travels abroad. They work extra hard knowing he will give them gifts like mouth guards and custom shorts if he sees their dedication.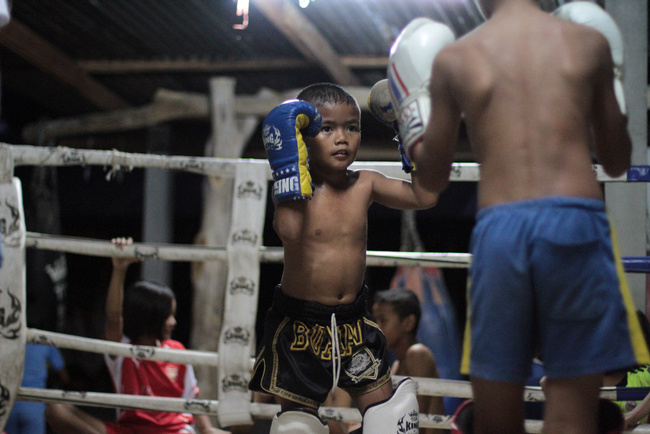 The kids are not prodigies sent from all over Isaan to Banchamek Gym. They're just regular kids from the village, able to train daily if they have a passion or interest in Muay Thai. All are active fighters—Grandpa Chai tells us they compete in two to ten matches per month, though an average of four—and all at different skill levels.
"A lot of people expect the kids to be better than they are because this is Buakaw's gym," Kru Dee says, "but we're just an ordinary gym. Promoters will often try to match us up with huge side bets. They expect us to have so much money, but we don't. We're just like any other gym around here."
This afternoon, each young fighter receives personal coaching in the ring. The three girls are particularly skilled, deep in concentration during their pad rounds. The trainers work with them just as sincerely as with the boys.
The Banchamek Surin kids know they could have a future in Muay Thai if they focus. Once a young Banchamek Surin fighter reaches a certain weight (about 50kg for boys), he or she is eligible to train at Banchamek Bangkok. Many of the regulars at Banchamek Surin have already visited Bangkok; Buakaw has brought the kid fighters out on a few field trips to his gym in the capital.
Despite his packed schedule in Bangkok and beyond, Buakaw does his share of developing Muay Thai in his home region outside of the gym. Last month, Buakaw held a large promotion—nearly 30 fights on one card—in his district of Samrong Thap. The card lacked the regular big names and large bets; instead, most of the fights were aimed at young contenders just starting their careers. Next month, Buakaw is planning a mini-marathon here. Events like these stimulate the local economy and draw attention to this classically impoverished area of Thailand, which no longer looks so impoverished.
It's dark by the time the children finish pad work. They stick around to tidy up the gym, a couple of them rushing out to a passing food cart vendor for a post-training snack of roasted squid. A few children approach Grandpa Chai and Kru Dee, chatting with neighbors. "It's dark," they say. "Can you give us a ride home?" Grandpa Chai loads up his motorbike with three fighters and they wave cheerfully as they drive away.
Kru Dee sits on the edge of the ring with two of his neighbors, older members of the community who both have grandchildren who train at this gym. As Buakaw's first trainer, Kru Dee could practically name his price as a trainer abroad, garner his own share of fame and fortune. But he's uninterested in all that.
"For me, I'm not here for money," Kru Dee tells us. "I want to give these kids a better life. An activity. A form of discipline. All I expect in return is that when they reach the big stadium, they look back and acknowledge me. And I'm happy."
Language interpretation by Frances Watthanaya.
Check out these related stories:
The Beginners' Guide to Promoting Muay Thai in Thailand
Born Too Early: Reflections on Muay Thai's Golden Era