Bellator 143: Shamrock vs. Gracie?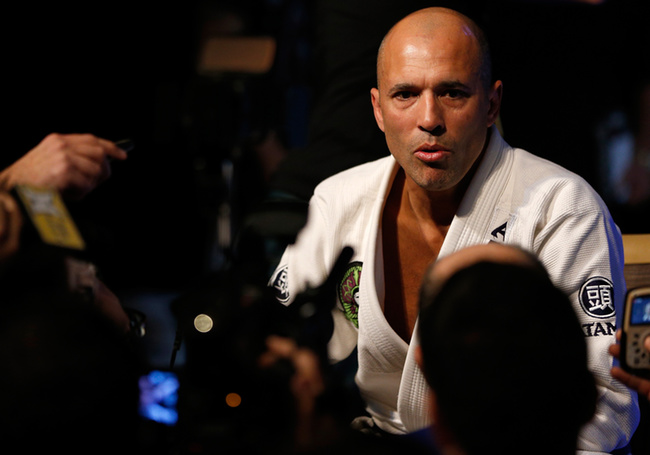 A little over a month ago, in May, Ken Shamrock told MMA media that he would like a rematch with Royce Gracie. The fight, Shamrock said, would have to be with Royce in the gi, because it wouldn't otherwise count. Shamrock and Gracie faced each other on the very first edition of the Ultimate Fighting Championship: Gracie finished Shamrock with a rear-naked-choke in 57 seconds. They faced each other again in 1997 at UFC 5, and engaged in a contest that lasted 36 minutes and ultimately resulted in a draw. Shamrock would like the opportunity to settle that score. The comments came ahead of Shamrock's Bellator 138 bout versus internet sensation and backyard legend Kimbo Slice.
Gracie hasn't fought since 2007, when he defeated Kazushi Sakuraba via unanimous decision. Despite testing positive for performance-enhancing drugs after the combat, the judges' decision remains intact. Royce Gracie is Bellator's brand ambassador. Present at the fight, MMAJunkie approached the Brazilian legend and asked him if he had any reaction pertaining to Shamrock's comments from May. They asked if he would take a fight with Shamrock. He said, "of course. Body feels good, not injured, healthy, same weight from 20 years ago, so, yeah."
This past weekend, Slice stopped Shamrock a little over two minutes into the fight first round via technical knockout. While some saw the fight as a sparkling show, going as far as calling it a fixed fight, others saw, perhaps, an opportunity to make "cool fights." Perhaps Bellator will become the destination for the most anticipated "vintage" and novelty fights.
Tito Ortiz fights September 19th.
Check out these related stories:
Kimbo Slice versus Ken Shamrock: Anatomy of a Fixed Fight
Bellator Winning the Battle to Keep Rampage from the UFC