Bizarro McGregor: The Clotheslines and Counter Swings of Artem Lobov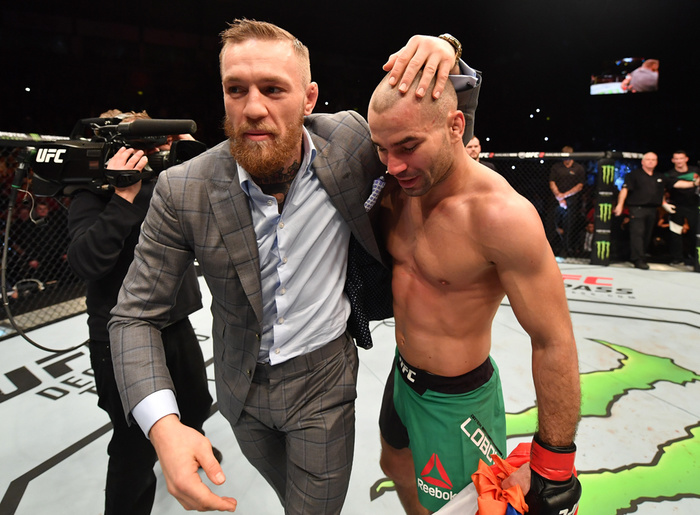 Artem Lobov probably shouldn't be in a UFC main event. One accusation is that he 'memed' his way there. Others point out that Lobov benefits time and again from his friendship with the far better fighter and the UFC's greatest star, Conor McGregor. But there is something to be admired in Artem Lobov. He is a deeply flawed, one-dimensional fighter with a near 0.500 record and whose best victories came over opponents without Wikipedia pages. He arguably shouldn't have even been invited to the big show. Yet if you were to look at Lobov's last fight from a technical and tactical standpoint, he seemed to have improved a good deal against one of his better opponents to date.
There is a lot of Conor McGregor to be seen in Artem Lobov. McGregor has built a career from the left hand through the open side. Open guard (southpaw versus orthodox or vice versa) 101 is the battle of the lead foot, attempting to line up rear handed strikes and kicks inside of the opponents. You will see this small window of the fight dictate exchanges on almost every card. Michelle Waterson, for instance, conceded dominant foot positioning to Rose Namajunas a couple of times in their fight, and the second time it got her blindsided by a high kick.
But when the rear hand is the keystone punch of the engagement, each man has a greater distance over which to recover their hand. Furthermore, when fighting another orthodox fighter there is always the option to duck down behind the lead shoulder and take the head off line to avoid punishment. In an orthodox versus southpaw engagement that is much tougher. Conor McGregor is excellent at drawing the opponent's rear hand and sneaking his own through in the window between their blow and their getting back to guard. Even when on guard, the open side is protected only by the rear hand and forearm, rather than the shoulder and back, which can shield on the closed side.
Two applications of the same counter through the open side, almost a century apart.
Artem Lobov looks very different in his style, but looks to capitalize on the same window nonetheless.
Often Lobov will do so with a straight armed clothesline rather than a punch because of his Sean Sherk-esque 65 inch reach. But this is mixed martial arts and not boxing, sometimes a forearm smash across the head can be preferable to a glancing punch on the cheek.
Lobov also loves the right hook as the opponent commits to a right straight.
Similar to McGregor, Lobov is often so focused on catching his opponent as they extend that he does not get out of the way after his counters. While this is noticeable in McGregor when watching him spar against handy boxers and in the heat of furious fights with top-notch featherweights, this tendency to hang around and 'admire his work' gets Lobov hit hard in many of his fights.
Through his four fights on The Ultimate Fighter, Lobov showed a counter punching style wherein he pressured his man, waited for him to extend, and then swung fists as hard as possible while ducking his head offline. It wasn't pretty and he often traded blow for blow, but he caught each of his opponent's off guard and picked up three TKOs. When Lobov hit the main roster he was easily handled by grappling savant, Ryan Hall. Landing just two strikes in the entire bout, Lobov was controlled and threatened with submissions at every turn on the ground and kicked at range in the brief moments on the feet.
When he met the considerably taller Alex White, a six foot featherweight, Lobov's short reach meant that even when White ducked in to shoot straight punches at Lobov's midsection he could not connect his counters well.
Lobov was handed a softer opponent in the form of 5-2 Chris Avilla for his next fight. Applying low kicks well throughout, Lobov got the better of Avilla. But as John Kavanagh pointed out to Lobov in the corner "You're in against a kid." Lobov had lost twice as many fights as Avilla had even been in. It was hardly a stiff test of the veteran.
Lobov's most recent fight, against Teruto Ishihara was probably his best to date. Ishihara was not a top-flight featherweight but he was benefitting from a lot of goodwill after making himself famous with his comments about his 'bitches'. Ishihara was another southpaw who retreated and countered with the left hand as opponents over extended. As Conor McGregor's favourite sparring partner, and someone who himself looks for those counters, Lobov was able to show some interesting looks and take Ishihara's finger off the trigger.
Feints were aplenty during the match, and Lobov found interesting ways to take Ishihara out of position to counter strike like that old karate point fighting favourite, the shuffling low-low kick. A love tap to the ankle of a retreating opponent, this can be used to knock the opponent's feet out of position to throw counter punches, and allows the advancing fighter that coveted outside lead foot positioning. Note that Lobov, who often does his best work as a southpaw, switched to an orthodox stance specifically to use this set up.
Also on display was a nice shift in, combined with feints, to set up a swing from the other stance.
This was also the fight in which Lobov famously 'dropped the hammer' on Ishihara en route to an easy decision victory.
Artem Lobov's next fight, against Cub Swanson, has seemingly come from nowhere. Swanson is a long time top-tenner in the featherweight division and while he has lost a step in recent years his losses have come against Max Holloway and Frankie Edgar—men who could win the title on any given night. Artem Lobov is considered to have the puncher's chance but has only knocked out a whopping four opponents in his twenty-five professional fights. He can hit with power but seems to struggle to produce those connections. Perhaps the best sign for Lobov in this matchup is that Cub Swanson is not a timid fighter, and often loves a wild exchange when he might be better off pushing his technical advantage. Much of Swanson's last fight, against Doo Ho Choi was made up of wild exchanges with Swanson coming off the better. Furthermore, the southpaw counter right hook was a good part of Max Holloway's success against Cub Swanson… so there's a chance. But this remains one of the strangest matches the UFC has ever put together and easily one of its weirdest main events.
Pick up Jack's new paperback, Notorious at Amazon.
Check out these related stories:
Whittaker versus Jacare: Pace Over Power
Robert Whittaker: Rise of The Reaper
Mousasi versus Weidman: The Best Disappointing Fight of the Year