BJJ's New Frontier: Grapplers with Disabilities
It happened on the last weekend of April 2015—what could very well be the next iteration in the growth of Brazilian jiu jitsu.
Called the Grappler's Heart Tournament, it was North America's first tournament exclusive to Brazilian jiu jitsu practitioners with disabilities and thanks to the financial generosity of my gym, my sponsor and my mother, I was fortunate enough to represent Ribeiro Jiu Jitsu in the tournament's neuromuscular division as an athlete with cerebral palsy.
For a year and a half, this tournament dominated my jiu jitsu life. As a member of the Board of Directors, I was there from conception to reality. It began as the brainchild of Dr. Jon Gelber, the founder of FightMedicine.net, a resource for fighters when it comes to injury prevention and a healthy lifestyle. The idea hit him as more people submitted articles to his website attesting to Brazilian jiu jitsu's ability to help them overcome their disabilities and illnesses.
As he said in my previous Fightland article on the planning of The Grappler's Heart Tournament:
"I thought someone needed to step up and get this thing done, so I decided to take on the role. Anytime I see anyone overcome a challenge, it not only reminds me of the drive I have to overcome challenges, but also it inspires me to watch people do the same. I've always rooted for the underdog and to me, it's awe-inspiring."
But it took more than inspiration and awe to get this thing off the ground. As higher profile board members dropped out due to prior commitments, most of the responsibility in making this happen fell to Jon, myself, and two remarkable women.
Gina Hopkins came all the way from Bristol, England to participate as the competition's only female competitor. Extremely vocal in e-mails about the tournament's coordination, in-person she spoke through an alphabet card or her husband Chris because of dystonia. Of course, on the mat she doesn't need to speak. In fact, she stunned the crowd into their own silence when it looked like she was about to rip her male opponent's head off during a devastating gogoplata no-gi submission.
The good cop to her bad was Jen Sung. Jen was bred into a martial arts family. Her work on Grappler's Heart perfectly intersected with her schooling as a physio therapist and her experience building the Big Apple Brazilian Jiu Jitsu Open from the ground up. It was this experience that enabled her to pull off most of the logistical and manpower requirements that exist for a tournament like this, including volunteers, scorekeepers and referees. We also somehow pulled together a number of high-profile sponsors, including Scramble, Bad Boy and, the venue for the event, Renzo Gracie Fight Academy in Brooklyn, New York.
So, as I took that hour flight to New York from Toronto, I knew there was a lot riding on this. Not just the results of our year and a half of planning, but my own weeks of training and the hopes of my only sponsor—LSM Insurance and my gym, Toronto BJJ—who had both invested money in my success. That alone was enough to make this the biggest competition of my life, not to mention, my first international one.
If I stepped back to think about the bigger picture, like how being North America's first BJJ tournament for people with disabilities finally dispels the myth that we can't roll—we might get hurt—or puts to bed what all Grappler's with disabilities have thought—"I am the only one"—it could all get downright overwhelming.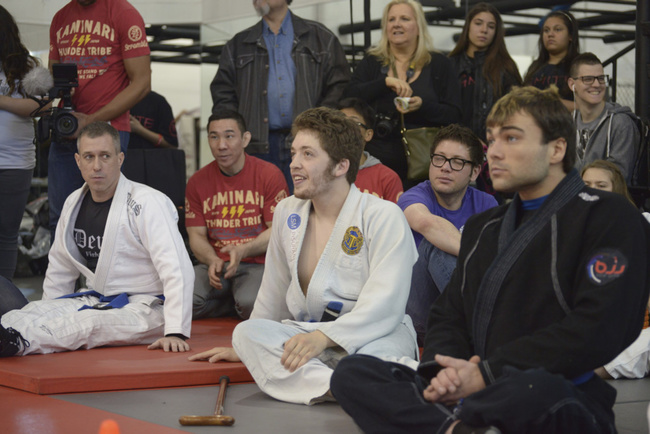 To say I was anxious goes beyond an understatement. This wasn't my first tournament. I'd competed against able-bodied opponents before, but I'd never competed against opponents with different disabilities. You'd think no big deal, right? You'd think that able-bodied opponents would pose a greater challenge. But I was used to able-bodied opponents and knew what to expect from them. After all, I train with them every week. The whole flight I vacillated between two competing thoughts:
On the one hand, this really would be easier. For most grappler's with disabilities, the legs are a non-factor. Most people with CP have muscles that are too tight to close their guard or lock up a triangle and most of the other participants in my division would find use of their legs unreliable and lean heavily on the strength of their upper body to get them through. Plus while most tournament rules followed the IBJJF, at Grappler's Heart the participants in my division would be starting all matches from their knees.
On the other hand, I knew as well as anyone how grapplers with disabilities adapt and modify certain techniques to bypass the limitations of their bodies and emphasize the unusual strengths that come with their circumstances. If I had done it, so had my opponents.
Yep, as the wheels hit the tarmac at JFK I concluded I was walking into a lion's den, but the only way to find out how this would go was to hit the mat.
Unfortunately, it didn't start out very well. If the guy who pole-vaulted onto my back and started restricting the oxygen was disabled, I can tell you first-hand that he is unequivocally cured. Though I'd manage to pop out of the choke, I'd still lose the match and this guy, Jay Robinson-Duff would go on to win the division. However, there would be a casual, "So, what's your disability?" inquisition from me. Turns out this guy was a year out from a stroke and all he had to show for it was a little foot drop—quite the turn around.
As he told me his story I remembered that he'd been on the bubble as to whether he was disabled enough to compete (how's that for irony?) and the board of directors unanimously voted him in because Grappler's Heart was about one thing above all else—inclusion. Who were we to deny someone their chance when so many gyms could've just as easily denied us our chance when we wanted to try this gentle art? Plus, you never know what people are going through. Sure, he may have been better suited for an invisible disabilities division, but as a stroke survivor, his disability was neuromuscular and he won the division using nothing but good old-fashioned Brazilian jiu jitsu.
As for me, my tournament wasn't a complete disaster. Brandon Ryan, representing 10th Planet Jiu Jitsu, had cerebral palsy too, so he was much more my speed. I took him down within the first few seconds and managed to maintain the mount for the duration of the fight.
Not bad against a guy who posts videos of his techniques online. I even tried to use his own moves against him (the one where you fake like you're going for an arm triangle, but it's actually a modified armbar for those with limited hip mobility) but he's slippery, hard to submit and I didn't want to lose the position by giving him a chance to come up into me. I just stayed, kept my balance and tried some cross-chokes, while grinding my elbow into his face. Thankfully, that fight was for third place. But my ability to wrap up bronze had more to do with the fortunate draw of my Toronto BJJ teammate Stephen Dustan than any actual skill I possessed.
Stephen wandered into my gym in the summer of 2013 expecting much the same reception I was (You know, the "What do you think you're doing here?" one). Instead, as a guy with cerebral palsy, when he asked to try BJJ he heard, "Oh yeah, we already have someone just like you training here,"—obviously, his jaw hung open.
Ever since Stephen arrived, I've been one of the few fortunate disabled grapplers who isn't alone at their gym and it paid dividends when training for Grappler's Heart. Fighting Stephen has always been like shadow boxing a mirror, as we are almost identical when it comes to our strengths and weaknesses. On any given day, either of us can beat the other and our competitive drive helps us both reach another level when the other is in the room. There's no doubt that having each other at matside during Grappler's Heart gave both of us a strategic advantage no one else who competed was privy to.
While I opened the tournament against its eventual winner, Stephen began his day against Ian Matuszak—a participant who also had cerebral palsy and was competing in his very first tournament. Stephen managed to dispatch him quickly, but never took him lightly. After all, he fights out of Serra-Longo in Huntington, Long Island and names UFC Middleweight Champion Chris Weidman among his teammates. Stephen then faced Brendan Ryan, beating him for a chance to face Jay Robinson-Duff in the division final.
I gave him the same advice our Professor Jorge Britto always gives us when we're in deep: "SURVIVE!" I also told him to keep his arms in to avoid armbars and fight through a potential choke. "You don't have to tap right away," I said. "Embrace the pain!" He certainly did that valiantly. But eventually Duff's capabilities were just too overwhelming, as he made like Marie Antoinette and ensured Stephen would eventually tap to a tight guillotine.
Though neither of us climbed to the top of the mountain this time, both Stephen and I cracked the Grappler's Heart podium with a silver and a bronze, which ensured excellent results for Ribeiro Jiu jitsu and Toronto BJJ at the first tournament of its kind in North America. Our results also punched our tickets to our first ever appearance in the absolute division.
For my one and only match, I faced Shannon Kitchen. He's a teen from Greenup, Kentucky with a spinal cord injury and arms as big as a kitchen sink. When it comes to unusual strengths gleaned from disability, Shannon's arms are exhibit A: it's definitely all that maneuvering in his wheelchair that made these mutant appendages happen.
I should know—his arms made quick work of me just when I thought I had everything set for his demise. I took him down right away and had him flat on his back, ready to lock up the crossface and block the hip when he delivered a quick, suffocating ezekiel choke from the bottom that was so unexpected, I tapped from the shock of it. Honestly, I was too absorbed in my next move to see it coming and I, of all people, should know, you never take a grappler with a disability for granted.
Go ahead, go easy on us... see what happens. I did with Shannon Kitchen and I learned first-hand what The Disabled Grappler—Matt Marcinek was trying to tell those competitors who stuck around for his seminar the next day.
"Sometimes grappling with a disability is not fancy, but it has to be extremely effective," said the judo brown belt and BJJ purple belt, adding, "I've turned ugly grappling into an art form."
He told us this is because as a BJJ athlete with a disability, you have to work doubly hard to pull off the fancy berimbolos and twisters of your teammates and more often than not, it's just not going to happen.
"As a person with a disability, you have to accept that you're going to get your guard passed, but there's a common misconception among able-bodied jiu jitsu practitioners that once your guard is passed it's the end of the world," said Marcinek. "What is it, like three points? Big freakin' deal!"
So, what do you do?
"You have to be offensive from a defensive position," he continued.
Just like Shannon Kitchen was against me with that ezekiel choke from the bottom.
"I will let someone pass my guard—not that I'll let them—they'll have no other choice than to pass my guard all day," said Marcinek. "I have no desire to ever get to guard because it does nothing for me. I'm looking for the submission off of that guard pass. I don't care about my guard because I can't, so I immediately have to become offensive in a defensive position."
Like most people with a disability, Aaron Broverman is not one who likes to be told he won't be able to do something and he's just going to have to accept his limitations. But Matt's words are what I take from Grappler's Heart above everything else. The tournament took me back to basics and was a showcase for meat and potatoes jiu jitsu. It's what solidified in my mind (kicking and screaming, mind you) that this new strain of para-jiu jitsu (and in the bigger picture, the art of Brazilian jiu jitsu as a whole) is not about what you can or can't do, or what looks sexiest—it's about what works.
After all, Brazilian Jiu jitsu won't judge you, it only expects results.
For more information on the Grappler's Heart Tournament, or to assist us in putting together the next one in California, visit www.grapplersheart.com and email Jon Gelber at jon@fightmedicine.net.
Check out these related stories:
No Easy Life: Brazilian Jiu-Jitsu and Cerebral Palsy
A Fighter's Chance: The Adaptive Athletes of MMA