Building a Buddhist Army: MMA Reaches into the Himalayas
I had a chance to catch up with Vaughn Anderson in the city of Chengdu on his rounds through China checking out gyms for OneFC. One of those gyms turned out to be a bit more than your run of the mill collection of Sanda guys trying to make the transition to MMA. We had just finished breakfast when the call came in.
"Where are you? We're coming to pick you up right now. Don't move."
That's a typical line for someone to hear when dealing with movers and shakers in China. There will be a dead silence on the other end of the phone line for months, and then, suddenly, everything becomes urgent. I wait with Vaughn by the Millennium Hotel, a favorite haunt for what the Chinese call 土豪—farmers who got rich yesterday, and spend their money on gold plated SUVs and all the Armani a body can wear.
When the G.Patton SUV rolls up, looking like a toy bat-mobile, we just know. That's our guy. A chubby Tibetan, draped in Armani, drops out of the drivers seat with a gold iPhone to his ear, and motions us into the back. A ride like this can pretty much do whatever it wants on the streets of China, and our Tibetan driver does exactly that, yapping into his phone in a mixture of Tibetan-accented Sichuanese and his native Jiarong dialect the entire two hour drive out to the gym.
"This is the best equipped gym I have ever seen," Vaughn says as we walk through the echoing halls of the academy. "Anywhere."
Two Olympic size boxing rings. A warehouse filled with weights, enough so a team of one-hundred athletes could do their bench-presses at the same time, and an octagon with a 50-seat stadium attached. Classrooms. Hundreds of square meters of mat space. Dozens of punching bags. Two 25-meter tables made of Brazilian teak. Tibetan artifacts scattered about. A wall of trophies and medals.
What the hell is going on out here?
A few tough looking Tibetans smile at us and offer some tea, and I am reminded of the smell of yak butter, a documentary about wolves, and the drone of chanting monks. We sit for thirty minutes smiling at each other before the chubby driver comes back in, puts his phone into his pocket with a sigh, and herds us back into the bat-mobile. The boys wants us to come out to his teahouse. In the back of the SUV, Vaughn and I play with the Buddhist figurines, listen to Tibetan pop music, and wonder aloud who the boss is.
We arrive in west Chengdu, where the Tibetans have their district, and walk through a silent cloud of Tibetan youth. Male, gold teeth and gold chains, watchful. As we pass through the gates into the Tibetan teahouse in the back, I watch three or four of them break away from the pack, and inform some lowly BMW that this part of the street is off limits.
The teahouse is a typical Tibetan one. Thangkas and Buddhas all over the place, big haired men with brown faces and big gold rings speaking in loud tones. Playing cards, sipping bitter black Tibetan tea, or in a few cases, the yak butter tea of the plateau. Women lounging in the back, silver in their hair, long thick tresses that hang down to their waist.
We are marched up to the top floor, passed private rooms and a few floors filled with more men, more tea, more gold until we hit the boss's chambers. There we wait for five minutes, and he arrives. A small man with huge hamfisted boxer hands and a buzz cut. Enbo, he grunts, by way of greeting and introduction.
"You're Andesen right?" he bellows, using Vaughn's Chinese name. "I heard about you. Get these guys something to eat, the good stuff!"
Two huge bowls of yak meat and stewed carrots with thick, moist rice buns. Vaughn and me dig in. He starts talking. Former Special Armed Police. Was born in Aba, an "autonomous" Tibetan prefecture in northwestern Sichuan that was once part of Greater Tibet, but, like it's more warlike neighbor Kham, has been partitioned off since Liberation in 1951. Sanda coach. Boxer. MMA enthusiast. Philanthropist.
He reminds me of the rinpoches, or "living Buddhas," who every so often ride through Himalayan Tibetan towns in caravans of SUVs, on their way to visit the monastery that keeps them busy, and paid. When these caravans roll through, every nomad for a hundred miles comes down to the "city" and lines the road. Praying and chanting. Hoping for a mere glimpse of the big monk in yellow robes, fingering his beads as he bumps his way along the semi-paved roads of Kham or Aba.
The Chinese were right about one thing: Tibetan society is still quite feudal. Big men at the top, often monastery affiliated in some way, are the most powerful and richest men in the region. Feudal though they may be, these men are also often responsible for the welfare of hundreds, if not thousands of people. They embody the contradiction of Tibetan life in China: an identity wrapped up in centuries of Buddhism, yet struggling for survival in a society that fears and mistrusts them.
Since Liberation though, there are other ways to carve an empire out of occupied Tibet. Serving in the army is one. Enbo tells us in frank terms how he provides and cares for his people, especially the fighters. He also makes it clear that he is Tibetan first, Chinese second. If this is a negotiation tactic - Tibetans often point out that they have more in common psychologically with Westerners than with Chinese—it's unnecessary. The dozens of Tibetans we've seen manning the borders of Enbo's fiefdom are symbol enough of his priorities.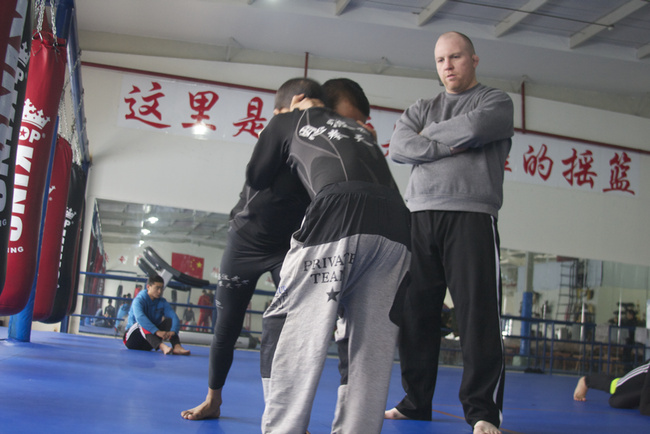 Enbo wants to turn his stable of Sanda fighters into MMA competitors - he refers to MMA as "UFC," which isn't uncommon out here—and he wants Vaughn to help. As OneFC's man in China, it's Vaughn's job to meet men like Enbo, make a record of the gym, and help cultivate fighters for OneFC's ambitious plans in the Middle Kingdom.
"No problem," Vaughn says. "Let's meet the fighters."
About forty kids line up for inspection when Vaughn shows up, ranging in age from eight to 26. They're all ethnic Tibetans, all from Aba Prefecture in northern Sichuan Province, and as we learn later, all orphans of the 2008 Wenchuan Earthquake.
"All of these kids are tough," says Vaughn over some more Tibetan black tea. "They're just mountain-born brawlers right now though. Good thing is they seem to learn real quick, and they train hard. If only they wouldn't break out into a sparring match every five minutes... "
One of the boys, a handsome 16-year-old named Lizha, pounds the hell out of his training partner from the mount. Both of them are bleeding from the mouth, but Lizha is laughing. Vaughn finally separates them and there are hard feelings for a minute. Then back at it. A nine-year-old boy - just a baby when his family disappeared in the rubble—leaps onto an eight year old and they strain to get back control. The eight year old, Dong Zhibo, sinks in the choke and the other boy, Ishi Gompo eats it. Smiles. Let's it happen again. The other boys call Ishi Gompo "sawatdeeka" because he is so dark that he "looks like a Thai"...
The striking coach, Xu Liang, is a graduate of the Tagou Wushu Academy, outside of the Shaolin Temple. He just turned 23. We talk about the lion of Chinese Sanda, a man named Liu Hailong who has since "retired" into the Special Armed Police, and the grappling skills of the Tibetans.
"They learn Mongolian wrestling as boys," Xu tells me. "That's that movement you're seeing right now."
I watch two young boys grip the back of each others' heads and sway a bit. One leaps up and goes for a scissor takedown. Enbo is seated at the corner of the mat in a Tibetan chupa cloak, pointing something out to another man. When I ask him for a photo, he takes off the cloak and puts up his dukes. Enbo is a self-proclaimed devout Buddhist, and although he has the toys of China's nouveau riche, he is much more down to earth, authentic, and approachable. There isn't the same insecurity about him that identifies the farmer who fell into some cash. There is only purpose. Enbo is the type of general that leads from the front, makes decisions quickly over a bowl of yak meat, and expects everyone to move quickly. He is not only a veteran of China's Special Armed Police, but was also ranked 8th nationally at one time in the Sanda circuits. That brings its own measure of respect in the these circles.
The gym was definitely built to house an army. They have 40 mountain born orphans bleeding and training on the mats, and room for hundreds more. Vaughn is involved now, and that means OneFC, foreign coaches, and access to a whole new level of competition. There's talk of tournaments, sending kids to Beijing and Thailand, and fighting "UFC" on the international stage. Later in the week, members of China premier gym, China Top Team, fly in for a few days of yak meat and road trips with the boss. Enbo's making moves.
Americans are well-acquainted with the smiling, munificent face of Tibet, the Buddhist face that would rather self-immolate than strike a blow. If Enbo achieves his goal, we may yet get a glimpse of the warrior face, the face of the mountain peoples bordering China, the martial element behind the peaceful race.
Check out these related stories:
A Shaolin Monk Tries Mixed Martial Arts
The New Masters: A Documentary about MMA and Kungfu in China