Can T.J. Dillashaw Corner Himself to the UFC Bantamweight Title?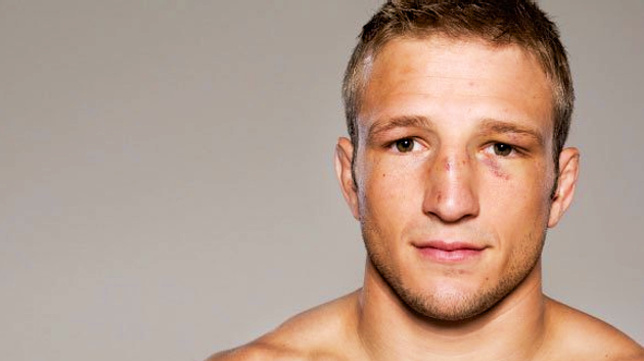 Las Vegas odds-makers may not be giving T.J. Dillashaw much of a chance in his upcoming title fight with Renan Barao at UFC 173, but don't count the Team Alpha Male product out just because he's a 6-to-1 underdog. He'll have a few surprises up his sleeve come May 24.
Thrust into the spotlight in late March when he was announced as the next challenger to Renan Barao's 135-pound crown, Dillashaw seemed an odd choice to headline a Pay Per View event given his limited resume. However, what everyone failed to realize at the time is that Dillashaw already knows how to beat Barao.
California born and bred, Dillashaw, 28, is a wrestler with quick, snazzy footwork and killer finishing instincts, much in the vein of teammate Urijah Faber. Loathed as a finalist on the fourteenth season of The Ultimate Fighter, Dillashaw has looked impressive inside the octagon, but it's not so much his 5-2 UFC record that has prepared him for Barao. Rather it's his experience as Faber's cornerman at UFC 149 (a contest Barao took by unanimous decision), which provides Dillashaw with the insight and tools to stop the streaking Brazilian.
"Shot fakes… he's biting on them. Sell them for real," commented Dillashaw after the first round. "Dip all the way down, bring that uppercut up… hit him with a good right, shake him."
Sure, these words were meant to motivate Faber as he sat on the stool in the red corner after an unimpressive opening round, but they also demonstrate Dillashaw's ability to analyze opponents and anticipate game changes and necessary alterations.
If Barao storms out of the gate with flying knees and spinning back kicks, Dillashaw already knows to keep his distance and wait for his shot at the takedown. Conversely, if Barao starts off methodical and mechanical (which is unlikely), Dillashaw knows to fake, shake, throw a combo, and get the heck out of harm's way.
"When you're dancing, you look beautiful," offered Dillashaw after round two. "He didn't know what to do; dance… put everything together right now… big left kick, right hook."
We've already established that Barao himself is the UFC's reigning dance master, but is it possible that his moves are purely offensive, and he has no solid dance defense? With quick footwork, Dillashaw sees the opening; let's see how that plays out inside the MGM Garden Grand Arena.
Barao's quickness also appears suspect to Dillashaw, who referred to him as "slow." He recommends using effective counterpunching techniques to break the champ down.
"You have to work, he can not deal with you," stated Dillashaw after the UFC 149 third round. "He likes Muay Thai. You stand right in front of him; he likes that. Move like crazy… he bites on your faints, he bites on a right hand."
Although he was cornering Faber at the time, Dillashaw, who enters UFC 173 as one of the biggest main-event underdogs in recent memory, might as well have been talking to himself, and writing down notes for good measure because he found the holes in Barao's game.
And as any good cornerman and coach does, Dillashaw offered one last vital piece of advice going into the final round.
"That fake shot, right uppercut's there. Follow it up… your left hook rocked him. You just gotta land them," added Dillashaw. "This is what you're made of: championship rounds. You're made of this… show him you're ready."
It has been nearly two years since T.J. Dillashaw cornered Urijah Faber in a losing effort against Renan Barao, but the experience was priceless.
And while a victory over Barao may go down as one of the biggest upsets in UFC history, don't be surprised if Dillashaw's game plan helps him avoid damage with footwork, land a number of devastating combos, and counter punching his way to a win.
Check out this related story: