Carlos Condit: Man of Science?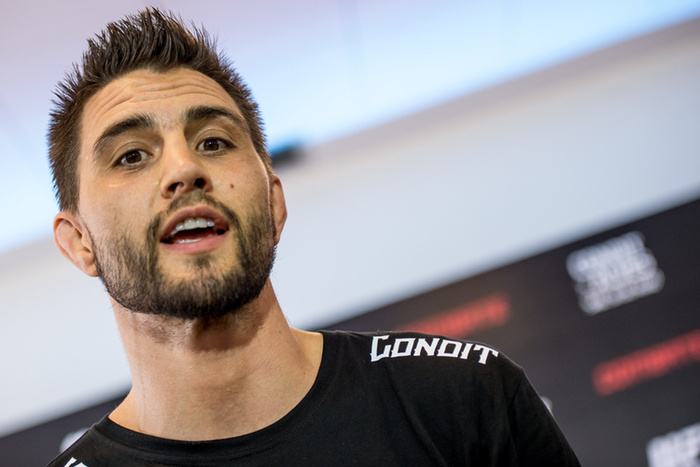 Human DNA. It's a fascinating thing. In a very crude estimation, our genetic code can attach itself to foreign bodies and convert said outside entity's makeup to our own unique molecular structure. Or so says Carlos Condit.
"Your body replaces the other tissue with your own DNA," offers Condit, who is doing the rounds to promote his UFC 195 title bout with Robbie Lawler. "If you take my ACL now, it'd be my DNA, it wouldn't be the other person's."
Genetics and DNA aren't necessarily Condit's specialty in life. He's better known for his kickboxing and a slick submission game that has resulted in 30 pro MMA wins over the last 13 years. But following his UFC 171 loss to Tyron Woodley, when he suffered a torn ACL inside the Octagon, Condit took to the sciences to better understand how his body would heal as a result of an Allograft—a reconstructive surgery that involves the insertion of a cadaver tendon in place of his own torn ligament.
"What they do is they bring somebody's Achilles tendon, and the Achilles tendon is about 4 times thicker than the ACL. So they put it in there and it's strong initially but then gets weaker," explains Condit, who, like Jackson-Winkeljohn teammate John Dodson and former titleholders Dominick Cruz and Rashad Evans, elected for the Allograft over the Autograft, an alternate procedure that involves the use of one's own tissue to repair the damaged area.
"So while it's doing that for the first six months—the pain and swelling and irritation—it's weaker than it was before, so a lot of people blow their ACL out again."
Following the loss to Woodley and his ensuing surgery, Condit would take roughly 14 months to recover, only making his comeback in May 2015. And while there were perhaps some doubts about his ability to return to the form that once earned him a UFC interim belt and the now-defunct WEC strap, Condit looked impressive against Thiago Alves, brutalizing the Brazilian with elbows before the cageside doctor stopped the bout after the second round.
The win would propel Condit back into title contention, and set up his upcoming showdown with Lawler. A promotion to contender status seemed justified given Condit's exciting style and 93-percent finishing rate; however, former foe Johny Hendricks, who previously topped Condit in March 2013, seemed to take issue with the selection.
In hindsight, given Hendricks' recent weight cutting failure, the decision to go with Condit over a Hendricks-Lawler trilogy fight was legitimate. And to hear it from Condit, Hendricks' weight cut should have never been an issue to begin with.
"My philosophy is you should eat different types of proteins, varieties, [and] amino acid profiles," comments Condit, in response to Hendricks' revelation that the weight cutting mishap that prevented him from fighting at UFC 192 came as a result of eating too much deer meat. "If you're not balancing that out with vegetables … especially lean red meat … it won't balance out the alkalinity in your body, it won't decrease the acidity."
Condit, an avid elk hunter, not only eats his prey, but has also studied the nutritional science behind the lean, red game meat. He has also never missed weight in 38 professional mixed martial arts bouts and claims to enjoy the cutting and dehydration process leading up to, and during, fight week.
It's all a part of the prizefighting equation, and as the rewards grow and increase, so does Condit's interest and focus.
The UFC 195 main event will not be Condit's first go-around with a UFC championship. Having once topped Nick Diaz in an interim title bout, Condit came up short in his November 2012 bid to unify the belts.
Taking on longtime welterweight champion Georges St-Pierre, who, at the time was coming off his own ACL replacement surgery, an Autograft, Condit came as close to finishing the Canadian as anyone had since St-Pierre reclaimed the belt from Matt Serra in 2008.
Landing a head kick to St-Pierre's temple, Condit knocked the former champ to the mat and rushed in to punch his way to victory. Unfortunately for Condit, St-Pierre was able to recover, and ultimately retained his belt.
"I think I got over-emotional," adds Condit. "I was like 'all my dreams just came true,' and I … went in there to finish him and I punched myself out, I was tired. I got in there trying to finish and he popped back up.
Now three years removed from his last title shot, Condit has the benefit of experience and overcoming adversity on his side. And while he's gone just 2-2 since the St-Pierre fight, Condit's decade-plus of pro mixed martial arts experience, which started in 400-seat smoker venues in the middle of the New Mexico desert, has easily prepared him for a fight, and opponent, of the magnitude of UFC 195 and Robbie Lawler.
Check out these related stories:
UFC Welterweight Champ Robbie Lawler on Acclaim: "Cool, But Whatever"
Carlos Condit and the Art of the Elbow
All Paths Lead to MacDonald vs. Condit II