Chael Sonnen on His next Gig, Tournament-Style MMA, and Being Remembered Forever
Tonight, the BattleGrounds MMA series is throwing an eight-man mixed martial arts tournament in Tulsa, Oklahoma. It will likely be the first one-night-only event in the memories of casual fans since 1994, when Royce Gracie submitted three opponents in a row.
WWE Hall of Fame announcer Jim Ross will be commentating alongside MMA's scorned (but favorite) villain, Chael Sonnen. The show will be broadcast over Pay Per View, so fans everywhere can watch someone fight for $50,000, for what could be a total of 45 minutes.
We spoke to the promoters Kenny Monday and Bryan O'Rouke several months ago about the match-making and safety of this type of competitive format. They made it sound like it was all good, but we still weren't sure if it would actually go down.
Now that is most certainly will, we called Chael to see what all the fuss was about.
Fightland: What's so special about the tournament format in MMA?
Chael Sonnen: "You know, the eight-man tournament went away just cause it's so hard. It's very hard to get guys to agree to attempt to beat up three men in one night.
"It's just really rare. The opportunity doesn't come along much, and guys don't stay in tournaments—that's the other thing. Even if you put the tournament together, somewhere in the course of battle, guys lose sight of why they are there and they don't always leave the locker room for the next round [of the tournament]. But the ones that do are remembered forever.
"When I got into MMA I was able to get into a few of them—a couple four-man tournaments. I'm bragging. I'm telling you this bragging because it was a feat. I've fought in three of them. I won two of them, but they were four-man tournaments.
"It's so difficult to do. I got into an eight-man tournament and I didn't win. But the guy that did, I never looked at the same—a guy named Babalu. He completely changed the way I look at him, forever. If he had lost every fight he had since then, he would have always had my respect for that one night he beat up three guys."
Is there a particular trait needed to make it through the grueling pace?
I spend a lot of time wondering that same thing, and it does take a special person. You have no real ability to train for a tournament in terms of simulating it. You can get close… you can work really hard, go spar a few rounds, rest and go spar a few more… but it's different. You just have to go out and do it. Very few men ever have.
I can compare it to military service. The guy that signs up for the military gets my respect instantly. But the guy who signs up in a time of conflict or war has a totally other level of courage. That's what these guys are doing. They are not just signing up to fight, they are signing up and saying, 'I am willing to fight three men in one night.'
I don't care if you grab eight guys from your neighborhood. If you can beat three guys in one day, it's a remarkable. Whoever does it, whether he is a household name in the sport or not, on Oct 3, he is going to be.
I'm jealous. I'm speaking to you from a jealous standpoint right now. I never had the opportunity to win one of these things. Well, I did once but I didn't win and it went away. I always wish I could participate again because I respect the winners so much.
I'm assuming that mixed martial artists with wrestling background would be more apt to sign up for these.
Yeah, I think that's right. When people talk to me about what my experience was when I was able to do it… I'm very in awe with the tournament now. But when I started it I wasn't. When I got into the sport I got into that's all it was. When I started training with the dream of being a UFC Fighter, that's what it was, there was no weight classes, no commissions, very limited rules, and it was a tournament. That all went away throughout the course of my career.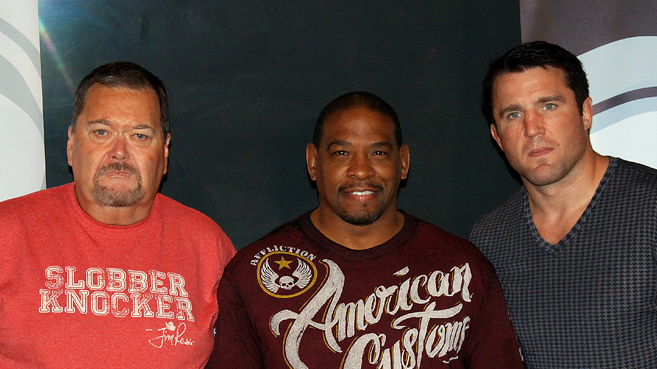 WWE Hall of Famer Jim Ross, promoter Kenny Monday, and Chael Sonnen
One of the promoters of the event, Kenny Monday, said something that stayed with me. He said we are a "tournament type country."
The playoffs for the NBA, the NFL, Major League Baseball, or for the National Hockey League—the Olympic games... In almost every single sport, there's a tournament. They draw a bracket, it you win, you go here. There is a very competitive, predetermined, competitive architecture in place. Fighting is one of the few sports where that architecture isn't in place. Nobody knows who is next for Floyd Mayweathe—it's not a discussion. With [the Battlegrounds tournament], its all done in one night, and you are going to know.
But even the other sports, the tournament is not contested in one day. The architecture is in place, but you still only play one game, you rest, and you come back out next Sunday. So the MMA tournament is very unique, which makes it all the more admirable.
People are going to relate to it. An athlete's first fight is never a big draw in terms of enthusiasm. But his next fights are! Once you get to know him a little better, and he's fighting another guy you know… it is pretty exciting. What you have in a tournament, from a promoter's standpoint, is that even if you bringing in [unknown fighters], you know, at 7 o'clock that's going to be the case but by the time 8 o'clock rolls around and it's the second round of the tournament, you know 'em all. By the time the third round rolls along, you know them really well. You can build that anticipation and excitement in one night.
That's what the UFC used to do. We all tuned in, and we didn't know who Royce Gracie was. We didn't know who Ken Shamrock was. Who Dan Severn, Mark Coleman, or any of these guys were. By the time the end of the night rolled around we knew them all. And it was exciting and memorable. That is one of they byproducts of a tournament.
Will commissions around the country accept the tournament format?
That's up to them. I'm not always sure what those guys are looking for. As long as it's done in a safe or controlled manner, I think they would be OK with it.
But I don't know if you would have as much of an issue with the commissions as you would finding athletes that would [agree to compete]. It's a really tough and remarkable task to try to undertake.
This may be the last eight-man tournament we ever see. This may be the one-and-only. There may not be an issue with a fighter or the commission; I'm just saying promoters may not do it. They got away from it.
Will the competitors fight differently? It's fun to think that fighters may not train specifically for a particular opponent, but display a more pure version of their game.
That's interesting. Though that logically makes a lot of sense, you really don't have a choice. They other theory is, 'OK I gotta be out here so many times that I really gotta go for it and go on a full sprint and get em out of there.' 'I gotta get this fight over with quickly. If I go out and play conservatively and try to protect myself, I am almost guaranteeing that I am going to be out here for the full duration.'
I fully agree with your point logically. In actuality, what we have seen in the past is a lot of finishes. I don't know if it's a mindset thing or an anxiety thing, but we generally see very few tournament fights go the distance.
Check out these related stories:
Oklahoma is Bringing the Tournament Format Back to MMA
The NSAC Plays Chicken with Chael Sonnen