Chris Leben Evolves Into Retirement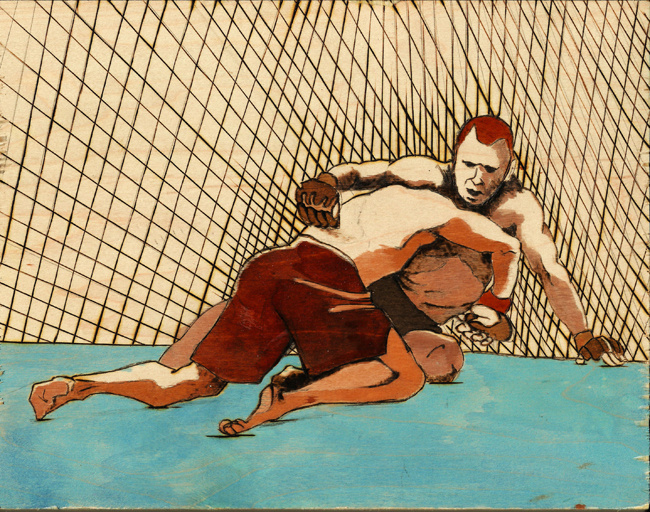 Art by Chris Rini
Just a few weeks ago we wrote that Chris Leben's refusal to come out for the second round of his fight with Uriah Hall at UFC 168 after taking a bad beating at the end of the first showed a level of "soul searching and self-actualization poets could only dream of." In a sport of tough guys (and Leben is among the toughest), where reputations are made as much on self-destructive stubbornness as victories, Leben's willingness to look at himself in that quick minute between rounds and admit his new place in the world was a minor miracle. "I'm done," he told his cornermen, and then walked over to Hall and told him, "You're the next generation." Mixed martial arts, the sport Leben helped drag into the mainstream (by way of his star turn on the first season of The Ultimate Fighter), had passed him by and he knew it.
Earlier this afternoon, on The MMA Hour podcast, Leben made it (pretty much) official, telling host Ariel Helwani he would be retiring and moving on to a career as a coach. "As far as competing in the UFC, I may actually be done," he said. Leben reminisced about his early days in the sport and pointed out that back when he started in MMA you could "get into the UFC, win, and do well just on being, you know, a tough guy."
"When you look at the guys now, like Uriah Hall—they're just a different breed of athlete," Leben said. "The game has been evolving and changing so much, so rapidly that I'm happy that I can say I was in it as long as I was in it." Or, as Leben himself put it on Twitter just after his loss to Hall: "Days of winning on toughness alone are over."
Who would have thought when he was pissing on castmates' mattresses and punching down doors on the first season of The Ultimate Fighter that Chris "The Crippler" Leben would grow up to be one MMA's most evolved and self-aware fighters? Who would have thought he had it in him? Though the sport of MMA may have passed Leben by on a technical and athletic level, you could very easily make the argument that Chris Leben as a human being has evolved past the sport of MMA. There were many times on the show or during his early fights that Leben seemed to be a soulless creature, just a breathing delivery device for his fists. It took booze to make him cry and failure to make him collapse, and there seemed to be something inhuman about him—like whatever pain he'd gone through in his life had ossified into a block of soulless survival instincts and pain production. But listen to him now:
"I really am happy, and I think that's the biggest thing: I just don't have that mean streak anymore like I used to," Leben told Helwani. "I really am in a good place. I'm happy with my life. I have a good life. I'm not angry at anybody."
It's a fascinating thing: to admit not only that your physical limitiations are keeping you from competing in a sport but that your emotional development is doing so as well—that your inabilities can be the result of a positive development, not just a negative. I don't know how many fighters these days feel like they need to have a mean streak to fight professionally (I'm guessing many fewer than did when Leben started and MMA was much more about the will to fight than the ability), but it's remarkable to think of a sport as being something one can grow out of emotionally. The very thing that made Chris Leben a great fighter was killing him as a person (witness all the DUIs and failed drug tests), and the very process by which he was able to attain a semblance of happiness in his life wiped out his ability to compete in the sport he loves.
One period ends and the next begins. How often do you hear that kind of happy ending in the world of professional sports?
Check out these related stories:
Joe Rogan, GSP's Alien Abduction, and Forced Retirement
GSP Gets Fed up With Fame, Vacates His Belt
Rich Franklin Says He'll Retire, Faces Strange Future as MMA Icon of Defeat