Chris Weidman Took Inspiration From "Rocky III" While Training for This Weekend's Fight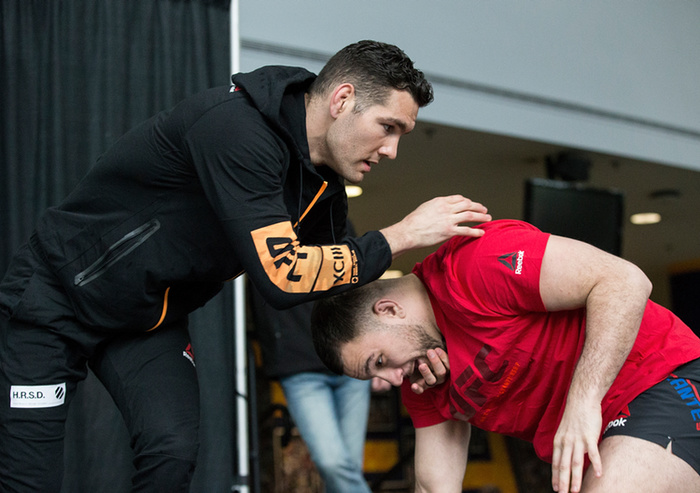 There's an ancient adage in the fight world that says the worst thing that can happen to a fighter is becoming civilized. Bloated with success and seduced by the trappings of wealth, the once-hungry champion grows complacent and unmotivated and soft, leaving him vulnerable to the next generation of lean, driven, angry young men.
This ancient wisdom doesn't come from Virgil or Homer or the Epigrams of Martial (though it may as well have). It stretches only as far back as 1982, when it was spoken by the fictional boxing trainer "Mickey" Goldmill to his prize pupil Rocky Balboa in Rocky III. When that movie starts (you may remember) Rocky is the heavyweight champion of the world, having finally beaten his rival Apollo Creed in the previous installment and the 10 challengers who followed him in between films. Rocky now leads a happy life in a mansion with his wife and children. He drives fancy cars and wears only the finest suits. Meanwhile, a cruel and hungry challenger named Clubber Lang (played by Mr. T) has risen through the ranks by destroying everyone he fights and is now next in line to the title. Mickey, angry that Rocky hasn't been hungry since he won his belt, decides to quit rather than watch the champion get beaten. You got civilized, Mickey tells him, and there's nothing that can be done to save a civilized fighter.
Well, apparently a few months back, Chris Weidman was at home in Long Island watching that scene from Rocky III with his wife and kids when the former UFC middleweight champion had a come-to-Jesus moment. Just then beginning his camp for this weekend's fight with Gegard Mousasi, his first after getting brutally knocked out by Yoel Romero and his third since losing his championship belt to Luke Rockhold, Weidman was suddenly overwhelmed with the fear that he had become the Rocky from Rocky III—the he was the one who had grown soft and spoiled, that Mickey was speaking to him from across the decades and from beyond the grave.
"I'm watching it and it just hits me: 'Is that me?'" Weidman told ESPN this week during the run-up to his fight with Mousasi this weekend at UFC 210. "He's living in a nice house, got the family, everything is nicer. I started in my parents' basement. I had nothing. I was picking the mouthpiece off the floor. I was in a Rocky I-looking gym: dirty, old gym with no lockers. That's where I grew from. In the pit of my stomach I said, 'Man, I can't believe this might be me.'"
Surely nothing could terrify a fighter more (especially a working-class fighter with a nickname like "The All-American) than the thought that he has gone from being the hardscrabble heroic Rocky of the first movie to the bloated self-satisfied Rocky of the third. Anyway, nothing could terrify Chris Weidman more. After all, Weidman had won the middleweight championship by doing the impossible—knocking out historical pound-for-pound great Anderson Silva—only to lose the belt just three fights later and going on a bloody two-fight skid. Something obviously needed to change. And since inspiration can come from the oddest places why should we be surprised when it does?
So, after the movie was over, Weidman sat his wife down and told her we wanted to move out of their house for the duration of his fight camp and stay in his parent's basement in Buffalo, the better to reconnect to the young fighter he was coming up and to tap into the Spartan spirit that had earned him everything that he felt was now holding him back.
Weidman's wife agreed and the fighter was all packed and ready to go when he had a revelation. "I realized, 'No, I can't do this,'" Weidman said. "I had an emotional breakdown. I started tearing up. I got to the top with my family."
So, instead of moving back in with his parents (a fate worse than death, or at least a fate riddled with emotional dangers), Weidman moved into the spare bedroom next to the garage, building for himself a little monastic island in a great distracting sea of financial well-being and domestic bliss, sleeping in a bag, reading books, "getting [his] head straight and [his] head centered spiritually," and generally cultivating and reawakening his fighter's spirit through the ancient art of forced solitude. Like an old-time boxer sealed away from the world at a rural camp in upstate New York, Weidman sought out the pains and pleasures and focusing powers of isolation to heal his warrior's soul.
This Saturday in Buffalo we'll learn if the sacrifice was successful, but win or lose, at the very least it looks like Weidman has spared his soul the damning indignity of possibly one day, like his hero, owning a robot. Surely the fighter's spirit is dead once that happens.
Check out these related stories:
The Tactical Guide to Rumble vs. Cormier
UFC 210 One to Watch: Will Brooks vs. Charles Oliveira
Thiago Alves' Lightweight Experiment Is Over Before It Began