Chris Weidman Wants To Be The Greatest Middleweight of All Time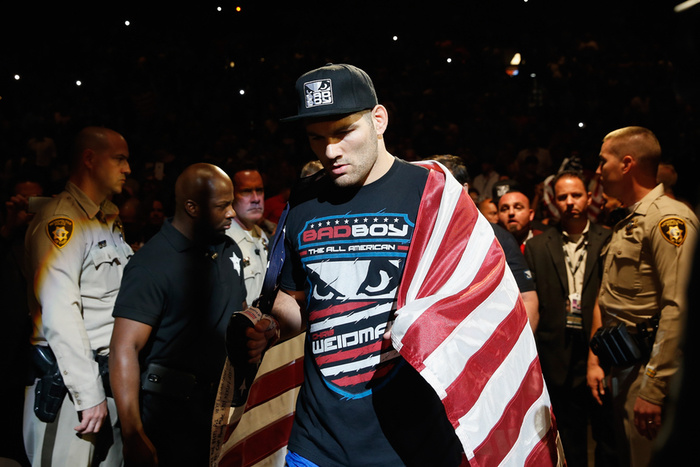 In the middle of recent press blitz through Toronto, Chris Weidman admits that he's a little tired.
"I was at Billy Joel's place last night," he says, casually. Then, as if realizing how strange this must sound—the undefeated UFC middleweight champion and #3 pound-for-pound fighter in the world just casually hanging out with the Piano Man himself—he feels the need to clarify: "I really was."
The unassuming but deadly All-American has long been a favorite in the MMA world thanks to his consistent Knockout/Submission/Fight/Performance of the Night-winning victories over some of the best that the middleweight division has ever had to offer in Vitor Belfort, Lyoto Machida and Anderson Silva. But until recently, he hasn't managed to inspire the same amount of interest from the outside world as some of his more vocal colleagues like Conor McGregor and Ronda Rousey.
"If I was a trash talker, I'd definitely get more attention," Weidman says. "But that's not what I'm really in it for. I'm not in it for a short term thing, either. I'm trying to become the greatest of all time. Notoriety and fame and all of that stuff will come. I'm not in a rush for it. The more that people respect me as a person, and respect me as a fighter, I keep doing what I'm doing, all of that stuff comes."
That other stuff is already starting to arrive, and not just in the form of invitations to the homes of musical legends. Earlier this month, the champ went to Hollywood to discuss some potential acting roles.
"It's something that within the last three years I started getting interested in. MMA brought that to the table, and then I started kind of getting interested in after that."
Although it's still too early to discuss any of the roles he's being offered, Weidman does have some dream gigs in mind.
"Something with superheroes. Maybe something with The Rock. I could be a superhero. That would be really cool," he says.
When asked if he has any particular superhero in mind, he doesn't hesitate.
"Superman. If I could be Superman, that would be awesome."
Does that mean he's coming for the current Superman, Henry Cavill?
"Oh, 100 percent," he laughs.
Before he can gun for Cavill, though, Weidman has a more pressing task to take care of: defending his title against former Strikeforce champion Luke Rockhold at UFC 194 on December 12 at the MGM Grand in Las Vegas. It's a match that's already been hailed as potentially one of the greatest fights in middleweight history and has managed to generate almost as much interest as its co-main event, the long-anticipated and highly hyped featherweight title unification match between Jose Aldo and Conor McGregor, despite possessing almost none of the theatrics that have fueled that feud.
"I feel like if you're into MMA you're extremely excited about me and Luke's fight because I think if you watch both of us fight, no one really knows which way it's going to go, so it's gonna answer a lot of questions and I feel like it's two guys who are in their prime, who are athletic and dangerous everywhere, so you can't ask for a better martial arts fight."
Rockhold has lobbed the occasional barb at his opponent in the months leading up to their bout, most notably telling Submission Radio that he'd easily defeat the "slow, slow, slow" champ.
Although Weidman has very little interest in written and verbal combat, he did share a link to that story, tweeting "Love this. Just wanted to make sure some more people see this and remember this on December 12th."
"I definitely have a lot of respect for him," he says of Rockhold. "He brings a lot to the table. I'll be prepared for him. So for me, I don't need to talk too much trash. I just know what I'm going to do. I really believe I'm going to rock him and completely dominate him and it's going to be fun to see the shock on his face. If he really believes the stuff he says, it's going to be fun to see the look of surprise on his face."
And when Weidman says "if he really believes," does he mean to imply that Rockhold's boasting is all for show?
"I think he's very insecure," he says. "But I hope when he steps in that cage he believes it, because I want to see his face. I want to see the 'I can't believe I was wrong' face."
Check out these related stories:
Chris Weidman Favorites McGregor Despite Admiration for Aldo
Jack Slack: Why Chris Weidman Is the New Breed of Martial Artist
Luke Rockhold Gets Title Shot Versus Chris Weidman