Chuck Norris Earns 3rd Degree Black Belt in BJJ
In 2012, Chuck Norris gave an interview to Bloody Elbow, in which he tells how he first came to practice the popular discipline that is Brazilian jiu jitsu. Years ago, the action-star and martial arts legend found himself vacationing in Rio de Janeiro, stopping by all the martial arts schools in town to get his work outs in. Throughout, the name Gracie echoed. Everyone said to go see the Gracies. He did, and as a black-belt in judo he thought he had the necessary tools to hold his own. He was wrong. Chuck tells the interviewer that Rickson made him feel like he had never in his life had a lesson. Eventually "Mr. Gracie"—patriarch Hélio—asked to roll with Chuck. He put Chuck to sleep, and acknowledged the American's potential, requesting him to stay and train. Unfortunately Chuck had to go back to Los Angeles to shoot a movie.
In Los Angeles he linked with Rorion and trained at his school, but eventually he found his way to the Machado side of Brazilian jiu jitsu, where he would train for the next 28 years of his life and where he would achieve the BJJ black belt.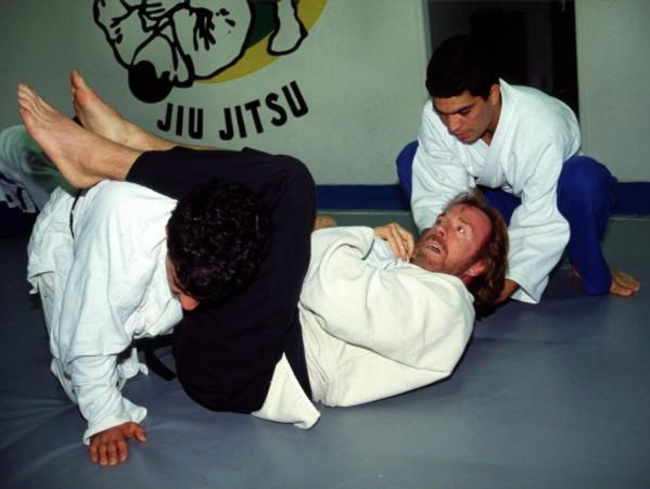 Now, the 75-year-old Chuck has achieved another promotion, becoming a third-degree black belt in the discipline. He posted on his Facebook page that "after 30 years of Brazilian jiu jitsu training, with the endorsement of Professor Jean Jacques Machado, Professor David Dunn promoted me to 3rd Degree Black Belt. This was the first black belt promotion held under the direction of our United Fighting Arts Federation Brazilian Jiu Jitsu program (UFAF BJJ) which David Dunn is our Chief Instructor and Reggie Cochran is our Director."
Chuck Norris and David Dunn—a long time student of Jean Jacques Machado—founded the UFAF BJJ in early 2015. According to the federation's site, UFAF BJJ offers not only yearly tournaments, but they also offer online training courses (with ranking options), and accelerated training camps. The federation also claims on the site "traditional schools [are] welcomed."
Check out these related stories:
Ashton Kutcher Is a BJJ Purple Belt
Jerry Maguire's Jonathan Lipnicki Is a Purple Belt in BJJ