Cindy Hales: The Aftermath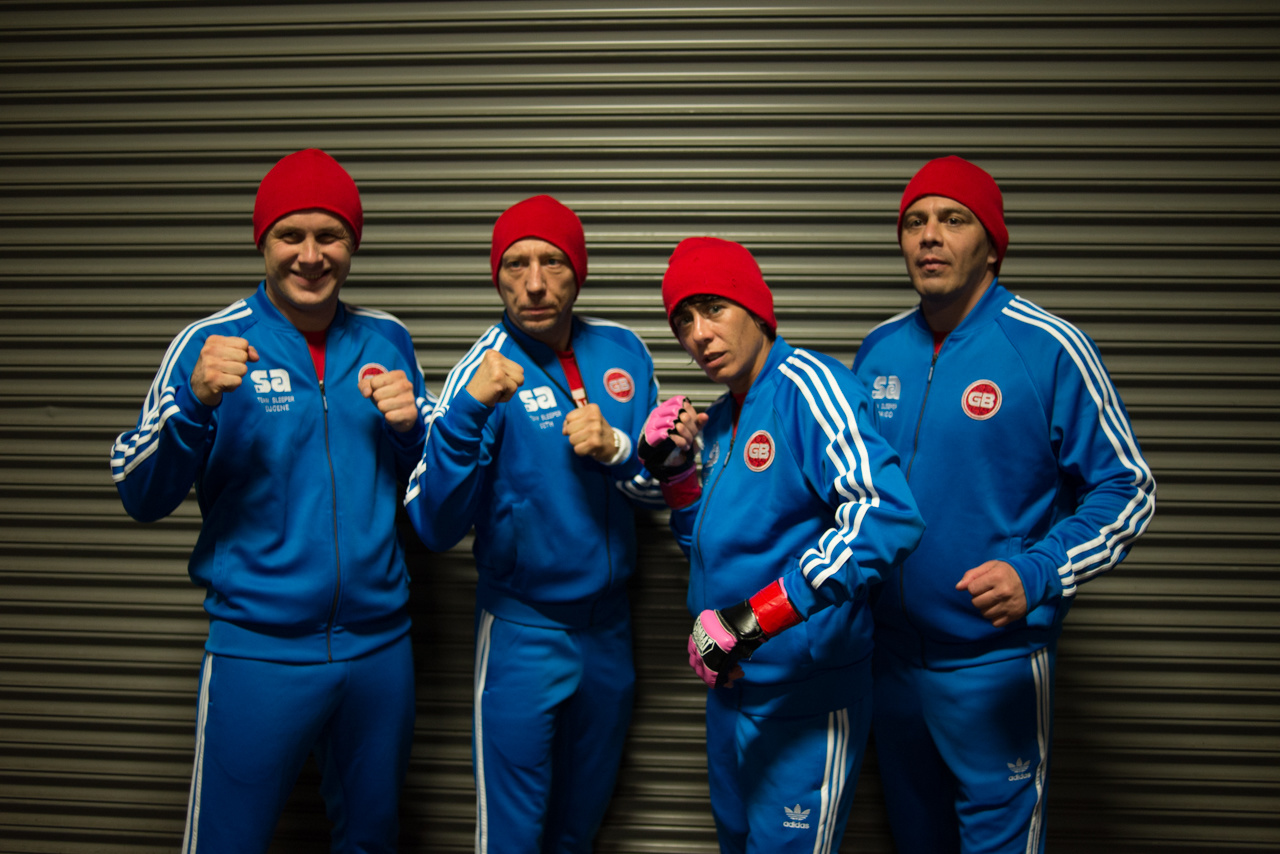 For anyone curious as to what happened to Cindy Hales, the protagonist from our recent feature, I'm sorry to report that her fight didn't go as her fans might have hoped. But it wasn't so much the outcome of the fight that was most troubling, rather the series of events that happened afterwards.
"SFL America Team Challenge: Seattle vs. Portland" took place at the Emerald Queen Casino in Tacoma, WA, and it was the venue's 9th installment of the Super Fight League, an Indian-based fight organization first founded in 2012 and more recently picked up boxer Amir Khan as an investor. That night introduced a team scoring format where each of six bouts would earn a number of points—9 points for a KO, 7 for a submission, 5 for a TKO, 3 for a decision, 2 for a draw—and points were tallied up to determine a team winner. To heighten the competitive feel, fighters from each team were dressed in matching tracksuits: dark navy blue for Portland, royal red for Seattle. Hales of course, had different plans.
"I used to have this obsession with Wes Anderson movies, like 'Team Zissou' or The Royal Tenenbaums," Hales said as she showed me the gift bags that she handcrafted before the fight. Inside was a red beanie, a brand new white towel, and matching baby-blue Adidas tracksuits with a "Gracie Barra" patch embroidered on one side, and the words "Team Sleeper" on the other. Stuffed throughout the bag were pieces of lavender-colored gift tissue.
"I don't normally care about that stuff, but I want the whole package to look like that I actually care about it, like I want everyone to look nice."
I asked her how she felt about the fight.
"Well, you know people always say, 'Win or learn'? I don't ever really think I knew what that meant, and I didn't agree with that for a long time, but I think maybe this fight has made me feel a little bit like even if I don't win, I've gotten a lot of things accomplished. I've been having fun training, talking to a bunch of my friends, everyone is gonna hang out afterwards, so it doesn't really matter if I win."
One of her corner men, Eugene Ciumac, appeared behind me with a bit of a limp, a result of a lower back injury he sustained during training. He was donning a pair of mitts to signal the preliminary warm up and the two excused themselves outside. Of the fights on the main card, the opening bout just wrapped up, and Hales was the third of the night.
I snuck across the curtain barrier to find her opponent Liz Tracy. Leading up to the event, I found out that Tracy holds a comprehensive history in wrestling and a taekwondo background before that. When I finally found her staging area, it turned out that one of her trainers was actually Glena Avila, the fighting subject of a documentary on MMA that was recently picked up by Showtime. Avila reacted to my interview request with a healthy dose of caution.
"Do you want to do an interview? Now? Like right before your fight?" Avila asked Tracy, loud enough so I could be aware of my audacity. Tracy sort of shrugged her shoulders and nodded. Avila then paused for a moment.
"This is for Cindy," Avila clarified. Tracy nodded again and waved me in.
My first impression upon speaking with Tracy was that she was, well, a nice person. I don't mean that in a belittling way, like she was fragile or a pushover, just that it seemed more like she was about meet a person she admired for afternoon tea rather than to attempt to publicly beat them into submission.
"I've been in the jiu jitsu circuit for a long time and she's an amazing black belt and she's really inspirational to a lot of women," says Tracy when I asked what she thought of Hales. "I mean she got into the Dirty Dozen and it's incredible. She's done a lot for this sport."
I asked if she felt any of that respect and admiration would affect her performance.
"Well, no," Tracy replied. "A fight's a fight."
I thanked her and her corner went back to their warm up. The last fight just ended by submission and Portland was up 8-0. Hales vs. Tracy was up next.
+++
Hales was announced as a Tacoma native and the crowd went wild upon hearing the hometown name. She walked out to "Champion of the World" by Dan Stone, the lead singer of a nostalgic 90's band that the locals hold with great revere. The only thing missing was that Hales no longer donned the baby blue tracksuit she prepped for the team since the promotion insisted she wear the original uniform due to the fight being televised. She kept portions of the custom threads visible from underneath, however.
After formal introductions, and the opening bell, cheers for the hometown hero roared throughout the arena, and fans snuck their way into the empty seats at cage side to get a better view. Hales opened with clean shots from the outside and it was immediately clear that her focused boxing instruction had paid off. She moved well on the back foot and kept the distance effectively, noticeably bothering her opponent with accuracy and angles. Moments later, Hales almost locked in a flying triangle and the crowd went absolutely nuts. It doesn't hold and the two were brought back up to their feet, and Hales smirked at her opponent. It looked like she enjoyed getting back into her fighting groove, like finding a favorite pair of old jeans that still fit.
Tracy continued to eat a series of jabs, but was also closing the distance and landing shots of her own. The way Hales flinched her face showed she was bothered by the power. Tracy eventually scored a mount position and attempted a series of ground-and-pounds. Hales subdued the assault, but was also expending large quantities of energy. She was beginning to slow down. The two spent the rest of the round against the cage vying for dominant position. It was an exciting fight thus far.
The second round opened and Hales still showed her boxing superiority by executing shots from awkward angles. Tracy moved past them undeterred, and muscled Hales back onto the ground. The two were eventually stood back up onto their feet, but Hales was starting to get the worst of the exchanges. By the middle of the second, Tracy was the one smiling, and as she pinned Hales back against the cage, I noticed the words "Dethrone" printed on the side of her trunks. Tracy regained mount position and executed another series of ground-and-pounds, this time successfully persuading the referee to sweep in and stop the fight. Hales looked shocked and dejected, but managed to retain enough consciousness to embrace and congratulate the victor.
As the fighters retired to their respective staging areas, I ventured back to the winner's corner for a post-fight interview. This time Avila allowed me passage without question, and when I asked Tracy about the experience, she responded in championship fashion.
"She was amazing. She was really, really, really strong. I didn't think anything less of her. I've respected her for a really long time in the jiu jitsu community, and she didn't let me down," said Tracy. "She brought everything. She's an intelligent fighter, and she's so poised. It was such a good fight, the best fight I've ever had."
Things in the other corner were not going as swimmingly.
I found Hales lying on a bed being examined by a team of medical professionals. The dilation in both her eyes were noticeably uneven, and doctors were concerned she had bleeding in the brain. One of the on-staff medics stepped out and yelled: "We need a STAT transport!" Hales was dazed, but still talking. She was apologizing to her corner.
"She apologized to me two or three times already," said Seth Miller, the other principle corner man for the fight. "She's on the table, with the doctors, they're looking at her after the fight, saying that she has a concussion, and she looks at me dead in the eyes and says 'I'm sorry'. That breaks my heart because she has nothing to be sorry about. She's a great example for me, she's an example to my children, she's an example to many other people to continue to fight, to strive, to endure—and that's exactly what she's done in this fight camp, in fact, her whole life."
An ambulance arrived soon after and transported Hales to a nearby hospital. I stayed to watch Team Seattle comeback and finish the night with a final score of 17-13. I drove directly to the hospital afterwards.
I entered her room to find Hales's corner sitting alongside the wall. Hales was away getting an X-ray and a CAT scan of her injuries, but was wheeled in a few moments later. Upon seeing me, the first thing she asked was if I was hungry. I told her that I was doing just fine. She looked over to Cuimac and asked how his back was feeling, then sat up and scooted over, asking if he'd like to lay down to rest. He solemnly shook his head and motioned her to lay back down.
The doctor entered and gave a run-down of the injuries: a concussion, partial ligament tear and bone chip in the right thumb, a broken middle finger on the same hand, and a contusion on her right shoulder. Thankfully, there was no bleeding to the brain. Then things got a little weird.
The doctor mentioned fitting Hales for a plastic molding to hold her thumb in place. Hales sort of chuckled that she already owned three moldings for the same thumb, since the injury had initially occurred during training. At first, I thought her mention of the coincidence was to make light of the situation, but as she continued, I soon realized there was another reason to her voicing the matter. The conversation intensified as the doctor unceremoniously dismissed her comments, insisting to take a molded splint in an almost forceful manner. The following dialogue is not exact, but true to capturing the mood of the situation.
"You need to keep that thumb in place," the doctor started.
"Yes I know. I've had this injury before," Hales said. "I have a splint made specifically for this."
"You can't use the one you buy at the drugstore."
"Yes I know. I have like an actual splint that was made in a hospital, molded for my thumb."
"No, but it's has to be specifically fit for this thumb."
"That is what I just told you."
"Look, you really need to calm down, and let me do my job and take care of you. You need to take the splint."
"I have a splint," Hales repeated for the third time. "I don't need this one. I'm really trying to minimize my insurance costs."
Then the real issue was revealed and it was something I didn't necessarily anticipate. In the midst of concussion, Hales still had to consider the costs of aftercare and I was actually impressed that her mind was able to function so rationally despite the fight she had endured earlier. If insurance doesn't pan out, a large portion of Hales's earnings could go towards fixing the injuries sustained in the same event that paid her, essentially leaving her with nothing to show for the night except a broken body and a memory. These are the type of things fighters have to go through to fight. These are the risks they take.
After hearing her reasoning, the doctor left in a huff, only consenting because Ciumac agreed to go retrieve her splint for approval. I leaned into Hales a bit confused about the whole ordeal.
"I thought the event was going to cover the costs?" I asked.
"Yeah, that's what they say, but you always end up with the bill," she replied.
In almost an eerie sense of timing, a billings specialist entered and informed us that because Hales also carried primary insurance, the visit was not going to be covered by the event. Hales muttered under her breath, "I fucking knew it."
As of this writing, it is still unclear whether or not the event will be covering any of the medical costs. According to the Halquist Promotions, the costs will be covered if a claim is filed correctly. Hales told me later that the issue is currently being worked out between the two insurance companies, but she is unsure if she'll have to pay co-pays or deductibles.
The doctor later returned, still pressuring Hales to take the splint. When Hales brought out the one aforementioned, he quickly consented, but then insisted on a molding for her broken middle finger, though he had strangely not mentioned it earlier. Hales replied by saying she had something for that as well and requested to be discharged. After a series of further exchanges, the doctor finally relented, but proceeded to instruct the others present in the room in how Hales should care for herself afterwards, despite her sitting directly in front of him. Hales is noticeably annoyed and somewhat shaking from the experience.
In walking back to the car after the discharge, I eavesdropped on Hales talking about when she'll show up to teach the following weekday.
"Wait, you're going back to work on Monday?" I asked her.
"Well, yeah," she said. "I got a school to run".
+++
It's now two days after the fight and I meet Hales at a coffee shop near her school. She walks in with a shiner on her right cheek, and a brace on the middle finger as promised. She found it in an old box of old splints, braces and supports lying around the house. She is in surprisingly good spirits given what happened over the last weekend. For Hales, the event was eye opening.
"I've had losses where I was very devastated, like Megumi Fujii was kind of crippling. When I lost Abu Dhabi, it was crippling. This time I don't feel that way, so I think to me it's a sign that I should stop fighting. Like I'm really glad I did it because if I didn't do it I would always be like, 'Oh, I could have done this.' I would have this thing in my mind. But before the show I was concerned about all these other things. I'm kind of not like I used to be. I used to be that girl," Hales says referring to Tracy. "She seemed like she really wanted to win".
I then ask what she thought about her opponent's performance.
"She had like a huge neck. Her neck was way stronger than I expected. That was when I was like, 'Holy God.' I've been around strong people and stuff, but it was like man, I didn't know what the fuck to do," Hales says. "I'm kind of glad that girl beat me though. She was tough."
Hales can't really recall the fight, at least not the exact sequence of events that took place inside the cage. She remembers attempting a front headlock position, but not being able to snap her opponent's head down. She remembers trying an arm spin, but that also being unsuccessful. She remembers that she wanted to box more, but didn't because her corner was advising her to stick to her grappling roots. The irony is that Tracy was actually performing better at what Hales is known for, and at least in my estimation, Hales would have had a pretty good chance at winning had she boxed. Her skill level was incredibly high for someone with only 6 months of training behind her. The entire ordeal taught her more about how to coach in the future.
"What I came away from all of this is that I just do best when it's not like a linear game plan and I just do what I do, you know? I learned a lot of things about coaching; how I would coach people and how I hope I coach people. Cuz I think I wanted to box and everyone else was like 'No, do this', and I should have just done what I wanted to do. I think I see that in a lot of coaching, people coach what they would do," says Hales. "I think coaching is helpful if you're getting submitted or something—there's a situation where there's only a few logical things to do—but at the start of an MMA match, there's millions of options. I don't need help to sort out a million options. I can sort out my stuff. I don't like hard and fast rules in anything, so I think that applies to my teaching and I'm going to go embrace that."
Overall, Hales holds no regrets in taking the fight. In fact, she's accomplished a number of things leading up to it, including her newly launched website and reliving a host of fond memories. Walking out to "Champion of the World" was in some ways an appropriate farewell since Dan Stone was also the friend that first introduced her to watching the UFC. In many ways, the story comes full-circle.
What's more troubling for Hales was the scene in the hospital and all that ensued. Today, she spent hours filling out paperwork and calling managers, promoters and insurance companies to figure out who will be paying for the ER visit. This is also in addition to an already existing pile of medical bills from the visits to treat the injuries leading up to the fight. Then of course was that very unsettling interaction with the doctor, which was in many ways a singular representation of how she has been treated throughout much of her life.
"Imagine if something shitty happened to you, where you don't really know what happened, and then you have all these people. It's different, you know?" Hales says. She pauses a moment to wipe her eyes. "I didn't anticipate that."
"I know when people are like power-tripping on me and it's very subtle. People will do it in subtle little ways. Maybe I portray like this 'happy-go-lucky' persona, but I'm not stupid and I'm not a victim. It's not like I don't know my medical rights. It's not like I don't know all the repercussions. I've had tons of surgeries. I've been to the ER. I've been to nursing school. When someone does something simple like 'look over there', it's totally condescending. It's a power play.
"This is my business. This is my life, and this is how I do shit. I know what my rights are, and I think that pisses people off. My lifestyle makes people angry on some level—it's like jolting to them—and they don't want to take me seriously. When I'm like, 'No you're gonna take me seriously', then that's like…'pushy'. I think people are not used to people who stand up for themselves in a way.
"And that's what I've found with a lot of guys in fighting. It's like I try to be polite. I feel like I'm well spoken. I try to be sensitive to people's feelings, but that's not because I'm stupid or I'm a pushover—it's because I believe that's the right way to be. However, when you start to take advantage of that or you act this other way, like that doctor, all that goes away and now I'm gonna be very assertive. I'm gonna do what I have to do, and that's how I survive in gyms. That's how I've lived my life."
+++
Before the fight, I ran into a friend who read my first piece on Hales, and told me that he was familiar with the fighter. Apparently, his younger nephew used to train with her, and told me that Hales used to let his nephew train for free because the family didn't have a lot of money at the time. When I brought the story up with Hales, she remembered the student immediately, though it had been almost a decade since she last saw him. According to her, the kid was a child phenom. There's a video floating around the Internet of him sparring with Marcelo Garcia, and he won a Kid's World Tournament on a whim. This was all before he turned 10-years-old.
Hales proceeded to gather together many of key figures in the local fight community and raised money to pay for his gear, his tuition and his entry fees for tournaments. This was all presented to him at a ceremony at the revolving restaurant atop the Seattle Space Needle. She made sure to tell him that, "You're not getting money cuz you don't have money; you're getting money because you're exceptional," and this also all happened when she was running her own school, around the time she was recovering from multiple spine injuries from a car accident.
"When I had my school I didn't make any money because half the people didn't fucking pay, like half my school was on scholarship and I charged maybe under a 100 dollars. I was like, 'Wait, there's people driving a Mercedes that I'm giving discounts to, and I'm riding a bicycle everywhere.' Yeah. I'm that person," Hales laughs. "I'm too much of a sucker sometimes. You know for some people who need it, you want to help them, but I couldn't support myself, like we didn't have heat in my house for like a year. It was crazy."
When I tell Hales that her former student ran into a rough patch and dropped out of school, but is now enrolled in a community college program to regain his credits, she smiles—happy to know that he's managed to keep his life together.
"I used to do all that with a lot of kids," Hales says. "I had a kid one time that was dropping out of school, and I went got him enrolled in an alternative school. It's pretty crazy. You know, I'm lucky that my parents took care of me, but there were a lot of people that needed help along the way, and you see that there's not a lot of people helping people."
What occurred to me at that moment is that despite all that Hales has endured in her life, she has managed to retain her decency. It can be seen in what she said to me at the hospital, in how she treats her corner, and in the way she thinks of those still struggling to make it. She has not let the circumstances poison her humanity. That is the real fight in all of this, and it is one that never really ends.
There is a quote from George St. Pierre that reads:
"There is a difference between a fighter and a martial artist. A fighter is training for a purpose: He has a fight. I'm a martial artist. I don't train for a fight. I train for myself. I'm training all the time. My goal is perfection. But I will never reach perfection."
In all the time that I've spent writing the fight world, there are few instances where I meet a person that is able to truly achieve the status of either one of those labels. Cindy Hales is a person who has achieved both.
Find out more about Cindy Hales here.
Check out this related story:
Cindy Hales: The Sleeper Awakens