CM Punk Steps Into the Fire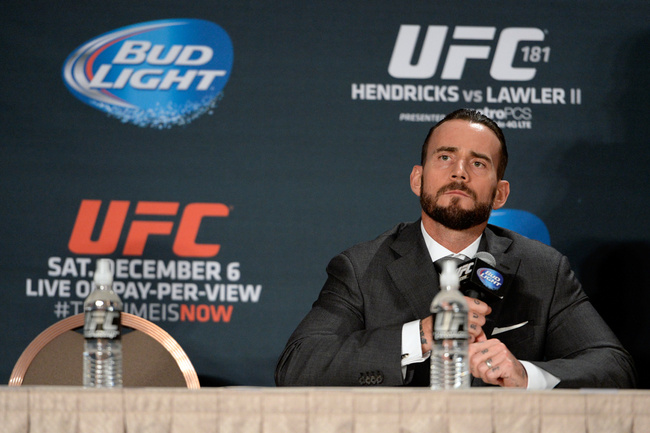 I haven't watched pro wrestling since I was a kid, when I actually believed it was real, and not some pseudo-sport-kabuki theater. Now that I'm older, I understand it's all scripted, and those massive audiences tune in for the spectacle.
Which is fine. Sports without spectacle suck. Hence, the amazing promos produced by NFL, HBO, Showtime, even the UFC—all to generate drama. To sell, sell, sell.
So when, during this weekend's UFC 181 event, Joe Rogan introduced Phil "CM Punk" Brooks to the cameras, and announced the professional wrestler's surprise signing to the UFC, I was floored. "This is something that's been in the back of my mind for a very, very long time," Brooks told Rogan, "I have a background in Kenpo. I've done Brazilian jiu jitsu off and on for a very, very long time. But the idea of being able to step into the octagon and test myself is an opportunity that I was not able to deny… this is my new career."
It wasn't just me. The announcement sent a lighting bolt through the MMA community. The forums exploded. Twitter red-lined.
BREAKING NEWS: I'm headlining wrestlemania 31.

— Jon Bones Jones (@JonnyBones) December 7, 2014
WHA?!?!?! @CMPunk!!?!!!!?!! #cantwait

— Ronda Rousey (@RondaRousey) December 7, 2014
I see @cmpunk wants to kick ass, well he can kiss my ass! Welcome to the Ufc, let's do this! @ufc @danawhite

— michael (@bisping) December 7, 2014
December 7, 2014
Why? For the spectacle, bro.
As stated above, I don't know shit about professional wrestling, but according to Wikipedia: "Punk was the longest-reigning WWE Champion of the modern era, having held the title for 434 days… Punk is officially recognized as the sixth-longest reigning WWE Champion of all time."
That doesn't mean dick in sport's circles, but for television viewership that equates to millions of fans that already know his name. They love him. That will tune in to watch him throw a javelin.
Let's get real for moment—ask any fight promoter to choose viewership or credibility, and they'll tell you, credibility is great, but viewership pays the bills and allows us to host the next show. To keep the lights on, and our employees working.
Truth is, Punk's announcement was perfectly timed for me to wrap my trilogy of 'sport versus spectacle' pieces—#1, and #2—and I'd like to thank Punk and the UFC for holding back until I finished those. The gist of the articles was the need to balance credibility and entertainment. Which, given 2014's ho-hum cards, obviously ain't that easy.
Case in point: Anderson Silva is on the backside of his career. Coming off the horrific leg-snap, he's stated more than once that he doesn't want another shot at the belt. Yet, his upcoming bout with Nick Diaz, at UFC 183 in late-January, is the most anticipated event of the last twelve months. Definitely a case of spectacle over sport.
Why? Do the math. As I also wrote in those earlier articles, Twitter is a great empirical metric for fame, and in case you're wondering: CM Punk boasts 2.3 million followers. GSP, 1 million. Ronda Rousey, 700k. Nick Diaz, 200k.
That's why.
Now I'm not going to lay down some protracted argument on whether Punk should debut in the UFC, because the truth is, I'm still conflicted, but as it's been said by many a wise man: This ain't the fight game, it's the hype game.
On one side, Punk's got no combat-sport experience. Hmmmmm. On the other, he's got a shit-load of followers that will pay to watch him step into the octagon—provided he debuts with a clean record.
"If I went somewhere else and lost the first fight, it would lose some luster," Punk told Bleacher Report, "but I was willing to do that, and I still am."
No doubt, it's a dilemma. But if Punk's premiere leads more fans to the sport, which results in more cards, and more opportunities for young up-and-coming fighters, then amen. Bring it on, Punk.
Check out these related stories:
Conor McGregor and the Art of Hype
Power Rangers, Pro Wrestlers, Rousey, and Fedor