Cody Garbrandt and Thomas Almeida: Bantamweights of the Future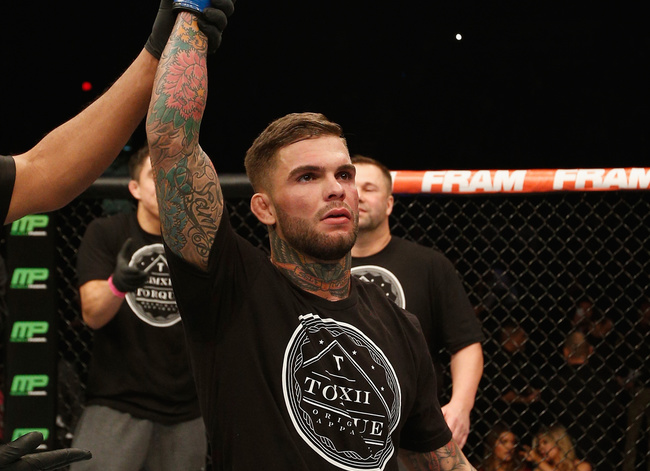 A heavily tattooed striker who burst onto the UFC scene with a knockout of Marcus Brimage in his promotional debut—sound like anyone you know on the UFC 189 card?
The description easily fits headliner and all-around sensation Conor McGregor. But there's another young fighter who owns an identical credential: Team Alpha Male bantamweight Cody Garbrandt, who is set to enter the Octagon for the second time come Saturday, slated to face Enrique Briones on the prelims.
Garbrandt, who turned 24 yesterday, is part of the next generation at 135 pounds, as is undefeated Brazilian knockout artist Thomas Almeida, who is looking for his third-straight UFC victory, when he kicks off the UFC 189 main card against Zuffa stalwart Brad Pickett.
There is still much that remains to be seen from the heavily touted pair. But with the bantamweight division thinned out due to injuries to top five fighters like former champion Dominick Cruz, former title challenger Michael McDonald, and Raphael Assuncao, Garbrandt and Almeida are already looking like legitimate threats to stir things up in the top ten.
A native of Ohio, Garbrandt, whose record currently sits at 6-0, with all of his wins coming via knockout or TKO, has found a home in Sacramento, California, where he trains alongside two other top bantamweights: champion T.J. Dillashaw, and perennial contender Urijah Faber. He's slick on the feet, with superlative boxing combinations and a nasty left hook. Just ask Brimage, who succumbed to a barrage of punches back in January.
Garbrandt possesses a similar fleet-footed style as teammate Dillashaw and Cruz, bouncing around the cage on the balls of his feet, dancing in and out of the pocket while attempting to land heavy strikes.
Almeida, on the other hand, pressures forward constantly, stalking forward, cutting off angles. Hailing from Brazil's Chute Boxe academy and the Macaco Gold Team, home of top-10 featherweight Charles Oliveira, Almeida is equally skilled in the standup game, although where Garbrandt excels in the wrestling department, he attributes his ground expertise to a brown belt in BJJ.
And after claiming the Legacy Fight Championship bantamweight title in June 2014, Almeida finally received the call up to the big show in November of last year.
Entering the Octagon on the strength of 17 straight finishes, Almeida made his UFC debut against former TUF 18 contestant Tim Gorman. And while the Brazilian was unable to put the durable American away, he exited as the victor, earning a Fight of the Night bonus in the process.
Five months later, in April 2015, Almeida would earn his second fight-night bonus for a standing TKO of veteran Yves Jabouin, and for his third trip inside the Octagon, matchmaker Sean Shelby has partnered the young Brazilian with another well-established fighter in Pickett, who returns to bantamweight after a failed run at 125 pounds.
Both Garbrandt and Almeida have displayed phenomenal potential under the UFC banner, with the latter already cracking the promotional top-15. And UFC 189 appears to be a possible coming out party for the pair, who will likely face each other somewhere down the road, especially as divisional mainstays like Takeya Mizugaki, Francisco Rivera, and Iuri Alcantara appear to be nearing their plateaus, making room for younger talent.
This infusion of new blood is essential to the future interest and intrigue of a division in sore need of emerging prospects.
For Garbrandt, a win over Briones is essential to his aspirations of climbing up the bantamweight ranks. A 3:2 favorite on betting ledger, Garbrandt will need to assert his dominance over the former TUF: Latin America contestant in order to make good on endorsements from Dillashaw and Faber.
Almeida enters Saturday's contest as the biggest favorite on the card, despite Pickett's veteran status and 71-percent finishing rate. As always, a win is essential for further ascension, but a loss to Pickett wouldn't derail his career altogether, as Almeida is still just 23-years-old.
It's tough to assign such lofty expectations to this pair of young twenty-somethings, but both Garbrandt and Almeida have shown that they can be the future of the bantamweight division. Now it's time to see how they'll perform under the lights of one of the biggest fight card of 2015.
Check out these related stories:
Thomas Almeida's Dangerous Path to Bantamweight Glory
Thomas Almeida: The New Hope of Brazil