'Combatants': A Closer Look at Women in Martial Arts
My name is David Jaewon Oh and I am a Seattle-based photographer. After graduating from University of Washington with a BFA degree in photography a few years ago, I've been photographing subjects in relation to cultural and gender issues in sports. Some of my latest projects have been about an LGBT running club, flat-track roller derby league and urban running culture.
'Combatants' is the title of the series and it's an on-going photographic collection about women in combat sports, which I've been working on for the last two years. It seeks to highlight female fighters by photographing them in their respective gyms. This is the environment in which they find themselves as a minority, often trading blows with male training partners because there are so few female fighters to compete with. By photographing these fighters exclusively in this environment, I wish to highlight these women in hopes to bring recognition and capture their valiant efforts to solidify their identity.
All fighters have stories of their own regardless of gender but what enticed me the most about photographing women in combat sports is that the stories they have become even more triumphant given the nature of combat sports being masculine. I've photographed a world champion boxer who had to serve at a pancake spot a few days after winning her world title bout, a 30-something lady who found the sport as a coping mechanism as well as a way to find a validity of herself by stepping into a ring, a single mom who was wiped out of everything after a natural disaster, and a teenager who just "likes to fight". As all fighters do, these females wait for their time to shine, but because the talent pool of women in combat sports is so small, they have to wait for a fight to come along, and compete against the same opponents repeatedly.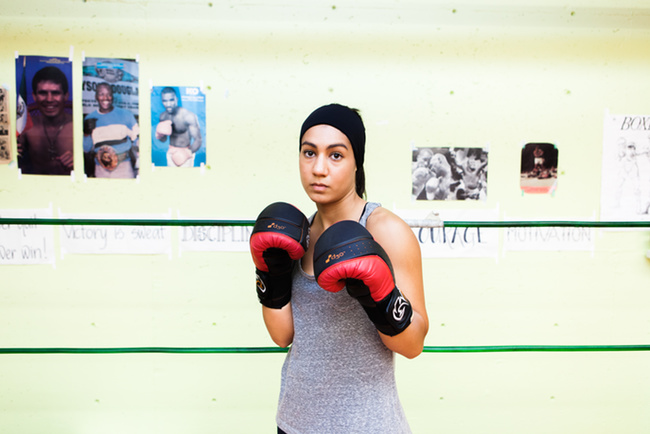 Follow the photographer on Instagram @thisisdizzle.
Check out these related photography sets:
Felice Herrig, Ferocity Embellished
New York City Nak Muay: The Preparation of Elijah Clarke
Erena Shimoda's Underwater Portraits of Martial Artists