Coming of Age as a Foreigner in the Culture of Muay Thai
Italian fighter Mathias Gallo Cassarino first stepped into the ring when he was only eight years old. He and his family were on vacation in Thailand, wandering around a temple fair when they heard an announcer call for volunteers to fight for fun, blindfolded no less.
Mathias tugged at his father's hand, said he wanted to fight. His father laughed. A retired Italian kickboxer himself, Roberto Gallo Cassarino was pleased his son wanted to jump into the ring, but warned him, "It's going to hurt."
The eight-year-old Mathias was unfazed. He'd been training a few months.
"Remember to block," his father told him. "You're going to be a little hurt after this fight, but if you don't mind and you still had fun, then you'll know Muay Thai is for you."
Mathias climbed into the ring and faced his opponent, a local Thai boy. Temple fair volunteers blindfolded each child. The ref led them to the center, pushed their gloves together, and the bell rang. Mathias took wild swings and occasionally made contact. His opponent, also a brand-new fighter, used blind, unreliably aimed kicks to keep Mathias away.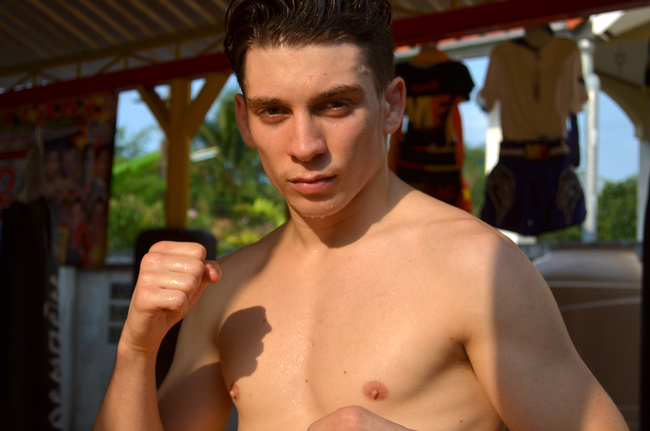 The blindfolded fight lasted two rounds. Both boys left the ring grinning. Roberto asked his young son what he thought now that he'd had a tiny sample of fighting. Mathias said he could feel the pain in his shins.
"You have to remember, you're not the same as Thai boys," Roberto said. "They can get injured, and it's no problem. They're tough. You didn't grow up like they did. You're a foreigner and you have to protect yourself more. You have to use your body, but especially your brain because you need to be smart."
Mathias was quiet. After a moment, Roberto asked if he'd liked it.
"It was fun," Mathias said. "I want to fight again."
Roberto smiled. From then on, every year during the family's Thailand vacations, Mathias enthusiastically trained at local gyms.
He took his first professional fight when he was 12. Again he was matched with a Thai boy around his age, but this time it wasn't a fun blindfolded exhibition. Mathias won on points.
The next year, when Mathias was 13, the Gallo Cassarino family moved to Thailand. They took up residence in Pattaya, a beach city known for its red light districts and dense concentration of European expats. Mathias' father Roberto kept his job in dental equipment sales, working remotely. Mathias enrolled in a local school. His mother learned to take care of her family on foreign soil.
Ten years later, the family still lives in Thailand. Mathias, now in his early 20s with approximately 60 professional fights to his name, balances a training life with managing his family's new gym, 7 Muay Thai. Mathias has been raised in Thailand's Muay Thai culture as if being groomed for a life dedicated to the sport. He is part of a new generation of foreign fighters growing up in Thailand's gyms, an international contingent whose very presence is changing the culture of Muay Thai domestically and abroad.
Most foreign fighters come to Thailand as adults, having started Muay Thai in their teens, 20s, or even later, and usually committing no more than a few months to full-time training in-country. Mathias, however, moved to Thailand semi-permanently with his family when he was only 13.
It had been a hard adjustment. He had known Thailand only as a fun vacation destination, but once the family set up residence, Thailand became "home."
The initial linguistic isolation was rough. Everyone spoke Thai on the streets, and English was the language in his new international school. He walked around in a confused daze, unable to understand anything outside his Italian-speaking household. "The first few months, I cried every day," he says now with a wry smile. "I couldn't speak English. I had no friends and I couldn't understand anything at school. It was hell for about three months."
His father brought him to a local Italian-owned gym in Pattaya. Mathias concentrated on his training in addition to his regular schoolwork, and was soon winning most of his fights. He now boasts a half-dozen belts from various promotions in Thailand and abroad.
Foreigners starting Muay Thai at a young age, seven or eight years old in the case of Mathias, means foreigners may grow up on par with their Thai counterparts if trained properly. Much like the classic example of language development, physical and intellectual skills are reinforced during childhood and puberty. Speakers learning a foreign language have a much greater chance of sounding like native speakers if they are immersed in the target language before puberty. In the same way, such skills as in sports, music, or dance that are developed and honed in childhood and specifically between ages 10 to 14 become what one may excel at in adulthood.
Mathias had a clear advantage many other foreign fighters lack: a supportive family that started him in Muay Thai—his father is a retired kickboxer who worked in fight promotion and coaching. Here is a notable divide between foreign and Thai culture of Muay Thai: in Thailand, many children take up Thai boxing out of financial need, or because it's widely available in their villages and an activity in which many of the neighborhood children participate. Young foreign boxers, however, often find their way into Muay Thai based on the interests of their parents, relatives, or close friends, as Muay Thai is not prevalent in most foreign countries and is often reserved for those of a more privileged class, i.e. those who can afford Muay Thai lessons. Many foreign boxers have no inherent connections to Muay Thai, and thus come to it at a later age once they discover it on their own.
Obviously, growing up in Thailand and training Muay Thai does not necessarily result in one becoming an outstanding fighter, and not all Thai gyms are created equal. A key part of it is with whom you're training. After graduating high school, Mathias left his gym in Pattaya for Bangkok, looking to train with more elite-level Thais. Bangkok gym Sitsongpeenong offered to sponsor Mathias in 2011. He slept on futons on the floor with the other Thai fighters for a few months before moving into his own apartment.
He credits his years in a Thai-dominated gym as tremendously improving his game. "The first couple years [at Sitsongpeenong], it was crazy how fast my level changed," Mathias said. His development as a fighter was also boosted considerably with the specific coaching from his trainer at Sitsongpeenong, Kru Laem. When Kru Laem moved to Kem Muaythai Gym in the Khao Yai mountains, recently opened by internationally famous fighter Kem Sitsongpeenong, Mathias followed. Now the young Italian divides his time between his family's gym, 7 Muay Thai, and Kem Muaythai a few hours' drive away.
Despite spending much of his formatives years in Thailand, Mathias Gallo Cassarino is still decidedly Italian. 7 Muay Thai features a swimming pool and other creature comforts for a Western clientele. "There are people who want to fight like Thais, train with Thais, but also want to be comfortable," Mathias' father Roberto said of their potential customers. "When Mathias went to Sitsongpeenong, he slept on the floor. He wanted to communicate to the Thais that he was the same as them, that he can sleep on the floor no problem. But this is not for life. We grow up differently. Foreigners like comfort."
Roberto had also told his eight-year-old son during his first fight in Thailand so many years ago that he was not the same as Thai boys, not as tough because he didn't grow up that way. But one could argue that Mathias did grow up "that way," the Thai way, since he'd been training from such a young age, albeit primarily in Italy for the first few years. On the other hand, Mathias also grew up in a non-Thai family with a non-Thai mindset that has been carried throughout his Muay Thai career. For international children growing up in Thailand's Muay Thai culture, as in any foreign culture, the line between home-country identity and host-country immersion varies from family to family.
Having spent years in Thailand training, fighting, promoting, and networking, the Gallo Cassarino family has a unique perspective on international Muay Thai politics and culture. Roberto Gallo Cassarino prefers Thailand's culture of Muay Thai over its current state in his home country of Italy. When I asked him if he ever wanted to live in Italy full-time again, he said absolutely not. Part of it was because of the Muay Thai culture there. "I don't like the Western view of Muay Thai," Roberto said. "One thing I really don't like is that in the corner in Italy during fights, the girlfriends get in the corner and say, 'Kill him! Kill him!' It's bad for the sport. Then it's not a sport, it's just violence. Western people make it look like we're killing each other. Not all foreigners are like this, many are understanding, but a lot of people who have never been to Thailand don't understand it. [Muay Thai] is the same as ping pong, you win and lose. Yes, there are K.O.s, but no one goes into the ring to kill someone, we go in just to win. And we have a relationship with the managers of the opponent. It's a business."
Muay Thai is indeed a business. Some shows in Thailand capitalize on the entertainment value, such as MAX Muay Thai and Thai Fight. The promoters of these shows are aware of the potential appeal to the international market, and arguably a new demographic of the domestic market (take a look at how the all-female Muay Thai Angels is promoted—geared toward a Thai audience far removed from the typical gamblers Muay Thai matches attract). Thailand may have its share of extravagant promotions, but the majority of fights happening on any given day in Thailand, from fights at rural temple fairs all the way to the elite rings of Bangkok, are straightforward affairs lacking the grand showcase of aggression and "Kill him!" entertainment so prevalent in the West.
This might be partially explained by Muay Thai's classic place in the fabric of Thai society, whereas abroad it's a new, exciting, and exotic cultural import. Take, for example, the case of Sittichai Sitsongpeenong, a former teammate of Mathias. His coaches worked with him to change his entire fighting mindset when he started taking fights abroad. In Thailand, he was used to hanging back the first round or two, as Thai fighters often feel each other out and don't get into full fight mode until Round Three. Once he started fighting abroad, however, he was expected to come out full-force, go in for the win from the very first round. Tim, the owner of Sitsongpeenong, said it had been a tough adjustment for Sittichai mentally. As an athlete growing up in a Thai fight culture, he wasn't accustomed to the expectations of a foreign audience. He eventually made changes to his game and succeeded in the foreign circuit, partially because he can hand out some fabulous knockouts, yet another spectacle foreign audiences love.
As other cultures adopt Muay Thai, it will mutate to fit that host culture's ideals and values. The technique may look the same (though often it doesn't; for example, many gyms abroad virtually ignore the clinch), but the meanings behind it will naturally fluctuate. Foreign fighters of all ages have been coming to Thailand to study Muay Thai for years, bringing the sport back to their home countries, as well as changing the business landscape of Muay Thai in Thailand. Mathias and other young fighters born abroad who spend significant time in Thailand are harbingers of change, slowly tweaking Muay Thai culture even in its country of origin.
Check out these related stories:
Muay Farang: Thai Boxing's Little Italy
Meditative Muay Thai: Training in the Khao Yai Mountains
A Muay Thai Fighter's Guide to Success