Cowboy Keeps Trucking Along
The Cerrone streak keeps trucking along. Last night Cowboy defeated Benson Henderson by unanimous decision, despite a 15-day turnaround, and added win #7 to a run that stretches back to November 2013. Henderson is the biggest name on the list so far, and this win puts Cowboy into title shot territory. The last loss on Cerrone's record was to Rafael Dos Anjos, who faces the champ next at UFC 185.
Let's take a look at the men who have fallen to Donald Cerrone since that dismal decision loss more than a year ago.
First up, Evan Dunham. At the time, this seemed like a decent fight to put together following the loss to Dos Anjos. Dunham had never really cracked the door into the room where the best sit, and Cerrone looked as if he were headed out. This was the performance that halted the full-scale retreat, and regrouped what troops Cerrone had left. Dunham ate some knees in the first round, and after a solid takedown, submitted to a triangle choke in the second round. Submission of the Night.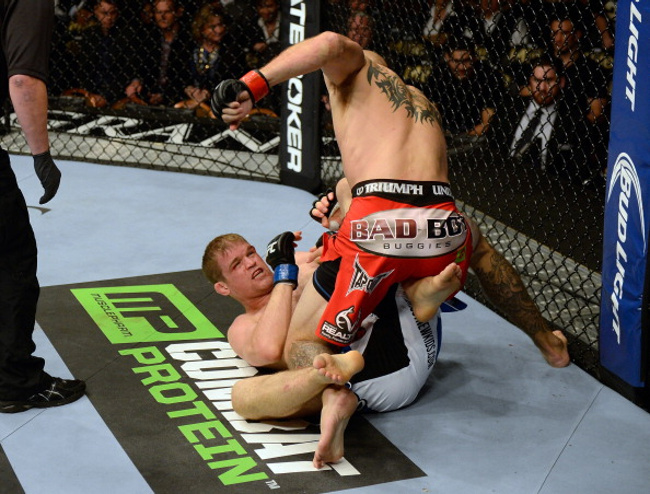 There was still life in the Cerrone train, and he showed everyone that night. In the post-fight conference, Cerrone admitted that he had been considering retirement. He also revealed that he was broke, that he had lost his motivation for fighting and training, and that he needed to get six fights in 2014 to pay his bills. Luckily for us all, he got his six fights.
Had Cowboy turned to real estate to pay his bills, the world would have been unable to witness the perfectly executed highlight reel head kick KO of Adriano Martins. It's as if Cowboy's friends and family whispered to him before the fight, "Get that money!" because the performance earned Cerrone KO of the Night honors and an extra $50,000 in cash.
The ship was righted, Cowboy had some dough in the bank, and now came a true test of mid-tier fighters who had been at the top, had fallen, and were now trying to scrabble their way back into the conversation. Cerrone vs. Barboza may be the pivotal fight of the streak.
Barboza looked fluid and sharp early, but then ate a jab that rocked him to the ground, whereupon he was pounced upon and submitted to a rear naked choke. Cerrone had his third win, his third bonus, and people were talking "streak"... the win also lifted Cerrone out of the morass of talented fighters who are not going to ever face men like Henderson, Dos Anjos or Pettis in the Octagon, and into the "maybe" area.
Things to enjoy in the maybe area? Headlining your own fight card. The Atlantic City Fight Night headliner, Cerrone vs. Jim Miller, was a great fight, ending with a fourth straight win, and fourth straight bonus, for the Cowboy. Miller took several knees trying to close in on Cerrone during the fight, a technique Cerrone has perfected over time, but the daggers came in the form of toes to the belly, which put Miller down and wincing early in the second round. Props to Jim Miller for fighting on, despite a methodical, scary walk-down over two minutes that ended with a head kick KO.
Cowboy was visibly a different fighter than the man who had lost to Pettis and Dos Anjos earlier in his career. He seemed patient, unflappable, and much smarter in the Octagon. He had Miller hurt several times in the second round of their fight, but instead of charging in and making a mistake, Cerrone waited, chipped away, and finished in dramatic fashion.
Cerrone's next fight was against former Bellator champ Eddie Alvarez, in Alvarez's UFC debut. The fight started out exciting, as Alvarez got in close and landed some shots. But as the night wore on, it turned into another knee-kick clinic, ending in a UD for Cerrone. It was the first time in the streak that Cowboy had not finished an opponent, but it may have been his cleanest, most impressive performance to date.
He keeps getting better, and that was clear in the Jury fight, when the young up and comer was dominated and eventually butt-kicked to death in a fight that pissed everyone off, most of all Cerrone.
But the quick turnaround and the opportunity to fight Benson Henderson, a man who defeated Cerrone twice back in the day, put a smile on the man's face.
The Henderson fight was filled with signs of mutual respect, a couple hugs toward the end of the fight, and constant forward movement and aggression from both fighters. Cerrone landed a couple takedowns during the fight, which probably gave him the edge he needed to eke out a close but unanimous decision win. The win will be controversial for some, because neither man was visibly hurt, and Benson Henderson obviously had more in the tank. Both men could have gone another two rounds and we would have loved to see it.
Nevertheless, the streak is now at seven, and the public loves Cerrone now more than ever. He'll fight anyone anytime, he spends his money on cool toys and fly women, and he shows respect to all of his opponents, no matter what the situation. Cerrone is a true people's fighter, and his next opponent will most likely be the man from Dagestan who we've been waiting to see re-enter the Octagon for some time: Khabib Nurmagomedov.
Sounds like another contender for Fight of the Night.
Check out these related stories:
Jack Slack: How Conor McGregor Dispatched of Dennis Siver
Jack Slack: Donald Cerrone's Game Changer