Defining Moment - The Gracie Hunter
On May 1, 2000, at the Saitama Super Arena in central Japan, Royce Gracie and Kazushi Sakuraba were placed on the same side of the Pride Fighting Championship open-weight grand prix tournament bracket, presumably so Gracie could exact revenge for his older brother Royler's submission loss to Sakuraba six months earlier. That loss had been the first for the legendary Gracie family in decades, so they sent their golden child, undefeated former UFC champion Royce, to take on the man who'd shamed them. Special rules were put in place and time limits were thrown out the window—the fight would only end with a submission or a knockout. The result was the longest fight in MMA history.
The fight also signaled something of a sea change in MMA, with Gracie's once dominant BJJ-dependent style neutralized by the wrestling, balance, and variety of a more well-rounded fighter. Taking advantage of the "no rules" setup, Sakuraba grabbed hold of a standing kimura early in the fight and pulled Royce outside the ring ropes in the opening minutes, threatening an early night for the legend [pic above]. The action-packed first round almost saw another finish by the Japanese wrestler when he attempted a kneebar. Gracie responded with vicious heel kicks.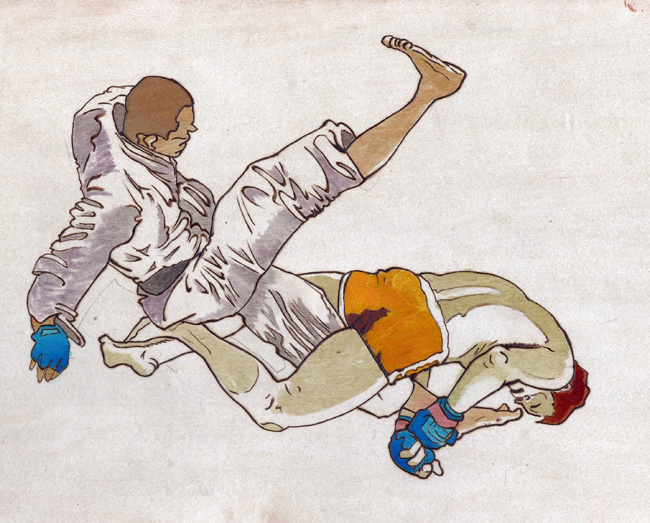 Throughout the second, third, and fourth rounds Gracie was unable to take Sakuraba down or pull guard, and the fighters entered into lengthy clinch wars, exchanging knees and waiting for the other to make a mistake.
While neither fighter had an exceptional striking game, dozens of leg kicks from Sakuraba wore down Gracie's lead leg over the course of the fight, limiting his mobility and speed. By the fifth round, Sakuraba was regularly getting the better of the striking exchanges and showed no signs of fatigue. Gracie, meanwhile, was considerably hobbled, and his attempts to initiate grappling exchanges produced some of the most enduring images of the fight: Sakuraba grabbing the seat of Royce's pants, flipping him on his head, and delivering a straight right to the grappler's face ...
... and later leaping into Royce's guard with a punch straight out of an action movie.
In the end, after six grueling rounds, and under the stoic gaze of Royce's father--the grand old man of Brazilian jiu-jitsu, Helio--the Gracie family was forced to throw in the towel.
During the early days of the UFC, before ultimate fighting had become mixed martial arts, Royce Gracie proved that grappling could be used to neutralize striking and allow smaller opponents to defeat larger ones. Almost seven years later, Sakuraba, who would soon be dubbed "The Gracie Hunter," signaled the next step in the evolution of the sport, where being proficient in one discipline was no longer enough. It was becoming clear that the ability to dictate where fights took place was paramount and meant being competent both on the ground and standing. The era of specialization was over.
Check out these other Defining Moments: