Defining Moment - The Maine-iac vs. the Minotaur
Following his unanimous decision victory over Brandon Vera in October 2007, former UFC heavyweight champion Tim Sylvia was given a chance to fight Antonio Rodrigo "Minotauro" Noguiera for the UFC interim heavyweight belt in early 2008. Sylvia possessed both knockout power and an 80" reach, not to mention an enormous weight advantage over Nogueira, but "Big Nog" was a Brazilian jiu-jitsu master and a longtime champion in Japan's Pride Fighting Championships. Their fight, at UFC 81, in February 2008, was only Noguiera's second in the UFC, but he would leave it with the belt around his waist.

Round 1
From the start, Sylvia's height and reach advantage set the fight's pace. He utilized his jab continuously, keeping up steady pressure. Noguiera's attempts to clinch and pull guard failed over and over. Two minutes into the fight, Sylvia ducked under a Noguiera left and landed a left-right combination that floored the Brazilian (Figure above). Sylvia dove onto Nogueira, delivering hammer fists and elbows (Fig. 2). Sylvia wisely disengaged to resume the fight standing and continued to exploit his reach advantage. While Noguiera did manage a takedown and a guard pass at the end of the round, he went back to his corner with both eyes bloody.

(Fig. 2)

Round 2

(Fig. 3)
Throughout the second round the Maine-iac jabbed away at Noguiera, snapping his head back (Fig. 3). He continually stuffed the Brazilian's takedown attempts as well. Near the end of the round Sylvia landed a half dozen short fists to Noguiera's face while simultaneously defending a single-leg takedown (Fig. 4). As soon as they separated, Sylvia resumed jabbing successfully, but there was a change in his pace. Gone was the head movement. Instead he was content to stand in front of Nogueira and exchange punches. Between rounds he was breathing heavily.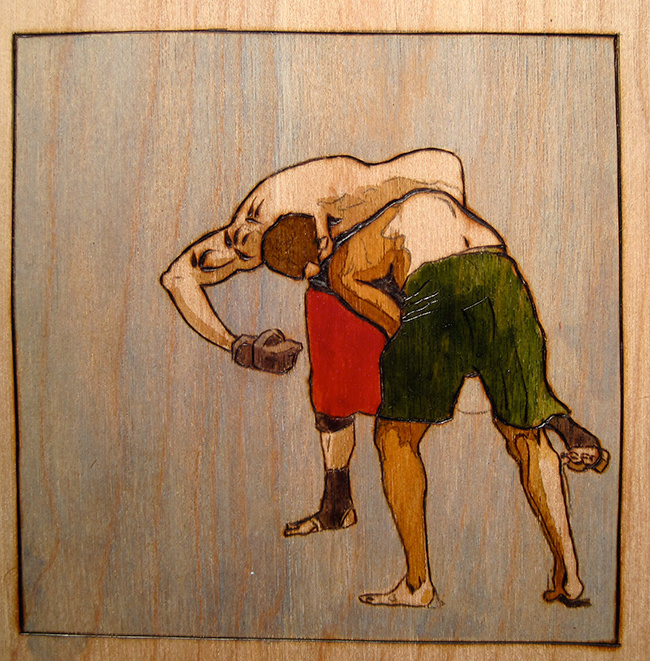 (Fig. 4)

Round 3

(Fig. 5)
At first, it looked like round three would go the same way rounds one and two did, filled with jabs and stuffed takedowns. Forty seconds in, however, Nogueira shot in, tripped Sylvia, and pulled guard (Fig. 5). On the ground he tied his opponent up, wrapping both his legs around Sylvia's right leg when he tried to stand. Grabbing Sylvia's left leg, Noguiera was able to sweep and immediately move into side control. In a scramble he pounced onto Sylvia's neck and sunk in a guillotine choke, leaving the bigger man no choice but to tap and bringing referee Herb Dean running in to save him (Fig. 6).

(Fig. 6)
There couldn't have been a more stark contrast in the combatants' faces and appearances at the end of the fight. Noguiera's right eye was nearly closed and his entire face was swollen from 10 minutes of abuse, but he was elated, all smiles. Sylvia, by comparison, didn't have a scratch on him, but the look on his face was one of pure despondence. His disappointment palpable, the former champion gave Noguiera his due in the post-fight interview. The loss would be Sylvia's final appearance in the Octagon.
Check out these other Defining Moments:
BJ Penn and Georges St. Pierre