Defining Moment: The Genius vs. the Big Mouth
August 7th is the true birthday of the creation known as Chael P. Sonnen.
That was the day Sonnen got his shot at middleweight champion Anderson Silva. At the time Sonnen was a former Olympic alternate and WEC middleweight champ on a three-fight win streak, but his resumé wasn't going to do much to sell the fight, not against a champion who had become so dominant he was starting to get both bored and boring. Recognizing this, the formerly soft-spoken Sonnen went about creating a new persona for himself. With barbs culled from professional wrestling and a wit that outpaced the reporters covering him, the previously un-famous wrestler transformed himself and, in the process, the trajectories of both his and Silva's careers--salvaging Silva's stock after several dismal title defenses and turning himself from a fighter into a full-on media personality.
None of that would have possible, however, if Sonnen had only brought talk to the fight. Instead he brought a fight, challenging Silva like he'd never been challenged before, taking him down repeatedly and beating him up for 23 minutes. No one anywhere could believe it was happening even as it was happening. Even commentators Mike Goldberg and Joe Rogan were uncharacteristically quiet, stunned as they were marched toward the end of an era, watching a champion's belt slip away in slow motion.
So when it finally came, Silva's dramatic, desperate 11th-hour triangle choke felt like something out of a movie. The come-from-behind victory absolved Silva of all his transgressions and confirmed his stature as the greatest fighter ever. But it also gave Sonnen more than enough fodder for a rematch and a new career as the biggest and best heel in the sport: The villain got his comeuppance, but not before he had shown the world just how capable he was of pulling off the impossible. His creation was proved legitimate that night.
Here, as captions, are some of Sonnen's most biting words from the lead-up to the fight:

"Portugese ... It's a step harder learning that language than Pig Latin."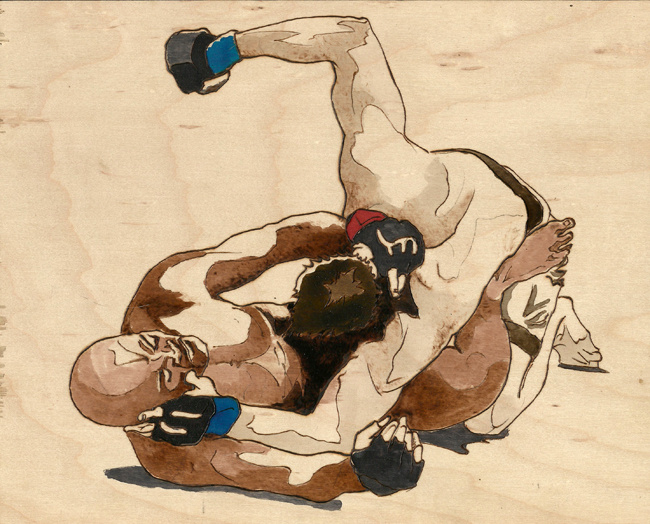 "This is gonna be a one-sided pounding and I'm swingin' the hammer."

"I'm sore, tired, under the weather, over-trained, under-motivated, and still tough enough to beat this guy."

"I'm gonna put him on his prissy little ass."

"This guy's not from a bowing culture. You bow in Brazil and they'll hit you over the head and take your wallet."

"A black belt under the Noguiera brothers is like saying I got a free toy in my Happy Meal."
Check out these other Defining Moments:
Michael Bisping Meets Dan Henderson's Right Hand