Defining Moment: The Movement of the Artist
On August 9, 2009, at UFC 101 in Philadelphia, Anderson Silva delivered one of the greatest performances in mixed martial arts history.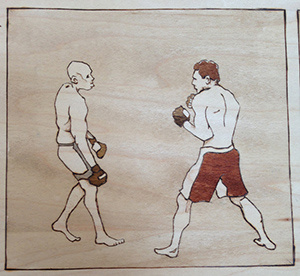 The man Silva faced, Forrest Griffin, was the first Ultimate Fighter winner, a former UFC light heavyweight champion, and one of the most popular fighters in the promotion's history. Taking a break from his place atop the middleweight division, Silva moved up a class to face Griffin. But the fight rose above storylines about championship defenses, records, weight classes, or in-fight antics and quickly became a display of genius—a glimpse of an incomparable martial artist at his peak pulling off moves no one had ever seen outside a movie theater.
Silva started the fight the way he usually does, by studying Griffin, gauging his distance and his speed. Then he started to engage, moving with speed and agility and daring that Griffin couldn't hope to match. While Griffin flailed, Silva landed at will. Halfway through the round Silva started dropping his hands, dodging punches casually and knocking Griffin down with shots of his own. Finally, with a minute-and-a-half-left in the first round, and with his hands hanging lazily at his sides, Silva stepped backwards and hit a charging Griffin with a quick jab, sending the other man helplessly to the ground and the referee to his rescue.
Four years later Silva would take a similar casual, hands-down/chin-out approach to another opponent, only this time he wouldn't be so successful. Silva's loss to Chris Weidman on July 6 would become a cautionary tale about underestimating your opponent … and overestimating yourself, but for one night in 2009, no one could touch the champion. When the books are closed on Anderson Silva's career, his performance at UFC 101 will likely be regarded as its zenith. It was one of those rare moments when an artist pushes beyond his limits, transcends his contemporaries, and expanded notions of the possible.
Check out these other Defining Moments:
Michael Bisping Meets Dan Henderson's Right Hand