Dustin Poirier Doesn't Believe in Conor McGregor's Voodoo
Conor McGregor is a man with visions. And while he's done a pretty good job of convincing the MMA community at large that his premonitions come from some higher place of enlightened clarity, Dustin Poirier, who is set to face McGregor at UFC 178, isn't having any of it.
"He's been talking a lot, saying a lot of things, and it ain't cool," commented Poirier at a recent UFC media day stop in Los Angeles. "Conor does a lot of flashy stuff man, but I'm not impressed."
Doubting the powers of otherworldly dark forces and alternate realms is nothing new to Poirier, who grew up in Carencro, Louisiana, a suburb of nearby Lafayette, just off route I-10, which cuts through Lake Pontchartrain, the bayou, and across the Mississippi River. Hailing from a region famous for the Acadian-Creoles, mystics, and a rich Voodoo culture, Poirier chooses to concentrate on the tangible.
The same, however, cannot be said of McGregor, who has spoken at length of his intuitions.
"I just get that feeling. I get the same feeling with Dustin as I did with Cole; he talked like he wanted it, until they get it. Then it's a different story," stated McGregor. "Deep down, I know he doesn't want this contest. He's in over his head here… I don't hit like the other guys."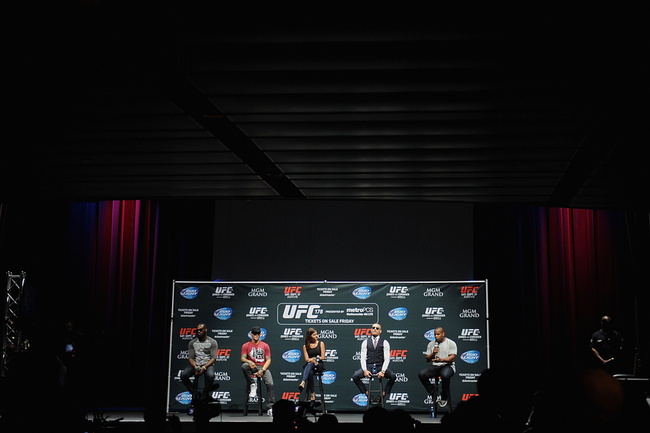 McGregor, a Dublin native, also comes from a culture laden with references to a spiritual realm. The Celtics believed that spirits inhabited the mortal world, taking shape in nature, in the water, the skies, and animals. It is perhaps this Celtic animism that has manifested in McGregor's visions of grandeur.
"He will either bow before me before the contest or he will bow after. But he will bow," added McGregor.
In between outlining his visions, McGregor spared no verbal punches, jabbing and gabbing away about the size of Poirier's head or the condition of his chin. But eventually, the man from the Emerald Isle took aim at the Bayou State, offering a backhanded slap-turned-compliment-turned-slap.
"He's an alright kid. I honestly have nothing against him," offered McGregor. "He's a quiet little hillbilly kid, so I have nothing against the guy. But business is not personal. It's ruthless and it's cruel, but it's never personal."
Perhaps McGregor's premonitions are strong going into his matchup with Poirier, who currently sits several slots higher on the majority of mixed martial arts ranking lists and polls. But coming off his recent first round TKO of Diego Brandao, a fighter who was also stopped by Poirier within the first frame, McGregor is predicting a similar finish on September 27.
"It's a first rounder. It's a first round KO," commented McGregor. Adding, "I wouldn't want to fight me and I swear to god, sometimes I look in the mirror and get afraid just looking in the mirror."
The media circus surrounding McGregor seems to be growing exponentially with every quick-witted quotation and sound bite. And while scores of MMA fans and outlets are feverishly buying into the hype, Poirier is refraining from the mental warfare cast by his Irish counterpart.
"He might really believe the stuff he says, but I'm gonna show him it's not true," stated Poirier. "I don't want to speak to him. My hands will be talking September 27. He's a jerk. He's full of himself and I'm gonna beat him up. Simple."
A veteran of ten Octagon bouts, Poirier is no stranger to passionate foes. Last December, prior to the UFC 168 weigh ins, then-opponent Brandao threatened to stab him, riling up Poirier, successfully getting under his skin.
In retrospect, Poirier admits that emotions have distracted him during previous bouts, but for his upcoming dance with McGregor, he is completely focused on fighting, and nothing else.
"We're both pretty aggressive fighters, but I feel like I'm better everywhere, technically. I'm a better kick boxer, better wrestler, my jiu jitsu's better, and I plan on using everything in my arsenal," added Poirier. "I'm gonna fight a complete fight. I'm not just gonna out there and brawl with this guy. He's a good counter puncher, you know. I'm gonna fight technical and I'm not gonna let this talk get in my head and go out there with anger. I'm gonna go out there calculated."
And for all of McGregor's talk of visions and premonitions, Poirier resolutely retorted, "I'm not down with the Voodoo stuff."
Check out these related stories: