EXCLUSIVE: At Home with Muhammad Ali, the Father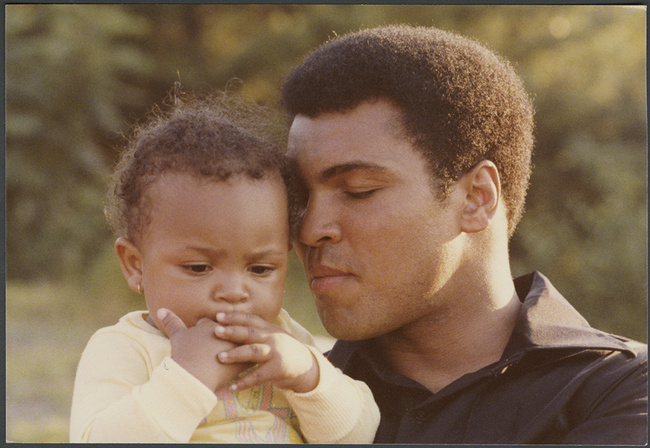 Humanity magazine, Citizens of Humanity's bi-annual publication, gave Fightland these never-before-seen Muhammad Ali family photos, courtesy of his daughter Hana Ali. We have also included some excerpts from Hana's feature in the upcoming issue about what it was like to share her famous father with the rest of the world.

Every great person has a story of how they came to be. A moment when their purpose became clear and the journey began. For my father, it happened at the age of 12. One sunny afternoon his bicycle was stolen from a local fair in his hometown of Louisville, Kentucky.
"I was so upset. I had just gotten the bike for Christmas. I walked up and down the street shouting how I was going to find the person who took my bike and give him a good whoopin'," my father remembers. "A policeman named Joe Martin [who trained boxers at a local gym] overheard me. He said that I better learn how to box before I went challenging anyone to fight."
And so he did. Every day after school and on weekends, he was the first to enter the gym and the last to leave. "They never found my bike or the person who took it," he said. With widening eyes, he flashes that old sharp look. "Sometimes I wonder if it was an angel."
The question that my siblings and I are asked most is, "What is it like to have Muhammad Ali as a father?" so I'll do my best to share and put into words an answer: "It was an expensive price that I had to pay to be the most famous man on earth," says Muhammad Ali [...]
When people achieve great success, something in their lives has to suffer. With nine kids, from different relationships, living in four different states, he could not be present for us all. Dad had Laila and me with his third wife, Veronica Porche. He had Maryum, Jamillah, Rasheda, and Muhammad Jr. with his second wife, Balinda Boyd. And he had Miya and Khalilah with women he was never married to.
Like any family we've had ups and downs, sorrows and regrets, happy and unpleasant memories. The difference is we had to share our father with the world. In spite of his busy schedule, all the traveling and having to divide his attention between all of his children, he found a way to make each of us feel loved and cherished.
As my sister Miya remembers, "My father was never married to my mother. So I didn't grow up living under the same roof with him. But he called me regularly and flew me to Los Angeles, where he brought all of my siblings together for the summers. Since we lived in different states, he didn't spend a lot of time in my neighborhood or take me to school. After a while, the kids began teasing me, saying that they didn't believe that Muhammad Ali was really my dad because I didn't look like him and they never saw us together. Being fair-skinned with fine light hair didn't help. One day, when I was 8 years old, I called my dad in tears about the teasing. The next day he flew into town and walked me up and down the street so everyone could see us together. He took me to school the next morning, and they called an assembly. When all the students were in the auditorium, he had me point out the kids that had been teasing me. One at a time they walked up to the stage, he shook their hands and told each of them that he was my daddy. That meant more to me than words can explain."
Read Hana's full story and see more exclusive photos at Citizens for Humanity here.
Check out these related stories:
Muhammad Ali: Remember the Power of the Fighter
The Rumble in the Jungle: Forty Years On
Muhammad Ali Is the Greatest of All Time