Faber Turns 36: A Look at his Past, Present, and Future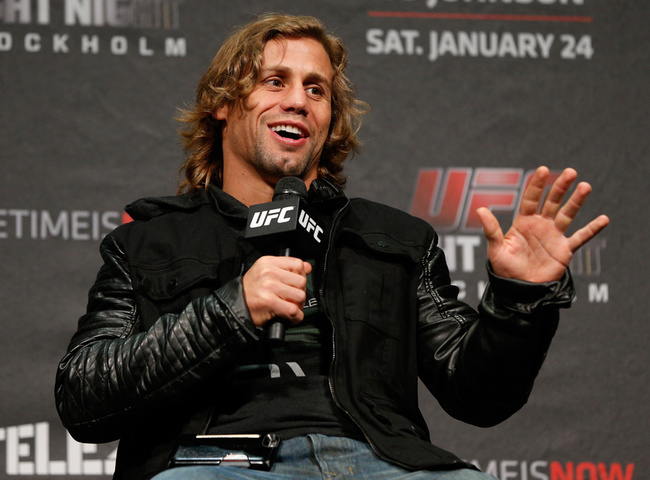 If UFC bantamweight Urijah Faber called it quits right now, chances are the "California Kid" would have a legitimate shot of making it into the UFC's new Hall of Fame.
A former featherweight champion with six title defenses in the now-defunct WEC, Faber, his cornrows and his K-Swiss were all the rage in the mid-to-late aughts. He practically created the widespread interest in the lighter MMA weight classes with his 2Pac-infused walkout and submission prowess. But on this day, Faber's 36th birthday, just 48 hours away from his UFC Manila headlining bout against Frankie Edgar, it's time to question whether Father Time is nearing in on one of mixed martial arts' most revered fighters.
Often referred to as one of the best to never hold a UFC championship, Faber has spent the entirety of his 11-fight UFC career near the top of the 135-pound division. He has fought for the title on three occasions and come up short every time. And while Faber insists he's still in it for MMA's biggest prize, it's tough to imagine a scenario that ends with Dana White strapping the belt around Faber's waist.
For starters, Faber will make his UFC featherweight debut against Edgar at Manila's Mall of Asia Arena. So even with a win in the Philippines on Saturday, he'll still be just 1-0 in the division, far from the upper reaches that include Alpha Male teammate Chad Mendes, Conor McGregor, and current champion Jose Aldo, the same man who originally kicked Faber out of the weight class in 2010 with some of the most brutal legs strikes in MMA history.
The move up to featherweight has certainly led Faber to a great stylistic matchup against Edgar, but the switch certainly doesn't speed up his quest for a title.
What it does do, however, is relieve Faber from the misery of cutting weight, a practice that only becomes more difficult as athletes compete into their 30s, when the body's metabolism slows and testosterone production declines.
This is not to say the Faber can't still make weight at 135. He's never actually failed the scales as a bantamweight, but the clutter atop that division is just as congested as the 45ers, and will likely keep Faber from title contention.
In 2011, when he lost his first UFC title shot against Dominick Cruz, Faber was a super hot commodity as the UFC was building its lighter divisions.
First, the UFC introduced a new crop of bantamweights and featherweights as part of the fourteenth season of The Ultimate Fighter. And building upon Faber and Cruz's heated rivalry, and the possibility of a trilogy and rubber match, the promotion booked the pair to coach opposite each other on TUF: Live.
Cruz would end up getting hurt, tearing multiple ligaments on separate occasions, eventually losing his belt on account of inactivity. Faber, meanwhile, was booked opposite a then-relatively unknown Renan Barao at UFC 149. The pair fought for an interim strap; Faber lost in a championship bout for the sixth straight time and watched as the younger Barao would claim the belt he so greatly coveted.
And therein lies the crux for Faber.
Already in his 30s when he made his UFC debut, he just never seemed to have the surprises and tricks to pull out the big one inside the Octagon. In fact, even before he arrived in the UFC, Faber lost his last three cracks at the WEC belt; father time was clearly at play, kicking Faber down at the least opportune moments.
But then again, you can't blame everything on age.
Having won his last two fights via submission (despite a little eye poke controversy in his most recent bulldog choke of Francisco Rivera), Faber was again nearing championship territory in the bantamweight division.
And with Dominick Cruz injuring his ACL again and Renan Barao reneging on a UFC 177 championship bout by not showing up to the weigh-in, Faber had a legitimate claim to a fourth UFC title shot in four years entering 2015.
But there was just one problem. The man with the belt by then was, and still is, T.J. Dillashaw, the very fighter Faber predicted would unseat Barao. He is also a trusted training partner and occasional cornerman for Faber.
Would these two teammates duke it out for the belt? Highly unlikely; the pair previously hyperbolized that it would take a 10-figure payout to get them to square off.
So with the bantamweight title all but sealed and locked up, far, far away from his clutches, Faber has done the next best thing. He's turned his back on the belt and concentrated on exciting matchups. But this concession, this distancing himself from the title almost certainly amounts to a farewell tour, a victory lap with a few marquee bouts mixed in before Faber ultimately sails into the California sunset.
Still, there are a few interesting bouts the UFC and Faber can put together before the Kid from Sacramento calls it a day. That rubber match with Cruz would certainly draw big attention, and with a win, one final bout, against Dillashaw at the Sleep Train Arena in the California capital would be a classic send off. Although at 36, we shouldn't be kicking Faber out the door just yet either.
For now, however, it's all about Edgar in Manila, where a win can help keep Faber relevant in a number of title hunts. So happy birthday Urijah, let's hope you've got some more gas left in that tank. And if not, it's been a pretty wild ride.
Check out these related stories:
Urijah Faber Talks His Nickname, Fear, and the Beginning
Frankie Edgar Is Back on the Campaign Trail
Friendly Fire: Will Urijah End Up Fighting Teammate TJ Dillashaw?