Fabricio Werdum: The Heir of Chute Boxe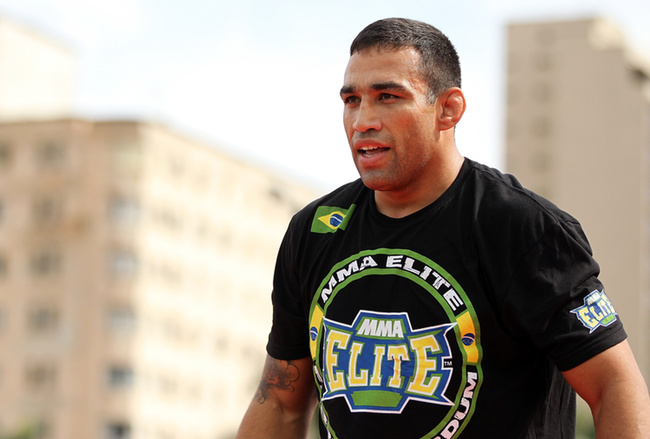 Photo by Josh Hedges/Zuffa LLC via Getty Images
Plenty of fans want to hate Fabricio Werdum... but it's just so hard.
Werdum ended Fedor Emelianenko's incredible winning streak by pulling guard on the declining Last Emperor. He went full Vitor Belfort and jumped to his back ineffectually against Alistair Overeem for three rounds, refusing to do anything else. And he taunts or clowns around with every fighter he meets in the cage. There's a plethora of reasons to want to see this guy get knocked out. Then you look at that face and it all disappears.
This is a guy who took up Brazilian Jiu Jitsu because his girlfriend's ex humiliatingly choked him unconscious. A few years later, he was a world champion in BJJ. In MMA he was criticized over his inability to strike, then he went on to batter guys like Roy Nelson and Travis Browne on the feet. This wasn't to the detriment of his grappling skills either, because in between his MMA commitments, Werdum managed to medal in every Abu Dhabi Combat Club no-gi grappling tournament from 2003 to 2011. Hell, the guy even speaks Spanish better than Cain Velasquez, the Mexican heavyweight champion that the UFC is trying so hard to push and the sole reason that the UFC is in Mexico on Saturday.
Turning to his record, even if you take off the declining Fedor Emelianenko and Antonio Rodrigo Nogueira it still looks better than anyone else competing at heavyweight today. Gabriel Gonzaga (x2), Tom Erikson (the first 295lbs wrestler in mainstream MMA, 9-1 at the time, someone you should definitely look up), John Olav-Einemo, Alistair Overeem, Aleks Emelianeko, Antonio Silva, Roy Nelson, Mike Russow and Travis Browne.
But waffling on about numbers isn't my job. My job is to show you how Werdum fights. Where the flaws lie, and what his chances are against his next opponent, Mark Hunt. The improvements in Werdum's stand up have been real, and noticeable, but there's still a lot there that isn't technically sound.
In recent years, Werdum has been working extensively with Rafael Cordeiro, the legendary Chute Boxe Muay Thai trainer. Cordeiro has never seemed to be the type of scientific coach that say Mike Winkeljohn or Duane Ludwig are, but more a man who builds unwavering confidence in his fighters. What his charges—Wanderlei Silva, the Rua brothers, and now Werdum—have always done is throw with confidence and take a few shots, rather than set up their blows and try avoid anything coming back.
There is a noticeable Cordeiro style. Left punch, right punch, look for the double collar tie. They all do it. Wanderlei swings wild, Werdum throws straights, but it's the same in-your-face, don't-care-if-I-get-hit kind of approach. When an opponent moves in on him, Werdum meets them by throwing straight punches.

Junior dos Santos he ain't.
No head movement, no guard, just responding to agression with aggression. Consequently, Werdum gets hit unnecessarily in exchanges a lot, and runs in with punches with no real stance or any brace for returning blows (as so famously back-fired on Shogun Rua in his last fight).
And I suspect the reason is simple:
This kind of sparring, the famous gym wars of Chute Boxe, is just not conducive to quality boxing. Sparring like this simply teaches fighters that the most important thing is to get on offense at all costs, immediately, so as to avoid being on the receiving end for a round.
But Rafael Cordeiro doesn't produce good boxers, he produces good fighters. And it is on offense, with this new found confidence and the intelligence that won him so many jiu jitsu tournaments, that Fabricio Werdum has come to really shine. His one-two, when he's not simply taking punches to give punches, is pretty sharp, and it opens up a world of possibilities on the feet.
The 1-2 into the body kick was constantly in use against Travis Browne. This is something which Werdum can do all he wants against most opponents because they will make almost no progress by taking him down, his guard is the best in the division, perhaps the world outside of Shinya Aoki. These body kicks winded Browne throughout the fight and took the fight out of him quickly.
But more often than not, Werdum looks to swarm in with punches and slap on the double collar tie. Earlier this week I discussed with a group of friends that seeming disappearance of the double collar tie in modern MMA, but it seems that Cordeiro's method of swarming and looking to force it on is still effective. Over and over again, Werdum, like Wanderlei Silva before him, has punched his way into the double collar tie and got off knees to the head and body of his opponent.
It all plays in together. They cover up, he goes for the body kicks, they keep their elbows low, he'll grab the double collar tie around their hands.
Here's a nice instance against Roy Nelson where Werdum flurries, takes wrist control and separates Nelson's hands to throw a knee to the body through the middle. Nelson grabs the single, then realizes that there's almost no point taking Werdum down.
And this is where Werdum is so brilliant on the feet—against an opponent who will cover up. It gives him full freedom of creativity. He's not the sharpest technical striker in the world, in fact a good deal of the stuff he does is playing with fire, but when he's lashing out with every limb like an octopus playing the drums, it's something to behold.
The great hole in Werdum's entire striking game, is that it relies on the opponent fighting on the defensive. When they are attacking him, it becomes a coin toss, Werdum just throws back and hopes to get the better of it.
The problems come if Werdum meets either a striker who can stay on the offensive against him, or fight effectively on the counter. Because he doesn't move his head, because he drops his hands when he punches, and because he often kicks without stepping off-line, "laying down" away from the kick, and often without set up, his head is on a platter. And it's already backfired a couple of times.
Now Werdum's next opponent is Mark Hunt. Hunt has a ton of stuff going against him—he's not a cardio demon at the best of times and he's having to drop 30lbs at short notice and fight at altitude—but if there's one thing he is, it's a knockout counter puncher. Hunt is the kind of guy who will let you jab at him to send back a counter left hook.
If you start jabbing at him with your right hand down by your nipples and dropping your left hand low in between, you're likely to eat a good left hook or the cross counter he used so well over Stefan Struve's jab.
Of course, no-one has any idea what will happen on fight night. With heavyweight finishers—and Hunt and Werdum are two of the best—it's daft to make a firm predicition either way. Fabricio Werdum and Mark Hunt meet this Saturday at UFC 180 for interim heavyweight title. Don't miss two of the wiliest finishers in the sport throwing down.
Check out these related stories:
Fabricio Werdum: From Soccer to Jiu Jitsu
Werdum vs. Browne: A Lesson in Mind Games
Fabricio Werdum Is as Ready as Ever Going into Saturday's Fight