Fedor Emelianenko Is Wearing Out His Welcome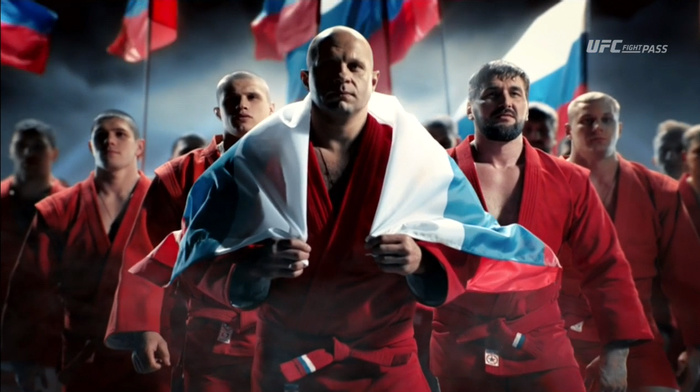 Say this for Fedor Emelianenko: he's resilient to a superhuman degree. He rarely showed it during his height as the Pride heavyweight champion—save for a few scary moments—simply because it wasn't necessary. He already had sledgehammer hands, an arsenal of submissions, and a preternatural ability to avoid and inflict pain. Who needs resilience when you can just smash your enemies?
But instead of keeping that toughness in reserve, the nearly 40-year-old Emelianenko used up much of it last Friday in St. Petersburg, Russia, in the main event of EFN 50. It was a fight as brutal as it was meaningless: Fabio Maldonado, a Brazilian journeyman entering his first MMA fight since being cut from the UFC last year, beat Emelianenko to the brink of unconsciousness and a few steps beyond. And yet, thanks to equal parts grit and corruption, Emelianenko walked away with a majority decision victory and a purple, bloody face.
It's hard to conceive that this was the same fighter who was once MMA's bogeyman. After the dissolution of Pride in 2007, Emelianenko was thought-experiment fodder: just imagine what he'd do against Randy Couture or Brock Lesnar. He went a decade without a true defeat, beating Antonio Rodrigo Nogueira, Cro Cop, and the other best big men of the 2000s. Beyond his fistic talents, he was unreadable and unknowable and therefore even greater, an 80s action movie villain without dialogue come to life. But now, after Maldonado, Fedor Emelianenko looks less like his idealized uber-self and more like The Fighter Who Stuck Around Too Long.
The worst part is that after 2012 it seemed like Emelianenko had done the sensible thing that no fighter ever does: retire, once and for all, before things got really bad, after three straight wins against the likes of Pedro Rizzo and Jeff Monson. That was after he'd lost three straight in Strikeforce, which tarnished the mystique of his undefeated streak. The always-close and always-stalled UFC contract negotiations meant he'd never face the organization's elite, a source of criticism from both fans and the UFC brass. But it didn't erase all that the man from Stary Oskol had done once upon a time. Perfect endings are rare anyway, especially in real life.
Fast-forward through three silent years and his return in the main event of Rizin Fighting Federation's festivities last New Year's Eve in Japan. Was Emelianenko abandoning retirement because of rekindled passion for fighting, or on a lark? In announcing that his Rizin opponent was 2-0 MMA patsy Jaideep Singh—whom Emelianenko ended up beating by first-round TKO—there was something resembling an answer. Six months later, another old cliché popped up again: on the MMA Hour, Emelianenko (speaking through an interpreter) teased the possibility of signing with the UFC.
But before that could happen, there was Friday in St. Petersburg. It was a hell of a thing to watch, what with the orchestra and giant inflatable spider/human female and hallucinogenic commentary from Roman Mazyrov. Emelianenko entered as a national hero who was supposed to maul Maldonado in front of a partisan crowd, a script the Russian tried to stick to as he bounced hooks off Maldonado's arms in the first 30 seconds of the fight. "I think Fabio Maldonado is still thinking how to survive, how to get out of the octagon alive," said Mazyrov of a fight that did not actually take place in an octagon.
Seconds later, the tenor of the event changed entirely. Maldonado caught Emelianenko with his arms low, dropping him with a right and a left and following him with a blitz of punches on the ground. Emelianenko went limp, then woke up, then returned to his feet, stumbling around like a reanimated, haymaker-throwing corpse, eating Maldonado's punches throughout a one-sided round that could have been scored 10-7. In the second round, Emelianenko regained his composure—there's that superhuman resilience—and earned an ovation for every knee and kick and hook that landed, battering the titanium-skulled Maldonado. Still, Mazyrov spoke for viewers everywhere when he wondered aloud if Emelianenko deserved to win the round, even as Maldonado backed off his first-round pressure. ("What the hell is going on in the octagon?!" Mazyrov said.) The third was more of the same, with no threat of a takedown from Emelianenko.
"Of course Fedor Emelianenko will get the victory, that's for sure," Mazyrov said. A second later, he added, "There is no reason for him to be proud of himself." In the end, two judges awarded Emelianenko scores of 29-28, a majority decision. The most favorable outcome should have been a 28-28 draw, as the third judge saw it. In truth, it should have been stopped in the first round, once the life left Emelianenko's body.
Yet there were ugly reasons why it wasn't. Karim Zidan of Bloody Elbow pointed out that Emelianenko is president of the Russian MMA Union, the governing body that assigned the judges who officiated the bout as well as the referee who, near the end of the first round, interrupted Maldonado's barrage of uppercuts so he could slip Emelianenko's mouthpiece back in. Think about that bit of unvarnished corruption. With Maldonado planning to appeal the loss to the union, the absurdity of this arrangement becomes even starker: Maldonado is essentially going to ask the guy he fought to admit that he beat him.
Despite the physical toll that Emelianenko incurred, he's intent on subjecting himself to more. "All is still ahead, we will fight on," he said at the press conference following the Maldonado fight. A relevant question: why? What exactly is Fedor Emelianenko attempting by fighting the likes of Maldonado in irrelevant bouts that still carry real potential for irreparable harm? And what happens if 40-year-old Fedor Emelianenko actually does enter the UFC's heavyweight division? Does it augur resurgence for the Last Emperor in the UFC's grayest division? Or does it mean a diminished Pride relic takes more pointless beatings with worse consequences?
No one else can tell a fighter to hang up the gloves and expect that he or she would listen. No one can tell them to keep going either. A fighter, particularly a legend like Emelianenko, owns his or her career in a way no one else does. The decision to stop doesn't come from criticism or praise on the Internet. It comes after a long, deeply personal inventory, one that Emelianenko probably took before retiring four years ago. But the fight game dishes out pain and absurdity without prejudice. In winning in name only over Fabio Maldonado, Emelianenko tasted both. If he wants more, there's plenty for the taking.
Check out these related stories:
EFN 50 Quick Results: Fedor Edges Maldonado in Wild Fight
Fabio Maldonado Admits He'll Be Doping Before He Fights Fedor, Russian Promoter Is Cool With It
Fedor: In the Twilight of the Last Emperor