When Fedor Emelianenko returned from a three-year retirement on New Year's Eve of 2015 he bested the hopeless Jaideep Singh at Rizin's first event in Japan. That match up was so woefully uninteresting that after word got out, Rizin insisted that Fedor would fight a mystery opponent instead. Said mystery opponent was later announced to be that same Jaideep Singh. In June of 2016 Emelianenko was matched with the one-dimensional light heavyweight, Fabio Maldonado and 'won' via being the president of the Russian MMA Union and keeping his pulse going until the final bell. Fedor's bizarre comeback tour may well reach a depressing conclusion this weekend as he takes on legitimate world class heavyweight, Matt Mitrione.
The Fedor Emelianenko of 2017 is a sad shadow of the colossus who ruled PRIDE FC. Fedor was always known as a heavy hitter but wasn't considered a dangerous knockout artist until he suddenly decided he wanted to be one and from his bout with Tim Sylvia in 2007 onwards there was a noticeable tendency in Emelianenko to just 'stand and bang'. But the list of possible causes for Emelianenko's sudden fall from grace is not short on alternatives. It could be his lack of high level training partners and desire to stay at home. It could be his seeming fascination with his hands and abandonment of the all around, well mixed game that made him so dangerous. It could be the fact that he dropped weight training some years ago. It could be the fact that he's a 40–year-old man who has competed for two decades already. Or perhaps it is surrounding himself with yes-men and mystics, then ascribing everything to "God's will." That is not the behaviour of a hungry fighter and if there's one thing you could always say about Fedor Emelianenko, even amid his stoic facial expressions, it was that he fought like his opponent was trying to steal the food out of his children's hands. But would you be hungry if you were Emelianenko? He's middle-aged, a hero in his native Russia, already rich, best buddies with Putin, and can still apparently name his price on his waning skills.
In some quarters it is still seen as a betrayal of MMA if you have no interest in seeing Fedor fight any more. But it seems fitting that this man who was once thought as almost superhuman is suffering from the same delusions that all old timers in all combat sports do at some point. Maybe he thinks he's still got 'it', maybe he thinks he can get 'it' back, but the 'it' of prime Fedor Emelianenko is in a class all of its own. And love it or hate it, it completes the story. Superhuman? Fedor Emelianenko was always flawed, and reckless, and completely human—but that is what made him great. Let us consider some of the moments that showed prime Fedor at his best and worst.
At His Smartest
Newer fans may struggle to understand Fedor's vaunted fight IQ when they see footage of him swinging wild with Bigfoot Silva and Dan Henderson, and leaping into Fabricio Werdum's guard, but at his best Emelianenko was a masterful tactician. Nowhere was this clearer than in his highly anticipated grappler vs. striker bout with Mirko 'Cro Cop' Filipovic. This was before Filipovic's reactions slowed and his chin faded—he was still a powerful, accurate striker with some of the slickest takedown defence in the heavyweight game. Emelianenko realized that he couldn't get stuck in the clinch and eventually shrugged off as Josh Barnett had, or hang out on the outside and dive after desperate shots as Mark Coleman and Kevin Randleman had. Emelianenko looked at Filipovic as a kickboxer and set to work training with Ernesto Hoost and Tyron Spong. Fedor planned to keep Filipovic backing up, stifling his kicking game, and to hammer the Croatian's body whenever he had the chance.
Checking the left kicks and parrying the left straights (often while on one leg) Emelianenko was razor sharp with his counter punches and counter combinations. As Emelianenko began to tire he would step in and sling the exhausted Cro Cop to the mat to recover his breath. Despite the idea that it was heavy hitting grappler versus immovable kickboxer, Emelianenko battered Cro Cop through every area of the game.
At His Cruelest
Tsuyoshi Kohsaka had done nothing to deserve a match with Fedor Emelianenko, but he was unfortunate enough to pick up a 'victory' over Emelianenko back in Rings when an accidental (but illegal) elbow cut Emelianenko's lace-curtain skin open and saw the bout waved off. So after Fedor had bested Nogueira in their third fight and proven himself the finest fighter in the world at heavyweight, PRIDE FC decided to give Emelianenko the chance at a do-over. Fedor didn't give Kohsaka an ounce of respect, throwing Kohsaka down and swarming on him from guard. Punches, knees, kicks and stomps. Emelianenko burst Kohsaka's head open like an egg in the first twenty seconds and the doctors came in to examine 'TK'. As Kohsaka's face became a swollen, bloody mess through the round, Fedor sat atop him dropping his forearm straight across the cut.
Collapsing Kohsaka's legs with even his jabs and slinging the Japanese old timer around whenever he felt like it, Emelianenko seemed to be able to stop Kohsaka whenever he wanted but kept stopping for breathers. It was the doctor who made the merciful decision to stop the fight at the end of the ten-minute first round.
At His Most Stubborn
Fedor Emelianenko went into his bout with Antonio Rodrigo Nogueira as the underdog for good reason. Nogueira might not have had the best striking or takedowns, but he could submit anyone from anywhere. He never seemed to lose fights but rather to run out of time. So when Fedor came out, uncorked his right hand on Nogueira and immediately followed the stunned PRIDE heavyweight champion into the guard it seemed like another normal Nogueira fight. But Emelianenko sat in Nogueira's guard, offering the Brazilian grips, stripping them and blasting him in the head each time.
Each time Emelianenko stood out of Nogueira's guard he would take a step back as if to return the fight to the feet, then shuck Nogueira's legs and dive right back into the guard with a punch. At the time it was the strangest thing Fedor could have done, as he fought off submission attempts and was even swept at points, only to return to the top and continue the assault from guard. The idea of beating a man where he is best is one that fight fans love, and Emelianenko's domination of Nogueira remains one of the most glaring examples of this in MMA history.
At His Most Complacent
After the superfight with Mirko Filipovic, the quality of Emelianenko's opposition rapidly declined. After battering Zuluzinho and Mark Coleman, Fedor was matched with Mark Hunt for Shockwave 2006. 5-2 in MMA and having just been submitted by Josh Barnett, Hunt seemed like an easy fight for The Last Emperor. Clearly Fedor thought so too because after laying hands on Hunt in the opening minute he ragdolled the Super Samoan down, mounted him, and attempted a rushed armbar which saw him end up on his back underneath Hunt. From the bottom of side control Emelianenko held Hunt's head and tried to control his elbow, but found himself eating some short hammerfists and unable to replace guard or get out from underneath the three hundred pounder. Five minutes into the round the two returned to the feet and Emelianenko was spent.
After vaguely setting up the laziest, ugliest takedown attempt of his career, Emelianenko's usually snappy and timely hips betrayed him and left him underneath Hunt once again.
Emelianenko's loose arms on the bottom saw him dangerously close to being submitted by a couple of Mark Hunt americana attempts.
In fact it was being mounted by Hunt which allowed Emelianenko to power up to his feet, absolutely exhausted.
Emelianenko finally got on top of Hunt and spent an embarrassingly long time finishing a kimura to secure the victory, but the whole experience showed Emelianenko at his most complacent and fallible. He needed pushing—the more serious the threat, the more prepared Fedor came into the bout. The less threatening the opponent, the less impressive the Emperor.
At His Most Adaptable
Antonio Rodrigo Nogueira was always a shuffling, limited fighter on the feet but he was a savant on the ground and far from a simple man. Following the first loss to Fedor, Nogueira's team reviewed the footage and realized that Big Nog had found success from his double knee shield as Fedor parked out in the guard, waiting for Nogueira's signature kimura and omoplata attempts. For instance in the opening round of their first meeting, Nogueira had been able to use this double knee shield to get control of Fedor's wrists, kick through to half guard and hit the same sweep that he would later use to defeat Tim Sylvia.
In their second meeting, Fedor immediately dived on top of Nogueira and Nogueira eschewed the kimura and omoplata attempts, instead using the knee shields to set up attempts at the same sweep, a kneebar attempt, and an armdrag which had the Emperor diving desperately to prevent the back take. In the course of this last scramble the two collided heads and Emelianenko's crepe paper skin opened up again, calling an end to the fight as a no contest. Nogueira believed the headbutt was deliberate and was therefore understandably frustrated. Nogueira felt Fedor's cut was ending a rematch which the Brazilian was winning.
Come the third match, Emelianenko avoided the guard for most of the fight. Coming out with his hands low and his feet moving, Fedor boxed up Nogueira and moved his head beautifully into takedowns which came effortlessly. In complete control of where the fight took place and when, Fedor showed that he could avoid one area of the game if he needed to, he was skilled enough everywhere else.

The Emelianenko Special in action.
At His Hungriest
The fight which could be considered Fedor's breakthrough fight was his bout with Heath Herring. Herring was being tuned up for another fight with Nogueira as their first had been a barnburner. Fedor was little known, his sole PRIDE fight being a tedious decision victory over Semmy Schilt. When matched with Herring, Fedor put on the most ferocious performance of his career. Coming from RINGS, which had never permitted him to strike the head of his opponent when on the ground, PRIDE seemed to unleash Emelianenko's potential as he shellacked Herring with the hardest ground punches anyone had seen to date, amid a storm of fluid transitions.
Others had struggled to hold Herring down, and when he got up he had found his mark with his powerful kicks and knees. But any time Herring attempted to hit Fedor on the feet he was slung to the mat, and his rolls to the turtle only allowed Emelianenko to move around him and continue pounding him. Not only was Emelianenko a completely unique blend of hitting power and grappling competence, he was absolutely relentless. Through the first round Emelianenko landed scores of punches and transformed Herring's face into a bloody mess which saw the fight waved off by the doctor between rounds.
Jack Dempsey once said that when he penniless and fighting for dinner money, there were some days when he would have let a man hit him in the jaw with a sledgehammer for some food. The fact that he was allowed to fight back was almost a treat. That kind of hunger seems to have vanished from Fedor with his continued success outside of the cage and his skills have atrophied as those of any forty year old fighter will. But a man shouldn't be ravenous for two decades. At some point it's time to go home and be a family man, it is just taking Fedor a while to work that out.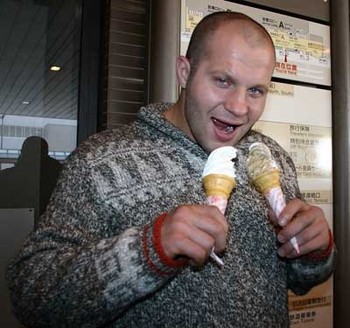 Check out these related stories:
Wushu Watch: How I Learned to Fight Twenty Men
The Elements of Style: The Jab
The Curious Case of Holly Holm