Felice Herrig, Ferocity Embellished
Felice Herrig is extremely confident but not in an arrogant or boastful way. It's more that she has the rare quality of understanding her value as a strong woman and fighter. I confess I never watched the The Ultimate Fighter reality show which featured Felice as one of the strawweight contenders. But, she is one of many fighters I follow on social media. Before getting to know her personally (through working on a photography project on her gym, Team Curran MMA), I marveled at her willingness to share so much of herself so often with so many strangers out there.
Being lucky enough to get to know Felice Herrig now while she is in training camp for UFC 185 has been an inspiring venture. She is easy to admire. As someone who has been formally trained in the fine arts I can easily identify that Felice is an artist. I don't mean to imply that the selfies, the braids and ribbons, and costumes at the weigh-ins that she is known for are an act. On the contrary. She is an artist whose medium is fighting and who genuinely savors the minutia of the entire fight experience from the normally mundane to the great spectacle itself. It's all very much like a ceremonial performance; the honoring of the body with adornments, planning and savoring each outfit that graces her body, even if just for training and then flaunting the exquisite body that results from UFC training—except that it's not a performance. She simply puts her whole self into the whole experience and then it all goes on exhibit.
As much as Felice seems to enjoy the embellishment of her body, she does not appear to care in the least if her braids come undone while she's enduring long rounds of pad work or slamming grown men down on the mats. She is a serious athlete who trains painfully hard day in and day out as evidenced by her shredded physique. We've all seen the dressed up, cute Felice. But watching her train makes it exceedingly clear that she knows how to conjure the primal mother bear. I'm not talking about a nurturing quality, but rather the thing that is somewhere inside every woman that drives her to ravage offenders who threaten what she holds dear. Felice keeps that old bear close at hand and wears a face in training that clearly states her drive to fight.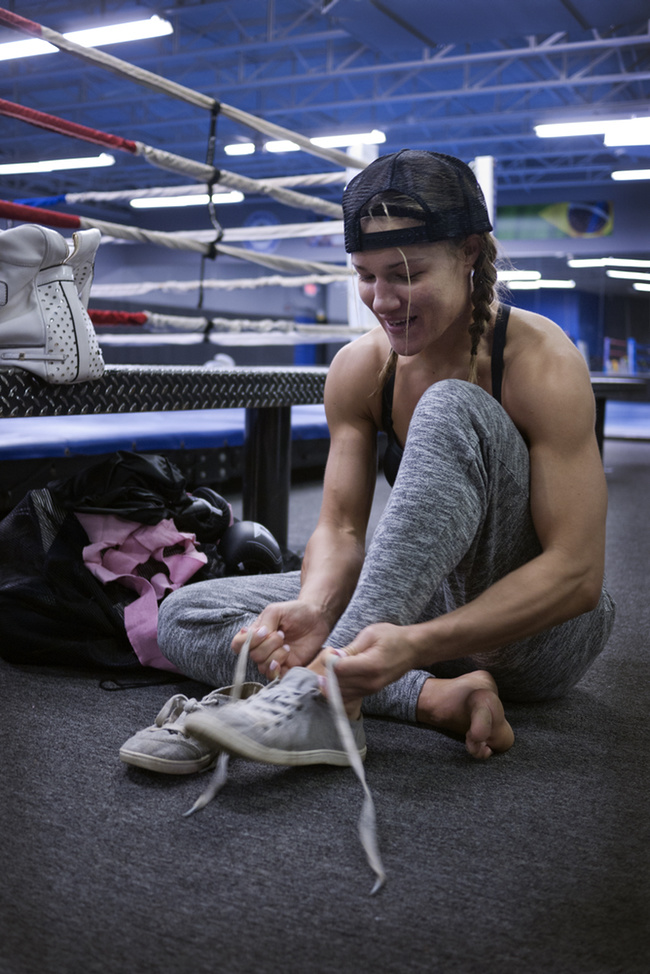 See more of Michelle's work on her website, and check out her other photography for Fightland: