Fighting for Women's Boxing in Brooklyn
Alicia Ashley and Heather Hardy did not grow up dreaming of becoming professional boxers.
Ashley, who is now the WBC female super bantamweight world champion, started out as a dancer on a scholarship with the Martha Graham Dance Company and at the Alvin Ailey Dance Theater, hoping to become a prima ballerina.
Hardy, meanwhile, acknowledges that she was a tomboy growing up in Gerritsen Beach, Brooklyn, and says her plan was to become the first girl to play for the New York Yankees.
"And if I had a good coach," she says, smiling but deadly serious, "I would've been. I wanted it that bad."
Although their youthful dreams were not realized, both women have taken a lot from their previous incarnations into their boxing careers.
Ashley goes by the nickname 'Slick' because of her nimble dancer's footwork, quick body movement and the sense of relaxation and coolness she brings to her work in the ring, while Hardy is nicknamed 'The Heat' because that's what she's guaranteed to bring every time she steps through the ropes. She is a fierce brawler who makes up for what she lacks in technique with a ferocious will to win.
"If you were on the street, and somebody stole your wallet," she says by way of explanation, "you'd beat the shit outta them until you got it back. So I think part of that always comes out when I'm fighting."

Alicia Ashley with her trainer Hector Roca, Alicia spars with Melissa Hernandez in Gleason's Gym, Brooklyn
The two women each have fights in the offing. On Wednesday, Ashley, now a four-time world champion and, at 46 years old, the oldest female world champion in history, will fight at relatively small arena in New York, a homecoming after her last three world title fights were outside the United States.
Hardy will write her own name in the history books on June 14, when she becomes the first woman to fight as a professional at the Barclays Center in her native Brooklyn, trying to extend her unbeaten record to 10 wins in the process.
Even on paper, their achievements so far are impressive but they come in a sport where the odds of major recognition and financial success are minute even for men and where, for women, they are almost non-existent.
Both women work full-time as trainers at the same time as doing their own work just so they can stay afloat financially. Even for Ashley, a world champion, the paydays she can hope for are still a fraction of what they are for men.
"After a fight, I'm back in the gym," she says. "Okay, maybe I take two or three days off but I'll have already let some of my clients slide, especially two or three weeks leading up to the fight because I have to train more and have to rest and stuff like that."

Alicia Ashley after a round of sparring at Gleason's Gym
Before one recent fight, Ashley had to follow her trainer to Argentina sinking her entire prize money for the upcoming fight into her training and losing money she would have earned from her clients at the same time.
"I would love to be like the guys who have a world title fight that gives them six or seven figures and okay, take two months off… I would love to make $100,000 for a fight but the women are nowhere close to that. "
For women boxers, it's a constant hustle just to make ends meet, let alone to get rich. Any time free after working out or coaching others is devoted to personal promotion efforts. Hardy is endlessly working to boost her visibility and exposure and her chance to make history on June 14 came because she persistently pestered her promoter, Lou DiBella.
"My mother always taught me—'closed mouth don't get fed,' you know?" she says.
Boxing is a business and she is under no illusions about how she has earned her shot. The key, she accepts, is selling tickets, not necessarily being the best fighter.
"That's just as much part of my job as winning my fights," she says. "I just focus on it as much as I focus on my training. Seeing if my posters are out; I leave little cards in the bars; you know, I do a lot of stuff like that. Special appearances, guest bar-tending."
It's not that she's saying the life of a male prospect is not also a tough one. They have many of the same responsibilities to help make their names and sell tickets but for women, the lack of opportunities for television exposure and lower prize money, mean it's just a far tougher track for them.
"We have to market ourselves, promote ourselves. We have to train. We have to win our fights but because we don't get paid any money and because we don't get fights very often, we have to have full-time jobs. And I'm a single mom, so it's like I wear 30 different hats," she says.

Heather Hardy before her fight with her trainer, Devon Cormack
Promotional and TV disinterest means women have few opportunities to actually fight and, during the course of her 14 year, 29-fight career, Ashley has fought 13 times outside the United States. She even travelled to North Korea for one bout.
"Two of my last three fights have been in Mexico," says Ashley. "I did Mexico, Panama, and Mexico again. It's televised; main event. It's great. Here we're still waiting for them to show the females on the card."
Some promoters in the United States, like Lou DiBella, are finally starting to latch-on to the idea that there could be money in the women's game, but TV networks remain totally opposed. Only Showtime claims to be even considering broadcasting women's boxing.
"We need that TV coverage," says Ashley. "Sponsors aren't going to be keen unless their brand is going to be seen."
"The same card that even a four-round fighter guy is on, if televised, he might get $10,000. Four Rounds! A female as a title fight of 10 rounds is getting $10,000. Four or five fights and they're giving him $10,000 while we're scrounging around to get that kind of money."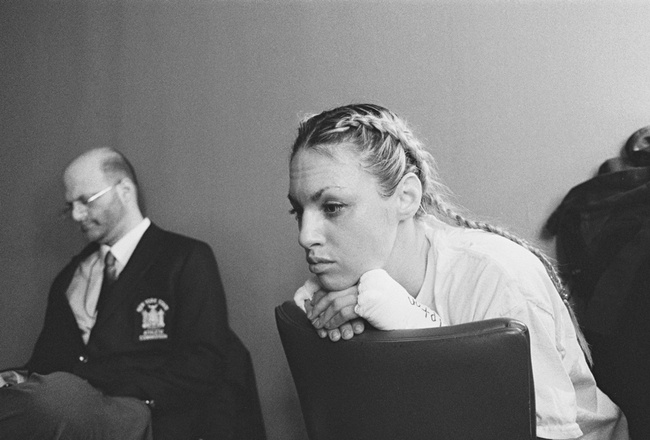 Heather waits in her dressing room at the Roseland Ballroom
The rise of Ronda Rousey in UFC is one major positive development that has shown clearly that female combat athletes can draw audiences on television. And if it works for MMA, why should it not work in boxing?
"We know there are fans of female fighting," says Hardy. "What she's been able to do for the sport and get the backing of the UFC and all the sanctioning bodies, that's why she gets $1 million for a pay-per-view because she has the support. It's a matter of time for boxing."
Ashley also sees parallels between Rousey's story and the efforts to improve the profile of women in boxing.
"You had Dana White in UFC who was never ever going to put a female MMA fighter on but now Ronda Rousey is the biggest name and he's like, 'Okay, here goes money.' That's what it boils down to really. If you really put on a good card, you put on two great women fighters and you see that level, it's a whole other story."
It's difficult to see 21st Century opposition to showing women's boxing as motivated by anything other than sexism and both women can point to several examples – Hardy acknowledges that she gets almost as much hate mail as she does fan mail – but neither dwells on that aspect. They are far too focused on training and fighting and on helping to boost women's boxing however they can.

Heather in the ring, Fight night at the Roseland Ballroom, New York City
"When I came to Gleason's gym back then, there weren't a lot of women," she says. The gym was a sexist place and the trainers did not take women seriously.
"It's great to see the changes now. The acceptance level has grown. The women when they come in now, we're looking at them like: can we turn her pro?"
Though she has been professional for a far shorter amount of time than Ashley, Hardy says she has seen as big changes in the sport over the course of that two-year period.
"Between now and my fight, I think there are eight New York females who are going to be on local shows," she says. "To think of all of us being able to fight within a month and we're not all clawing for one spot on one show. Next week, there's a show in Long Island City where I think there are four female bouts. I'm seeing a difference."
With that difference being the increased visibility of women's boxing, whether in terms of the growing number of fight slots available to women, the higher profile of the shows they get to take part in or the better press coverage they are getting, it's hard not to be optimistic about the sport's future and the prospects for more recognition by sanctioning bodies, TV networks and promoters. And a good deal of that optimism stems from the tireless work of campaigner-fighters like Alicia Ashley and Heather Hardy.

Heather Hardy is lifted onto her cornerman's shoulders after beating Christina Fuentes
Alicia Ashley fights at the Five Star Banquet Hall, Long Island City, Queens, New York on Wednesday, May 21st. Heather Hardy will be the first woman to fight at the Barclays Center on June 14th.
See more of Anna Bauer's photography on her website.
Check out this related story: