Fightland's Recap of the World Jiu Jitsu Expo

Ronaldo 'Jacare' Souza, The United Arab Emirates BJJ Mascot, Renzo Gracie, Romulo Barral
This weekend's World Jiu Jitsu Expo, held in Long Beach, California, was more than just mats and grappling. There were vendor booths shilling shirts, gis, instructional videos, protein powders, energy drinks, and even concoctions of ground-up black ants and Himalayan herbs touted to increase libido, cardio and mental clarity (yes, I left with an armload and will review these claims for an upcoming Gaining the Edge feature).
There were technique seminars taught by Renzo Gracie, Jacare, Buchecha, Tanquinho, the Estima brothers, Jean Jacques Machado, the Mendes brothers, etc. There was also the obligatory açaí bowl stand with a line wrapped around the bleachers.
And yes, there was plenty of grappling. This year there weren't just super fights, event organizers also incorporated the IBJJF Long Beach Open, a jiu jitsu tournament for kids and adults. Which sounds like a no-brainer, incorporating the two—but unlike most ideas that sound great on paper, the melding here actually worked out.
But more than anything it was a gathering of the tribe: the elite of the BJJ and MMA world, and the rest of us folk. Not many sports offer fans such an open venue to meet their heroes, grab selfies and autographs. Can you imagine Kobe Bryant at a basketball expo, if there were such a thing? He'd have a ring of security guards surrounding him every step across the convention center.
Anyhow, good times. Great to meet up with so many Fightland fans. Enjoy the pics, and see you next year.

Rafael & Gui Mendes

AJ Agazarm vs Bruno Frazatto

This year the IBJJF Long Beach Open was held within the Expo

Marcus 'Buchecha' Almeida, multi-time world champion, teaches a seminar

Augusto 'Tanquinho' Mendes, 2013 world champion, instructs eager students

Bird's eye view of the vendor booths

Fellow world champions Braulio Estima & Rubens Charles 'Cobrinha'

Jacare, now ranked #2 UFC Middleweight, waiting for his shot at the belt

Blackhouse MMA wrestling coach, Kenny Johnson

Caio Terra, multi-time gi and nogi world champion

Renato Laranja, 27x Mundial champion & International BJJ Playboy

Roberto 'Cyborg' Abreu, 2013 ADCC Absolute Champion, & Skrape from Tapout

Lucas Leite, gi and nogi world champion, posing with his BJJ forebears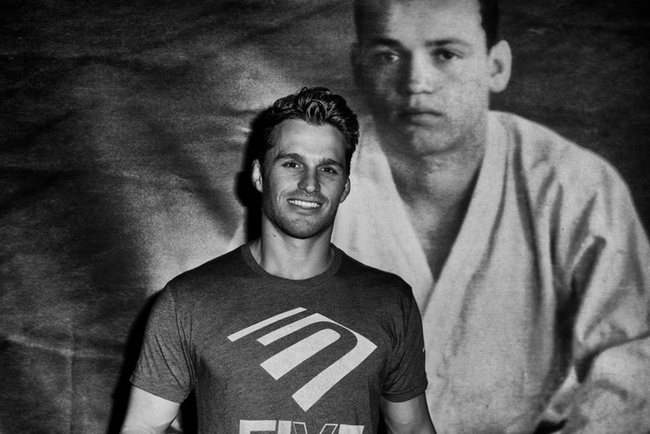 Clark Gracie and his uncle the legendary Carlson Gracie

Robert Drysdale, ADCC and world gi champion

American jiu jitsu phenom, Keenan Cornelius
Check out these related stories:
Prospect Watch: Bruno Frazatto's MMA Homecoming
Meet Rory MacDonald's Next Opponent—J.T. Torres
A Shakespearian Saga: The Gracies, Sakuraba, and Metamoris
Competing in Jiu Jitsu Is the Ultimate High