Five Questions for Richie Vaculik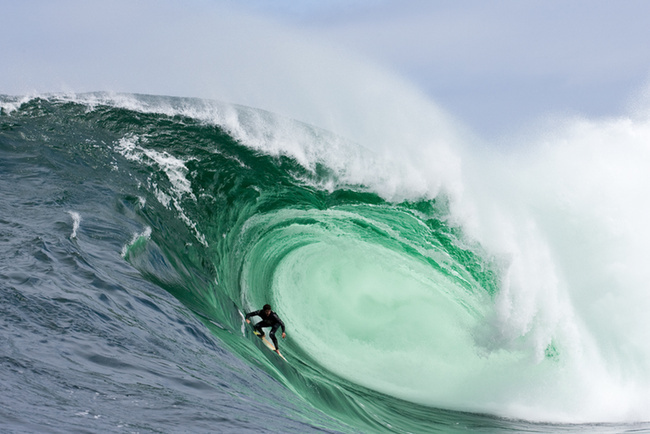 Richie Vaculik surfs waves so big that just watching from the boat your nuts will shrivel inside your body for a week. Frigid waves in shark infested waters. Tropical waves over shallow coral reefs. Vas also dishes and eats brutal fists and knees in the octagon, all of which begs the question: How much adrenaline does one fucking guy need?
Answering that requires us to examine the petri dish that is Maroubra beach, in New South Wales, Australia. Made famous in the 2007 documentary, Bra Boys: Blood is Thicker than Water, the film focused on the murder trial of fellow member Jai Abberton. Jai was found not guilty, but along the way you'll learn the following:
Maroubra is surrounded by rough neighborhoods replete with government housing.
The local boardriders club, Maroubra Surfers Association, consists of old and young members committed to protecting their beaches from intruding Lebanese gangs, Asian gangs, etc.
This commitment has resulted in riots, ethnic clashes, and police crackdowns.
MSA members surf some of the heaviest waves in the world.
MSA members like to fight.
You and I will never be so tough.

After training with Richie, then shooting him at Blackhouse gym in Torrance, California, I sat and peeled back his cranium for another '5 Questions 4.'
Fightland: What's the attraction to surfing big waves?
Richie Vaculik: I loved surfing from a young age. My uncle was a surfer, and I was always at the beach. There were a group of older guys known for charging big waves, and they'd encourage us to join them. I was ten, maybe eleven, paddling into these small four-foot waves—but to us that was massive! They'd (physically) push us into waves, and that's how I got hooked, overcoming that fear. What's crazy is, you never lose that. I still get that feeling. The adrenaline, the buzz—experiencing all that and still taking off, then getting the ride of your life. You just go...Oh fuck, and do it.
What's the scariest wave you've ever surfed?
I've surfed big waves all over the world—Western Australia, Tasmania, Hawaii, Indonesia, Tahiti.
There's a wave in Western Australia called The Right [note: this wave is a mutant slab that just a decade ago most elite surfers would have described as un-surfable. Like MMA, surfing has evolved, but still, Google the pics.] The wave may be thirty feet high, but it's fifty feet wide. The lip throws and forces you so deep in the barrel that it's pitch black, and the pressure makes your head feel like it's gonna explode. It's a spooky spot. Wiping out, I've had my booties ripped off and been held down forever. The place is gray, dark, and there are sharks everywhere. We stay on the jet skis and don't spend much time in the water.
Surfing (remote) spots like that, you try not to think. You're always flinching at seaweed, and seals. Gotta be careful or you'll think yourself into a panic.
On second thought, I'd have to say Teahupoo [in Tahiti] is the most intimidating wave. There are no sharks, and the water is warm as a bath, but the coral is so shallow that if you fall it'll rip you to shreds. I've surfed it at twenty-five feet (i.e. fifty-foot faces), and nothing touches that fear.
Despite what people think, surfing isn't all palm trees and Jack Johnson. You're either dealing with crowds, or dealing with such dangerous isolated conditions that if things go wrong, there's no tapping out, or paramedics on hand to keep you safe. It's just you and your boys.
Why did you start fighting MMA?
I was trying to stay fit between flat spells. When the waves were big, I needed to feel confident. I used to love boxing with mates, sparring. A few of the older guys at the beach were pro boxers, and they'd take us in the backyards and hold mitts for us. Then, when I was eighteen, a few Brazilians moved into Maroubra and started showing us jiu jitsu. That was in a gi, and I loved it. Me and about thirty of my buddies started grappling. Bruno Panno, my jiu jitsu coach, was working with a few [MMA] fighters when a promoter called and asked if he had a guy my weight, so I gave it a go. I didn't have much wrestling experience, but I played rugby [laughs]. I went out there and won. I was planning to get him to the mat and use my jiu jitsu, but I caught the guy with an overhand right and knocked him out. After that, I was hooked.
What's the nexus between surfing big waves and an MMA fight?
Backstage before a fight you're scared, nervous, and jumping out of your skin you're so excited. That's like surfing big waves. But fighting is way gnarlier. In the water, you pick and choose which sets you're gonna take. A fight, on the other hand, is like a massive wave that no question you must take off on. Backstage, the clock is ticking down, and you have to walk through the crowd and climb those steps. They're both a test of whether you can control your emotions and achieve your goal. It's that simple.
How was the transition into the UFC?
Being on the show (The Ultimate Fighter: The Smashes) was tough. It wasn't so much the training, as living in that bubble for six weeks—cameras everywhere day and night; in the house, in the car, in the gym. But I think that made the transition easier. Unlike the smaller leagues, the media hype for a UFC event is such a head trip. I was lucky to have my debut in Australia. There was such a buzz at the weigh-ins, and at the press conferences. I felt great. The weight cut went well. Walking out to the octagon, with the music, the lights and home crowd, it was everything I imagined. Looking back now, I probably got a little too caught up in it, as opposed to just getting the job done. I'll block more of that out next time. I was really unhappy with the ref's call.
[note: during UFC Fight Night 33, Vas lost to Justin Scoggins via a controversial early-stoppage by referee Jacob Montalvo at 4:43 of Round 1]
I know [the referee's] job is to protect the fighter, but I'm not sure they realize how much the fight means to you. You sweat countless hours in the gym, cut weight, put off everything for this dream you've held so long, and to have that taken away… In my fight, I never went limp, and I was responding to instructions. I understand the ref is there to keep us safe, but there's so much at stake. I felt for Urijah, with the title on the line (e.g. the controversial stoppage in Faber's fight with Renan Barrao). I guess the moral of the story is, don't put yourself in bad positions.
Richie is preparing for his next fight. Look for a big announcement soon.
Check out this related story: