Forget Trudeau's Elbow, Another Canadian Politician Just Showed Off His Fighting Skills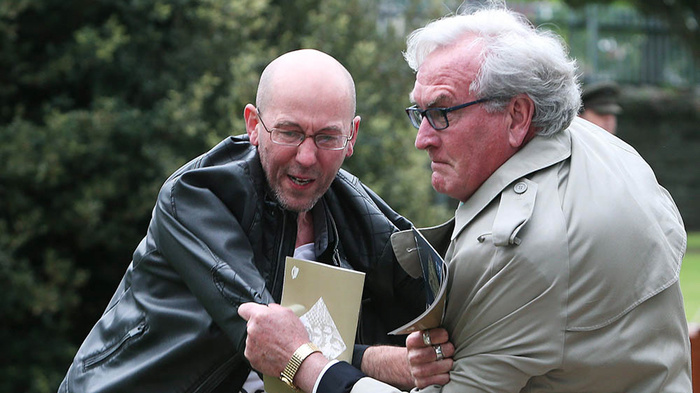 Despite the inherent violence and trash talk possibilities of both of our national sports, Canadians have long been stereotyped as a polite—and maybe even meek—people. But our public figures have been doing their damnedest to tear down those unfair assumptions in the past while.
Last week, Prime Minister Justin Trudeau, a boxer and former bar bouncer, threw an accidental elbow in the House of Commons and thrust the country into the most embarrassing and overblown scandal we have seen since the The Globe and Mail tried to claim that David Cronenberg's parents didn't like his films in the '70s. This week, another high profile Canuck stepped back into the spotlight with a demonstration of his grappling prowess. This altercation was at least a little more skilled in nature, although the embarrassment factor involved will largely depend on your stance on public protest.
When a protestor tried to disrupt a memorial that was held in Dublin earlier today for British soldiers who were killed in the 1916 Rising, the Canadian Ambassador to Ireland, Kevin Vickers, leapt into action. Video footage of the altercation shows Vickers—with an admirable grip on the other man's jacket sleeves—tackling the offending party and wrestling him out of the way of the ceremony, at which point the authorities took over.
This isn't the first time that a Canadian political figure has quite literally taken crowd control into their own hands. Former Prime Minister Jean Chretien executed what is now known as "The Shawinigan Handshake" when he choked an anti-poverty protestor after a Flag Day ceremony in February, 1996.
Nor is it the first time that Vickers, a retired Royal Canadian Mounted Police officer who has also provided security for The Queen, has had a Liam Neeson moment in public proceedings. While serving as the scepter-sporting Sergeant-At-Arms—a position in Canadian politics that is usually supposed to be ceremonial in nature—the then 58-year-old became a national hero when he shot and killed a gunman on Parliament Hill in October, 2014. He then promptly called his family to tell them that he was safe.
Members of Parliament were quick to praise the Miramcihi, New Brunswick native's quick thinking and action for preventing what could have been a brutal terrorist attack and he received a standing ovation in the House of Commons the day after it happened. But with typical Canadian modesty, Vickers used his recognition to highlight the work of unsung military and enforcement heroes and stress the importance of forgiveness.
Speaking at the 2015 edition of the Ottawa Police Service's annual gala last November, Vickers told the crowd that he prayed for the man that he shot in the days following the event, and urged others to find a similar place of peace. "The national was traumatized," he said of the shooting. "We can hate, we can reject or we can use the tool in the toolbox called forgiveness."
Inspired by this modest, polite, forgiveness-loving man who occasionally turns into an action hero, Canadian Twitter is starting to call Vickers the "Canadian Chuck Norris."
Maybe once Canada has finished breaking down the stereotypes about our meekness, we can start working on our country's sad obsession with describing everything about us as the Canadian version of some other country's stuff.
Check out these related stories:
Prime Minister Justin Trudeau Threw An Elbow In the House of Commons, Should Stick To Boxing
The New Canadian Prime Minister Once Knocked Out A Senator
The Black Belt Prime Minister Who Made Judo (and Canada) Cool