Four Non-UFC Fighters You Should Keep Your Eye On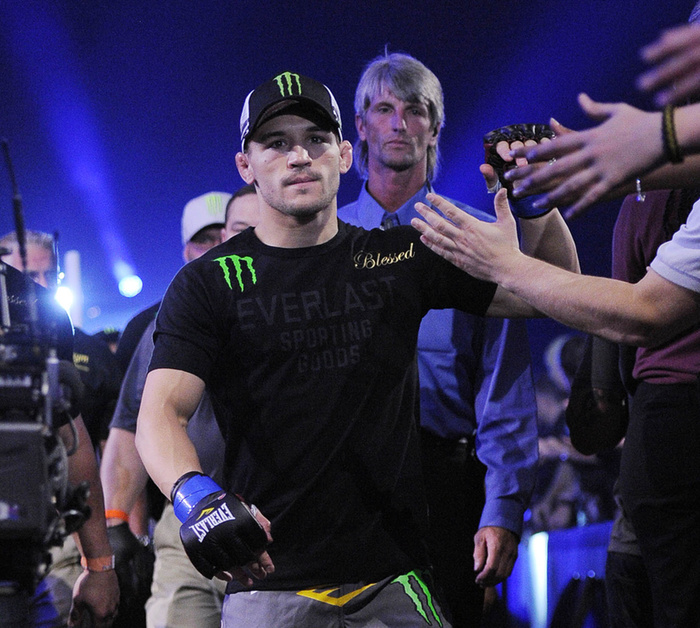 With Rory MacDonald signing a deal with Bellator and Benson Henderson having just fought there for a second time, the fighting world outside of the UFC seems like it is on the up and up. Add that last month we learned of the bizarre story that respected welterweight Ben Saunders is taking a fight outside of the UFC because his slow re-signing of a contract saw the UFC 'fill' its roster without him. Clearly the UFC can only hold onto so much talent and there is a great deal more out there. Hell, Eddie Alvarez came into the UFC as "a Bellator guy," had the usual "well, I guess he's in the big leagues now" moment with a loss to Donald Cerrone in his debut, then went on to starch the incredible Rafael dos Anjos and take the UFC lightweight title. The potential for the next Alvarez is out there and today we are going to note some of the names outside of the UFC who are well worth your time.
Michael Chandler
On the subject of Eddie Alvarez, Michael Chandler went 1-1 with Alvarez in two incredible, hard fought bouts in Bellator. Coming into the first fight with Alvarez as something of an unknown with just an 8-0 record, the much less experienced and less polished Chandler put a fierce pace on Alvarez. In the first round Chandler caught the always slow starting Alvarez and had him struggling but as the rounds progressed it was Alvarez's craft which began to pull him ahead. After a third round in which he was almost stopped by Alvarez, Chandler returned in the fourth to send Alvarez to the deck and secure the rear naked choke for the victory.
The second fight was every bit as good, though Alvarez's ringcraft allowed him to come out on top. Chandler's reactionary head movement and speed based striking game made him easier to hit and evade as the rounds progressed. At the end of another fight of the year candidate Chandler dropped the decision.
A couple of rough losses to Will Brooks (himself just picked up by the UFC) followed but Chandler has since gotten back on track: submitting Derek Campos, TKOing Dave Rickels, and outright starching Patricky 'Pitbull' Freire (the one who is actually a lightweight). Against the always dangerous Pitbull, Chandler's lead hand looked sharper than ever and meshed well with his footwork in the early moments as he darted in, scored, and left range free from harm. The wickedly fast right hand came straighter than ever to send Freire to the land of nod just two minutes in.
Justin Gaethje
Where Michael Chandler is the classic wrestler with the big punch, Gaethje is a reckless spin on that old MMA trope. While he has the grappling chops to take down almost anyone he fights, Gaethje is in love with his striking and will often open himself up in ways which he probably doesn't need to. This is part of what makes Gaethje fights so much fun though. He gets hit. A lot. But the ability to take a good shot has never been a limiting factor on who a fighter can beat... more on how long they can keep fighting.
Gaethje is known for his tremendous right hand which works excellently as a counter:
But which he also sets up beautifully with level changes into uppercuts. He has blasted a number of opponents with this subtle version of that Chad Mendes favorite:
Gaethje's low kicks are a constant feature and can buckle the lead leg of anyone he fights, but often result in him getting caught with punches while on one leg because he will try to time them as his opponent is stepping in to punch. Certainly a wrestler with two victories by low kick TKO in just sixteen fights is something unique.
Gaethje's highest caliber opponent has probably been Melvin Guillard, who Gaethje took to school in a strange split decision which seemed far more clean cut to viewers. Whatever the case, Gaethje will either get the big fights soon or the big money from World Series of Fighting to stay as he is easily their most exciting and talented star. In a world of men trying to 'impose their game', a Gaethje fight is a wonderful kind of chaos in which he has always—so far at least—come out on top.
Marlon Moraes
Moraes is like Gaethje: another big fish in a tiny pond. The World Series of Fighting bantamweight champion made his promotional debut on WSOF's very first card, defeating the declining veteran, Miguel Torres. Though it is worth noting that Torres was less than a year removed of the decision loss to Demetrious Johnson which many believe he should have won. Moraes has fought for WSOF ten times since then and is riding a twelve fight winning streak.
Moraes' trademark is his kicking game. Hard, well timed round kicks. He'll kick out the standing leg of an opponent as they kick, and he'll hit switch kicks under the opponent's punches as they step in. A crisp kicker in every phase of the stand up game, with decent counter punches to boot. In the mythical match up between Moraes and the world's number one bantamweight: Dominick Cruz, it is the kicking that keeps the match up interesting as low kicking the trailing leg and good ring cutting are the perfect foil to a laterally mobile fighter. With that being said it is of course impossible to know what Moraes is capable of when we have such a limited frame of reference in terms of his opposition. At twenty-eight years old and with a decent following among hardcore MMA fans, it is hard to see Moraes fight out his career without making it to the big show at some point.
Michael Page
If you are at all active in the MMA community you will have already heard of Michael Page. He is one of the most interesting and enigmatic prospects in the game. He could be the neatest striking prospect in the welterweight division, or he could be Scott Coker's new Nick Diaz. Of course the two aren't mutually exclusive but Page is certainly getting matchmaking even more favorable than Coker gave Diaz. In Page's eleven MMA fights he has been matched against a who's who of "who?"
On the one hand, he's had competitive point fighting matches with Raymond Daniels and brings a style of outfighting to the cage which is exciting, unique and so far incredibly effective. On the other hand there is only so much you can learn from watching him 540 kick a guy who was brought in specifically to get knocked out.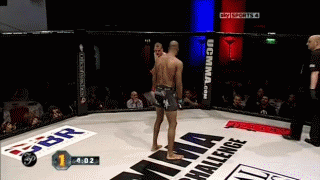 Of course you aren't going to pull that off with such ease against a competent fighter but that is unimportant. It is the nuts and bolts of Page's game that would be interesting at the elite levels. The range management, the baiting of the charge. That Lyoto Machida classic of forcing the opponent to take the 'extra step' and lunge onto a counter straight or, as in the case of Cyborg Santos, an intercepting knee. While we don't know whether he can stop a takedown from a world class mixed martial artist or how well he can evade a decent cage cutter, we can be cautiously excited ahead of his match up with Fernando Gonzalez and hope that the third time is a charm on this booking. We don't even need to see Page in the UFC to know whether he "has it" though: with Koreshkov, MacDonald, Lima and even Daley, Bellator's welterweight division is looking pretty good.
Pick up Jack's kindle book, Finding the Art, follow his new Podcast, or find him at his blog, Fights Gone By.
Check out these related stories:
Arlovski vs Barnett: The Glass Cannon and the Catch Master
Demian Maia: Flawless in Victory
Wushu Watch: Ki, Chi and Everything Between