Foxcatcher Director Bennett Miller Says Channing Tatum and Mark Ruffalo Have Cauliflower Ear
Preparing for any interview is a lot like training for a fight: you need to research and assess your opponent (or subject), craft a detailed game plan, and execute it over whatever period of time you have with them.
This is particularly true in a harried, high-profile festival environment like the Toronto International Film Festival, where an in-depth interview for a big name publication is significantly shorter than a championship MMA match—and the average interview clocks in at about two rounds. Every second has to count if you want to get good material for a story about a film, actor, or director.
So when I found out that I had 10 minutes with Bennett Miller, the Oscar-nominated director whose buzz-worthy new film Foxcatcher enjoyed its Canadian premiere at TIFF last week, I knew that I'd need a good and very specific game plan.
Foxcatcher, which took Miller almost a decade to meticulously research, make, and release, is a film that takes far more than 10 minutes to discuss in any detail. Based on the true story of Olympic gold medalist wrestlers and brothers Mark and Dave Schultz and their complex relationship with John Du Pont, the multimillionaire and wrestling patron who murdered Dave in 1996, the film is a methodical and probing exploration of rivalry, American exceptionalism, patriotism, and the quest for—and meaning of–greatness. It's as excellent as it is compelling and further establishes Miller, the acclaimed director behind Capote and Moneyball, as one of America's finest filmmakers. It's also earning a lot of awards buzz for its stars, Steve Carrell (who is almost unrecognizable as Du Pont), Mark Ruffalo (Dave Schultz) and Channing Tatum (Mark Schultz).
Anyone who cares about cinema and narrative nonfiction could easily pick Miller's brain for hours about the painstaking detail that he put into the Foxcatcher project, which involved everything from pouring over newspaper clippings to trying to sneak onto the Du Pont family's shuttered Foxcatcher ranch, or his work's greater commentary on American culture.
But I had a finite amount of time. So I decided to focus specifically on wrestling.
As I wrote back in May, when Foxcatcher made its world premiere at the Cannes Film Festival, the well-earned hype surrounding this film is particularly exciting for fight fans, because so much of the admiration that Foxcatcher is receiving is directly related to its exploration of, and respect for, the amateur wrestling world. Prestigious critics from the likes of Time, The Guardian, and Variety have all praised the picture for its expertly choreographed fight scenes, and for the depth of character development and storytelling that comes from the wrestling itself, particularly the first big scene that the brothers share on screen, a long training session in which they literally and metaphorically grapple with each other.
When I sat down with Miller, I managed to execute most of my game plan fairly well. We talked about that scene, the importance Tatum and Ruffalo's fighting backgrounds, and the level of detail, respect, and broken cartilage that he and his stars put into Foxcatcher's wrestling. Sadly, we ran out of time right before I could ask him about forcing Ruffalo, a wrestler who has always led with his right leg, to relearn almost everything he knew about fighting so that he could better portray the famously left-leading Dave.

Photo by Jason Merritt/Getty Images North America
Fightland: Steve Carrell's prosthetic nose is getting most of the attention, but I would like to talk about the cauliflower ear in this film. Was this something you knew about before you started researching the world of wrestling?
Bennett Miller: Maybe a little bit, but I didn't know what it meant to wrestlers and fighters, that cauliflower ears are a badge of honor and that they have the option of draining their ears when these injuries occur and you can avoid the disfiguration that occurs, but they choose not to, and they also choose not to wear protective headgear because this is a badge of honor and how they can identify each other and be identified. And there's a whole culture around it, analyzing people's ears. Dave Schultz, when wrestling somebody he'd never wrestled before, would look at their ears and he would know that the more disfigured ear was the side that they would shoot on.
So how much actually registers to a general audience or the inside audience, it sort of was immaterial. But for the actors themselves, to have these sorts of details down, I think was significant, part of their mask that helped them inhabit [their characters]. And, by the way, each of them [Ruffalo and Tatum] has developed the zygotes of cauliflower ear themselves. They each have a little bit that they've chosen to keep.
The first few scenes of the film, in which we see everything from Mark and Dave's ears to the way that they interact and train with each other, really establishes that this is a film that is going to understand and respect both the physical details of the wrestling world and the psychology of it.
Yes. Not just respect it, but allow it to trump more conventional exposition. That scene alone, when they're warming up and then they wrestle and then they end up "going live" as they say, allowed me to eliminate about 20 minutes of scenes in the first act. I had over-planned how we were going to get to know these two characters and who they were to each other, and there were scenes that were designed solely to communicate who these guys were, what their circumstances were, who they were to each other. And when I assembled that scene, their wrestling scene, their workout and saw what you can learn from watching these two guys and how they relate to each other physically, I lopped off many scenes, at least 20 minutes of the film. All non-verbally.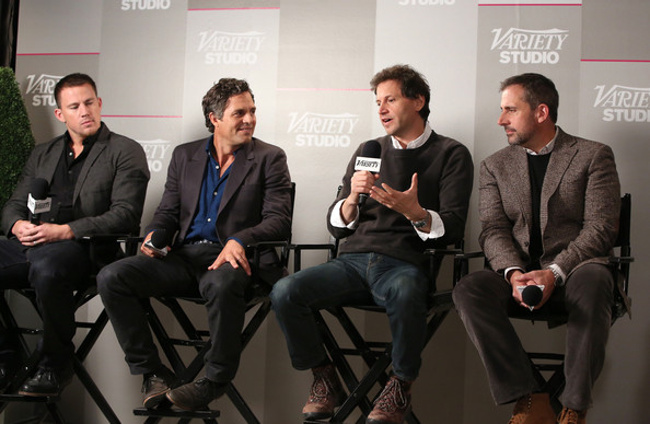 Jonathan Leibson/Getty Images North America
Have you been impressed at how many critics have caught on to the storytelling and artistic potential of the film's physicality, and how they're specifically celebrating that?
Yes. The number of people who point to that scene was surprising to me. Because they're not just seeing who wins or who's better. They're not looking at the spectacular aspect of these physical feats. They're looking at how they regard each other physically. Within that scene where hardly a word is spoken, you feel the reverence, you feel the power differential, you feel the rivalry, you feel Dave's heart and concern for [Mark], but you also feel the alpha nature of his relationship to him and people pick up on that and it's sort of incidental to the fact that these guys are just wrestling.
You specifically selected actors who had some sort of grappling or fighting background to play the Schultz brothers. Was it important to you to find people who couldn't just do the physical aspect of the roles, but who also understood something about the mindset of that culture?
Totally. The first thing that Ruffalo said to me when we met was that, "I was a wrestler and I know wrestlers and I know wrestling. I know what that is and I lived that and I did that. I knew who the Schultz brothers were and I lived that and I know that." And he was able to tell me about it.
Channing also. The very, very first time we met, which was about seven or eight years ago, he talked to me about fighting, we talked about who his character is at the beginning and who he is at the end, why these guys push themselves, why they are driven when there's no possibility for material reward, there's no chance of fame or fortune or fame outside of the very, very, very small circle compared to other sports. Why do they do it?
And Channing said to me, "Because there's no lying in a fight. When you get out on the mat, you can't lie to the other person, you can't lie to yourself about how prepared you are, about how much you want it." It's about the intrinsic rewards, it's about the virtues. And so, yeah, that they would get that, that they would respect it enough to feel the burden of the responsibility to begin training six or seven months out, to know how important that was, because it was not fun for them. There's no easy way to it. You can't really fake it. And to get to the point where you can convincingly fake it is still a very miserable road of hardships, especially for Ruffalo, who was 46 at the time, but Channing, too.
These guys, they said after they wrapped their last wrestling scene, which was when they wrestled each other, that they just held each other and wept.
How much of that extensive training was self-directed by the actors, and how much of it was you guiding or coaching them to put in that time and effort?
Really, it was them. I might have said, "You guys need to learn how to wrestle," but there was no follow-up. There was no task-mastering or anything like that.
Mark Schultz's MMA career plays a brief but pivotal role in Foxcatcher. What was it like recreating UFC 9 for that scene?
It was shocking to see Channing emerged with a shaved head.
It was the easiest thing to shoot because everybody knows what that is. We just put out a call, like "People, come! We're going to stage a UFC thing. Everybody just show us what that is." And it's amazing to see how familiar and comfortable and accessible that is. I mean, it was the most effortless thing in the entire movie to shoot because it's just in our culture.
Check out this related story:
Foxcatcher: The Artistic Possibilities of Wrestling At Cannes