Gegard Mousasi Is Back on the Road to Title Contention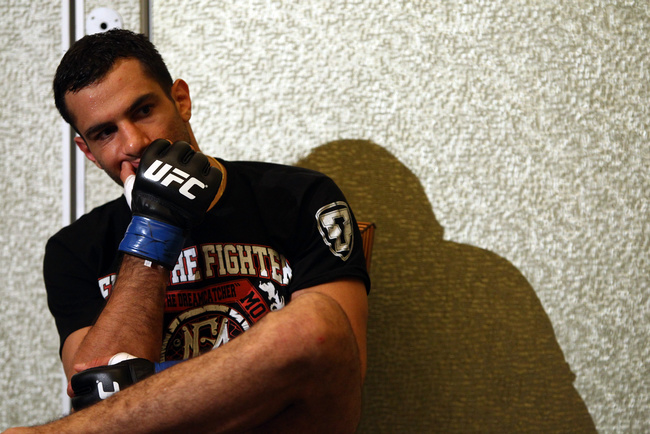 Gegard Mousasi wanted to hit the ground running in 2015. Booked for a January co-main event slot in Sweden, the circumstances were nearly ideal for the 185 lbs frontrunner.
The former DREAM and Strikeforce champion's travel commitments were reduced given his Dutch base, and the fact that he would face off with a legend of the weight category in the Swedish capital, Dan Henderson, certainly didn't hurt either.
On the backfoot, a sharp, straight right hand delivered by Mousasi caught Henderson clean and sent him down on one knee. As he stumbled back to his feet a jab from the European sent Henderson down again.
'The Dreamcatcher' almost seemed reluctant when he reached his downed opponent at first, but he threw a couple of more punches. Referee Leon Roberts might have been a bit too fast or a bit too late with his stoppage, but given the lack of damage he absorbed and the swiftness of the victory, Mousasi had to be pleased with his night's work.
To make the Swedish win even more memorable for him, when Chris Weidman was forced to pull out of UFC 184 championship bout less than a week after the ground breaking event in the Tele2 Arena the ball dropped, temporarily, to the 29 year old.
When Vitor Belfort, who was scheduled to face Weidman, initially turned down a meeting with Machida instead, Mousasi was next in line. However, the Brazilian didn't fancy the matchup. While Mousasi knew a win over 'The Phenom' would make him a number one contender as well as the interim champion, Belfort didn't want to give up his power position that easily.
While previously it was losses to Machida and 'Jacare' Souza that obscured him from the title conversation, this time it was Belfort's reluctance to face him. Although it would've been a clear short cut, you can't help but wonder whether the situation altered his view on who will take victory when Weidman and Belfort meet on their new date – May 23 at the MGM Grand.
"Chris Weidman is fighting Vitor Belfort and I think Weidman will still stay the champion for this year," said Mousasi.
Interestingly, the Iranian-born fighter seems to think the champion's crown is safe for this year, and based on Mousasi wanting to compete three times in 2015 and believing that victory in them three bouts (two now after Henderson), will get him a shot, 2016 must be a big year for the middleweight.
Photo by Boris Streubel/Zuffa LLC
"The title is my goal," he insisted in the lead up to the Henderson contest. "Definitely. I've had some setbacks now so I need to get back in line again. At this time I'm more focused on getting big wins and once I get those I can think about the title fight again.
"I'm being realistic I know where I'm at now, but all this could change with two big performances. Three big wins would definitely get me right back there. At this moment I'm just thinking about winning."
A week before Weidman vs. Belfort goes down, Mousasi gets to bolster his championship trajectory when he faces Costas Philippou.
After each of his wins thus far under the UFC banner Mousasi has been thrown to the lions at the top of the division, and despite the fact that Philippou sits just four places behind Mousasi in the 185 lbs rankings at number 12, the match seems like a more patient build up for the decorated European.
Mousasi made a point of saying he was not "underestimating" the New York based power puncher, but he certainly feels like holds the edge between the two.
He said: "He's (Philippou) a dangerous opponent; I'm not underestimating him. But I do think I can win this fight.
"He is a bit shorter than me but he looks very muscular. He has a boxing background so he could be dangerous with punches but other than that, I feel like I will do better than him."
It seems Mousasi has it mapped out for himself, and if his hand is raised after the Philippou bout he maintains that he will look for a "bigger fight", in which another win should push him into a shot at the division's gold.
"I want to take fights because I am ready and I want to fight; I don't want to rush into fights. Timing is the most important thing. I'd like to fight twice more this year so, after this fight, one more this year.
"I like to stay active. I think a win will get me closer to a title shot. I want to stay busy and I need to focus on this fight, and then after that I hope to get a bigger fight."
Check out these related stories:
Jack Slack: The Shape-Shifting Gegard Mousasi
Jack Slack: Can Gegard Mousasi Solve the Lyoto Machida Riddle?
Gegard Mousasi Has More than Upkicks