Hail the Queen: Ronda Rousey Is on Fire
Several kings have been hailed in the history of the UFC. Now it's time we all hail the Queen—male or female, Ronda "Rowdy" Rousey is one of the most dominant fighters the UFC has ever seen. Still undefeated, she took Canadian contender Alexis "Ally-Gator" Davis in sixteen seconds flat, leaving a lot of people jacked up on Rowdy, but also leaving a lot of other people annoyed at how short the fight was. After the fight, Dana White said she was the new Chuck Liddell.
When Chuck dominated the UFC, people loved it. When Tyson was on his ferocious and endless win streak in the 80s, people begged for more. When the Heat dominated the NBA during their golden—now seemingly over—LeBron days over the past four years, the fans loved it. Even non-Heat fans gasped at some of that dude's crazy moves.
People love domination. When these guys step into whatever their arena is, to display whatever their medium is, people roar in excitement. That's why super star athletes are born—they are just that much better, and that much more fun to watch. Some guys just have all the luck. But flip that dude into a lady and all of a sudden the conversation takes a detour that is just plain goofy.
After Ronda Rousey's super fast win over Alexis Davis, a lot of the win came down to questioning Ronda, and, plainly and simply, minimizing and even insulting the rest of the female MMA world. Most of the criticism simmers on one perception—that the ladies of the UFC are just not that good. It's easy for Ronda to come through and raze any opponents.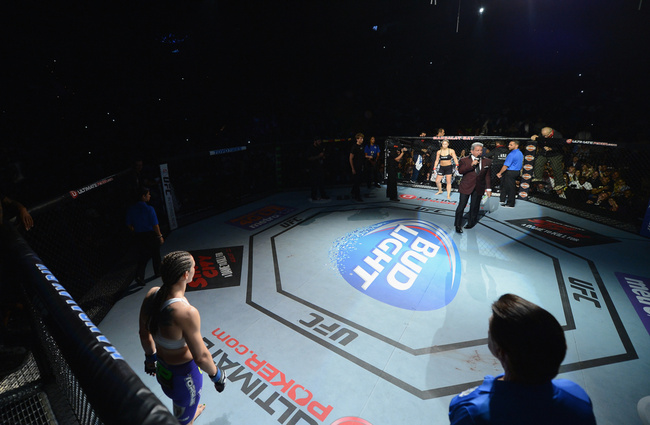 Women's MMA is lacking in talent, they say. Women's MMA is just another classic example of "girls playing sports"—it just doesn't cut it like men's athletics.
That's absurd. And Ronda is a phenomenal athlete, who, at this point and time, happens to be the best in her class. Sure, there's some Brazilian jiu jitsu ladies out there who think she's not that good and has a big mouth—but come on! You've seen Ronda, she's, as they say, "nasty."
Other criticisms attack her go-to move. Rousey is a judoka, don't forget that—on the second installment of UFC's Embedded we saw her training for her upcoming bout against Davis. What did she focus on? You got it: judo throws. You shouldn't be surprised by this. As a matter of a fact, perfecting that one move, and getting it on every opponent that steps your way—that's the mark of a brilliant fighter.
I think it's awesome she pulls it off every time, even though her opponents train to defend it for months.

Here's a Japanese commercial that makes 26 different Kodokan judo throws look just as easy as Ronda does (they are not)
It's just kind of crazy to dismiss the entire UFC female division simply because one of them happens to be as close to perfect as we've seen in a long time. Remember when the UFC was still getting its feet off the ground—Royce Gracie was the man and no one could do anything about it. He was that good. He tooled everyone. He had the second fastest title defense in UFC history.
No one ever said Royce didn't have enough competition. In fact, he was championed as the best for it. No one said that another Royce win would be boring. And no one ever said, "damn, I'm not going to watch the Chuck Liddell fight because you know what, he's probably just going to dominate again."
So what's the deal? Are we scared these ladies are going to be more popular than our male legends, our heroes? Is the boys' club getting intruded on? Is it that we just don't want to see these young women fight?
Women's Mixed Martial Arts is still growing, and it certainly needs nurturing, but to say the talent pool just ain't deep enough—get the f out. First you got Ronda, and let's be serious here, if Mayweather one day decided to try out the Octagon…I'd put my dollars on Rowdy.
But aside from Rowdy, who seems to be in a league of her own, don't discount Davis, because she's an excellent MMA athlete with a strong record against some pretty tough opponents. Then there's Liz Carmouche, Sara McMann, Miesha Tate…these are all world-class competitors. Watch any of their fights—you'll see.
Not to mention that the UFC just signed Rin Nakai.
After this weekend Rowdy Rousey is definitely the sport's first female superstar, regardless of personal opinions. That's awesome, and it's even more awesome that she's so good—it's awesome incentive to the new schools of fighters who are going to want to take Rousey down. It's an exciting time for MMA.
Just after dismantling Ronda Rousey associate Jessamyn Duke, one of the Four Horsewomen, Bethe Correia said she doesn't like Ronda because she was rude and ignored her hand shake. That's got people talking. They're saying she's going after all four of Team Rousey. One's down, three are left. Bethe says she'll fight anyone they put in front of her. Could it be Ronda?
Check out these related stories:
No More Playing Princess: Cat Zingano Wants Her Crown
Ronda Rousey: From Olympic Bronze to UFC Gold
Ronda Rousey's Mother Responds to Our Talking About Her Daughter